January.
At the start of a year I find myself thinking back to what I was doing same time, last year. It's odd because, until recently, I rarely had a January off since early Uni days and it was always similar. When I was writing my PhD, I'd cloister myself away in my office while all the academics had left for the year. Looking back, I don't actually think we were allowed on campus during the Uni shutdown. But nothing was going to stop me one year from having a quiet space to try to make sense of Vernon Lee's 1913 little pink tome, The beautiful: An introduction to psychological aesthetics. The study of aesthetics is quite tied into the psychological study of empathy (my PhD topic). As an aide, I will be revisiting that work when I finish a review article later in the year. For now, all I remember her writing about was imagining a mountain "rising". As another aside, and in truth, I had two work spaces at the University. One office was on the campus where I tutored, and consisted of inbuilt wooden furniture and a wash basin. The other was a cubicle in an open-plan office where the director had an unrealised dream to install a spiral staircase from our offices down to the photocopier on the bottom floor. We settled on a water cooler.
Well, last year at about this time I was in a wedding for dear friends of mine. Five days later Bob and I boarded a plane to Singapore for a week trip there and to Penang. I always get sick on overseas holidays. It might be my body's subconscious way of maintaining my "suck the enjoyment out of everything" stance, even when I am using hotel-provided Malin+Goetz. In Paris my friend Carlo had to put up with me sniffing my way through Printemps. When a group of us travelled around the U.S. a couple of years ago, I got very ill with a bad throat infection in Orlando during our Disney jaunt. Running from Splash Mountain to It's a Small World was no fun and I did doze during Carousel of Progress. Anyone who knows me would know I must have been sick to sleep through that.
On about the third or fourth day of being in Singapore, like clockwork I got my usual illness. Fortunately, we were heading to Penang and were going to say at the Golden Sands Resort on Batu Feringgi Beach. Now, a bad cold (and who, really, gets a cold in Singaporean weather?) at a resort can be a bad thing. It doesn't really want to make you swim all day. It does prep you, however, to spend afternoons on a deck chair only lifting your head to order your next cocktail. By about the third or fourth, the lifting of the head has given way to a little grunt in the direction of the waiter and a head lift abandoned part way through due to a lack of the needed amenities. When we moved on to the Eastern & Oriental Hotel we had a door in the room that led out to the stunning pool and, best of all (for me; an idle holiday was Bob's worst nightmare) more deckchairs!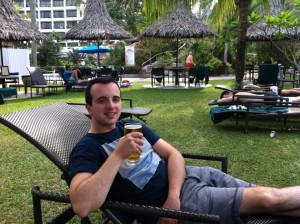 It was in Singapore and Penang under the struggle of my delicate condition (kind of like Ingrid Bergman's anxious opera singer in Gaslight, although I always fancied myself more the Angela Lansbury tart character) that I continued reading Nat Luurtsema's wonderful Cuckoo in the Nest. In it Nat details her move back home to her parents when the Real World (i.e. the recession) meant that she and her boyfriend couldn't find a new apartment after moving out of their cosy but happy ("Despite the squash, Craine and I rarely argued but I suspect it was because there wasn't room to gesticulate. If you folded your arms, you got wedged and only buttered elbows set you free.") north London flat.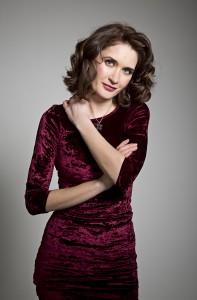 Nat is one of my favourite comedians. I think that the first thing I ever told her on Twitter was that I'd applied a mud mask to my face and then gone to answer a really long telephone call and, when I'd finished talking, I'd forgotten I had the mask on and so was convinced my face was paralysed. She was sympathetic and, if you read her book, you'll see that she understands things like that. I really related to her from the first few pages:
"It didn't help that my parents had long ago convinced themselves that I was a moron, and I was reluctant to leave behind a life of giddy freedom to return to a house where I was treated like a lunatic child. Years ago they decided: 'Natalie may be good at school but she's an idiot otherwise,' and like the obedient mollusc I am, I grew into this persona until it fit like a stained glove. I swear I'm fairly competent most of the time, but the moment I'm back in the family home, all the jokes about my ineptitude make me paranoid and incapable. I blame their expectations of my idiocy for my…well, acts of idiocy. I guess they could claim that their expectations are founded on my years of idiocy, but at this point it would all get a bit Catch-22".
Nat is a very gifted novelist and I found myself continuously stopping Bob reading his book (or the cocktail menu) to read him something she had said. You really must read it. I find it too daunting a task (these days, I find many a task daunting) to pick out some of my favourite bits, so I just flicked through the book and stopped at a random page. Here, Nat and (Tom) Craine are sent to find a neighbourhood cat that Nat's mum worried looked "confused":
"It was hard to know what this situation required, so I took the Financial Times, an abacus and Craine, who had chosen a poor day for a visit. He had already endured a 7am visit from mum tiptoeing through my bedroom humming 'I'm not here, ignore me,' while she dug some socks out of my drawer and he shielded his nipples. In recent years my bedroom had become a communal storage area and our semi-naked presence in it didn't seem to make any difference. It was like living in a handbag".
You can order Cuckoo in the Nest here.
And if audio is your game, you can download Jigsaw, Nat's sketch comedy with Dan Antopolski and Tom Craine here.
Well, almost a year to the day, I am awfully pleased for Nat who has been nominated (with director Ben Mallaby) for a 2014 Best British Short Film BAFTA for Island Queen, which she wrote and starred in. You can watch that here and, again, you really must.
So, who knows, what 2014 will bring. Hopefully, I'll finish some new writing projects at work. And I was thinking of buying a new vase. Lemme know which one you want the update on in 2015. Finally, if you head to Penang, make your way to Kebaya restaurant in the Seven Terraces Hotel, Georgetown.