I hope that you're enjoying the blog six months on. I've been busy with many new interviews that will appear here shortly. Some of them are with people who haven't participated in an interview in a long time and I've really enjoyed their perspective.
It's hard to find the inspiration to leave the house in the middle of winter. Adelaide has seemed colder than usual. My usual explanation for these unexpected swift changes in weather (as I wrap around a warm scarf bought from a store in Haight-Ashbury a few doors down from Piedmont Boutique) is climate change. I felt the same earlier this year. In my defence, Adelaide was the hottest city on earth when the temperature reached 44.2C (111.56F) on 16 January. Maybe I'm catastrophizing. It could just be that the weather right now is due to "a deep low pressure which gathered over the Bass Strait" (The Guardian, 23 June). That's if the Bureau of Meteorology is to be believed.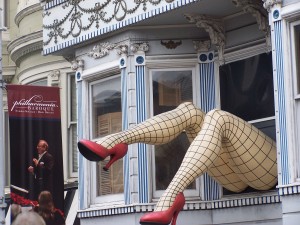 We did head out recently on a cold, wet night to see the latest X-Men. I'm learning more and more that choosing good cinema seats is both art and science. Our friend Paul usually picks them, but he was away. Left to our own devices we ended up in the fourth row from the screen on the far right-hand corner. It reminded me of Bette Midler admonishing those sitting in the front row of her Diva Las Vegas concert. Nonetheless, it was a good film and I was happy to see a pre-adolescent from a family that got split over rows sit in the aisle at one point to share some popcorn with his mum. Fire risk, yes; heartwarming – absolutely. Between Mad Men and this latest adventure set mostly during the '70s, I am experiencing a rather severe case of lamp envy.
Did I mention we had a Cronut after the film?