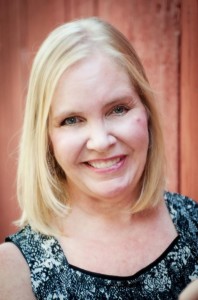 Maybe it's happenstance, but there's something just a little delightful about where Kellie Flanagan lives and the career that she has chosen. In her most well-known role, Kellie played the young daughter of the eponymous Carolyn Muir in the television series, The Ghost & Mrs. Muir. Mrs. Muir (Hope Lange) moves with her two children, Candace "Candy" (Kellie) and Jonathan (Harlen Carraher), housekeeper Martha (Reta Shaw), and the family dog (Scruffy who played…well, Scruffy) to the seaside Gull Cottage. Her real estate agent (Charles Nelson Reilly) warns her against it, thinking of any excuse including its isolation (it is, of course, haunted). Mrs. Muir is, however, not fazed telling him, "That's perfect, I'm a writer". Today, Kellie is herself a writer and while not living in a seaside shack, she does live in the Sierra Nevada foothills with her husband and teenage daughter. No word on whether she's encountered a ghost of the likes of Captain Gregg (Edward Mulhare), but she did encounter a "bobcat and her twin cubs emerged from their den to play tag" in her neighbourhood park. That neighbourhood park is Yosemite National Park.
Kellie once posted on her blog Willa Cather's words: "Most of the basic material a writer works with is acquired before the age of fifteen". In talking with Kellie, you find that she has many more stories to tell after 15; although by then she had started journaling her experiences. It was also by 15 that Kellie had lost both of her parents, and she had left show business a few years before. Kellie was "discovered" at three in Santa Monica and put into television commercials before a role in a classic episode of Star Trek called "Miri". The episode dealt with a place where adults had been decimated by a disease they had started in a scientific attempt to prolong life; and one which the children would contract once they entered adolescence. Did I mention it causes you to go mad? It may be that entertainers are told to never work with children or animals, but you could understand if Kellie subscribed at that time to "Don't trust anybody over 30".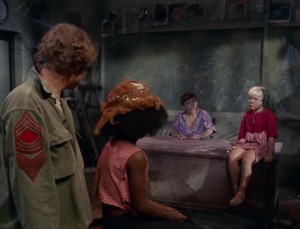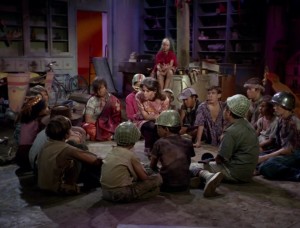 That being said, in one of her next roles, as Hal Holbrook's daughter, Mary, in Wild in the Streets, Kellie faces off with a rock star named Max Frost (played by Christopher Jones) who sets out to make 30 the mandatory retirement age, and put anyone over 35 in rehabilitation camps, with his plan, "in groovy surroundings we're gonna psych 'em all out on LSD, babies". Young Mary (Kellie was eight at the time, although she is likely playing younger) thinks that she may know a thing or two more than this 24-year old. Well, Max and his counterculture band (literally and figuratively) do have trouble focusing on the cause – they always seem to be coming down from something or, in the case of Diane Varsi's character Sally LeRoy, tripping out while lying in the top of fountain.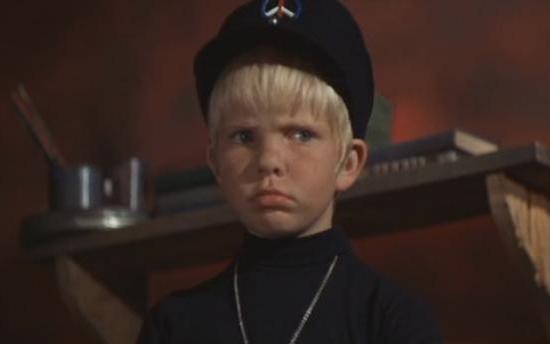 Lucky for Kellie, there were some more benign senior forces at play when cast in The Ghost & Mrs. Muir. In the first season of the show, Candy didn't see the Captain. But with a switch from NBC to ABC, she did. In one episode in the second season, Candy is the star as she falls for a boy (played by Mark Lester of Oliver!) from London, England. It's not all smooth sailing, with the nine-year old Candy worried that compared to her rival Penelope Hassenhammer (try saying that one as many times as the cast; she was played by Debi Storm), "I haven't any sex appeal" and asking her mother for a training bra, "I need all the help I can get, look at me". It's a shining moment for Kellie.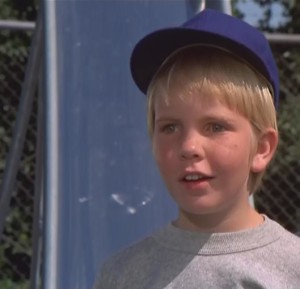 Lucky for Australia (other countries await), both Seasons One and Two of GaMM recently received a DVD release from Madman Entertainment, and Kellie can be seen again in this and the other episodes. Being an Australian myself, it's only fitting I guess that Kellie and I have been in contact. And what better way for a writer to communicate than with writing, which is how we conducted this interview. In The Catcher in the Rye, J.D. Salinger refers to those rare authors who, after reading their work, "you wish the author that wrote it was a terrific friend of yours and you could call him up on the phone whenever you felt like it". I think you'll find in Kellie that type of person.
Adam: You didn't come from a "show business family". How did it all start for you?
Kellie: While it's true that I didn't come from a show business family, my mother Geraldine was very stylish, as I recall, and loved fashion. My two older sisters, Jill and Wendy, who are 17 and 16 years my senior, did some local modeling in their teenage years.
The story goes that Geraldine was working part time for a small department store called Henshey's in Santa Monica. I was about three years old at the time and precocious for having been raised by a bunch of adults and teenagers. I also have two older brothers; my birth was an afterthought, when my parents were almost 50. They called me "how-come-you-come".
My mom also went by the name Jerry. She could really sew, and made me little linen masterpieces for holidays like Easter and Christmas. Her trademark was a seemingly endless trail of button, because she adored the buttonhole setting on her sewing machine. Often I would wear outfits that included a crinoline skirt, a dress, a little coat, hat and patent leather shoes. My mom got a big kick out of dressing me up, I think.
Geraldine organized a fashion show at Henshey's Department Store, the story continues, and put me on the runway at the end of the program. Someone in the audience with some Hollywood connection called an agent and described me as "like a little Shirley Temple without all the curls".
The very next day, I was sent out on an audition and I got the part. It was a toothpaste commercial starring June Lockhart, and I played her little girl. I remember there was a pool, a very blue and inviting swimming pool. The sun was hot. By the end of that job, I had a new agent in Dorothy Day Otis, who handled children exclusively. The career took off from there, with my mom and Dorothy at the helm.
Adam: The Trekkies won't be happy with me (not that I have any reason to think that they read my blog, but I hope they do) if I don't ask you for a couple of memories from the set of Star Trek. What struck me of that episode ("Miri") was the intensity of the scene where Captain Kirk is pleading with the children. Was this your first television role?
Kellie: That was the first season of a show that wasn't expected to be much of anything. The big excitement on the set, as far as I knew, was that Mr. Shatner was rather attractive and scandalously being divorced (I think he was Catholic, and we were Catholic, and I remember overhearing my mother complaining).
The episode was my first television show – prior to that I'd done print and television commercials, but never a series TV show. My agent, the fabulous Dorothy Day Otis, got me the job and the set was lots of fun because of all the kids and all the dust and disarray and wildness of the episode.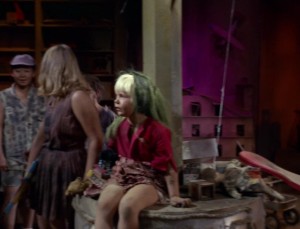 The Starship Enterprise lands on a planet that's just like Earth except there are no adults, or what the remaining population of children call, "grups" (I still think of the word adult as grup in my head, today). When kids hit puberty, they get this horrible skin rotting condition, waaay beyond acne, then basically foam at the mouth, go mad and die.
So there's the big scene where the kids are sort of revolting and Captain Kirk is talking with them, and I remember the director or someone put me on the table – physically lifted me up so I could be seen (wearing a green wig) and plopped me on the table, which felt quite special. There was lots of commotion between takes, and at one point Dorothy came up to me and whispered in my ear. She told me what to say when the scene started up, a very simple line any kid could remember. I was only about six or seven years old, and petite, so I looked younger. When the camera rolled and the scene started up, I hollered out what Dorothy had told me to, "Call the police!"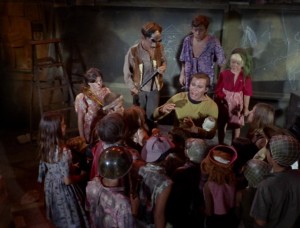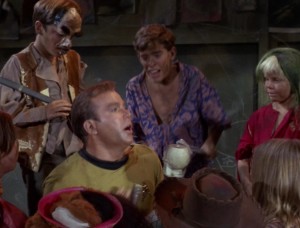 As I recall, it was a cut/print at the end of the scene – they wound up keeping the scene with the Dorothy-dialog in it, and that's how I got my SAG card. Dorothy was the greatest.
Adam: There was some time between Star Trek and other television guest roles, but then you appeared in Family Affair and The Andy Griffith Show. Newspapers singled you out in the Andy Griffith episode, asking that viewers "Watch, too, for a blinding grin at the end by a blonde youngster named Kellie Flanagan, it's worth the whole show" (The Bridgeport Telegram, March 18, 1968, p. 14). Was your routine and that of your family still "normal" or was there a momentum starting to build?
Kellie: The gap in my television work between Star Trek in 1966 and other shows later on was filled in with commercial television appearances and print work. My dad Cornelius (Neal) kept a very good scrap book and he had a hand-written list of all the commercials I worked on in film and print. If I recall correctly, there were over 100, many of them classic American companies that are still in business today.
My routine was still fairly normal throughout that time, or what was considered normal for me. I had a lot of little jobs and many auditions. I went to St. Monica's Catholic School, was a Brownie with my mom as Troop Leader, and took dance lessons in Malibu from a French woman named Marjorie Jeanne. Sometimes I took riding lessons and diving lessons, I loved The Flintstones and Captain Kangaroo.
At St. Monica's we wore plaid pleated skirts with suspenders, white pressed shirts, white socks and black and white saddle shoes. That was my school uniform. I also had an "interview uniform", that was similar, so I could just change in the car as my mom drove from Santa Monica to Beverly Hills or where ever the interview was for that afternoon. Usually we were able to schedule afternoons rather than mornings so I didn't miss much school.
I had friends from school and a best friend, named Stacy who did not go to school or church with us. Regarding interviews and working in the business, I remember that I always had the choice, up to a point. For instance, if my mom and I agreed that I would go on a particular interview, I had to go and couldn't change my mind at the last minute.
After an interview, Jerry would ask me a series of questions, including "how did it feel?", and we would talk about what would happen if I got the job. If I agreed to do the job, I had to carry through and again, couldn't change my mind. I do not remember one instance where I had to do a job I did not want to do. To my recollection, I always had a say in things and was encouraged to use my instincts when it came to reading people (that is, the people who were interviewing me, usually casting or ad people or directors).
To summarize, I think at this point things were pretty normal for me, or as normal as they would be. The details of the business didn't get in my way of having fun or being a kid at that time.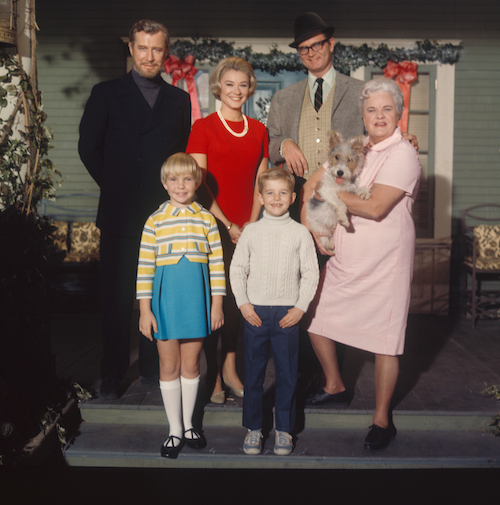 Adam: How would you describe the GaMM cast members: Hope Lange, Edward Mulhare, Reta Shaw, Charles Nelson Reilly, Harlen Carraher, and wire-haired fox terrier Scruffy? Do you still see Harlen, or did you keep in touch at some point?
Kellie: Hope Lange was beautiful and sophisticated, and always impeccably turned out. Her hair was perfectly coiffed, her skirts were pressed and her sweater sets matched with effortless grace. Well, of course! She was an actress and basically I only remember seeing her on set when we were working. At one time I believe she was getting a divorce. From that I recall a little whispering that we should behave and not bother her. I have never researched to see if that is true. [Adam's note: This is, indeed, true. Hope and Alan Pakula separated in 1969, with the divorce finalized in 1971].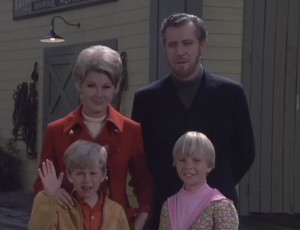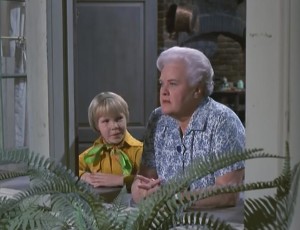 Edward Mulhare had to have his beard and mustache put on and removed every day, so he was in make-up a lot. In the first season, the character I played did not see the ghost. So we didn't have scenes together, except when he was popping in and out, until the second year of the show. Reta Shaw was a lot like she was on the program, very hustle bustle and funny, lots of cracks and comments. Charles was wild and he and the other actors and the main producers, guest directors and guest stars, would have a great time at the every-Friday night wrap parties. Lots of food, cocktails, cigarettes and grownups talking, gossiping and laughing about the business and most of it was, quite literally, over our heads, as kids. It was a very happy set. Lots of fun, everyone was always very nice and accommodating to us, and there were no problems whatsoever that I recall.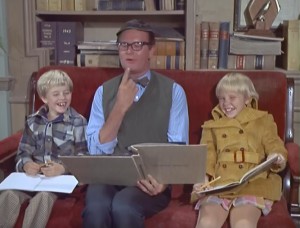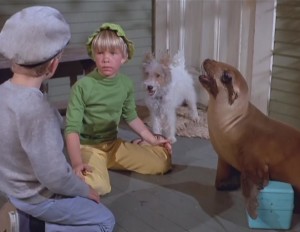 Harlen and I did not keep in touch, that would have been something my mother would have done and so since she died in 1970 a lot of relationships fell by the wayside. I don't know if Harlen continued in the business, though I have heard that as an adult, he's an engineer for the City of Los Angeles. I've heard there's a bar he likes to hang out at occasionally in Culver City or Hollywood or something, and always have heard he's a "nice, regular guy". It has never occurred to me to get in touch with him, and (as you now know) I am a terrible correspondent. In the last couple of years people have suggested that we get in touch so perhaps that will happen at some time.
Scruffy was named Scruffy in real life, and when I once asked my mom how much money I made she told me, "Scruffy makes more!" In my life at that time, we did not have a dog. I had a cat, a rat, miscellaneous reptiles, but no dog. At least once handlers put dog food on my cheek for Scruffy to lick off, a trick of training that I was not pleased with at all. Honestly, and I know people don't want to hear it; I was not a big fan of Scruffy! Somehow I must have already known to avoid working with kids and animals.
Adam: Newspaper publicity pieces at the time had stories from the GaMM set at 20th Century-Fox on Pico Blvd., including you and Harlen being taught to ice-skate by Hope Lange and schooled in the Queen's English by Edward Mulhare; as well as the two of you playing a particularly long game of tic-tac-toe when you weren't teaching Scruffy to play ball. You've also written of being schooled on set with Harlen. Was it a happy set to be on?
Kellie: I don't remember anything about ice-skating, and it sounds as though that may have been a photo opp. If it was anything genuine I think I would have remembered it, but I can't deny it either. We were schooled in learning how to say "blast!" and "shipshape and Bristol fashion", and a few other phrases but that's all I remember. The tic-tac-toe game you refer to was definitely from a publicity shoot, as I have the Polaroid and stills. As I remember it, tic-tac-toe was just something to do while we were photographed, and that was one of those times when the dog food was put on my face. This all sounds like publicity, I don't really remember anything specific.
Being schooled on set was great, and only took three hours a day, which I think is plenty for school. We had a bus – I think it was a school bus – parked right outside the main doors to the soundstage and that's where we went to school with our teacher, Mrs. Bone. That was a very fun name for a teacher to have, and played in perfectly with the whole haunted house theme of the show. She had a funny way of sneezing, where she'd do a big wind up – ah, ah, AH… – and then a little tiny "choo".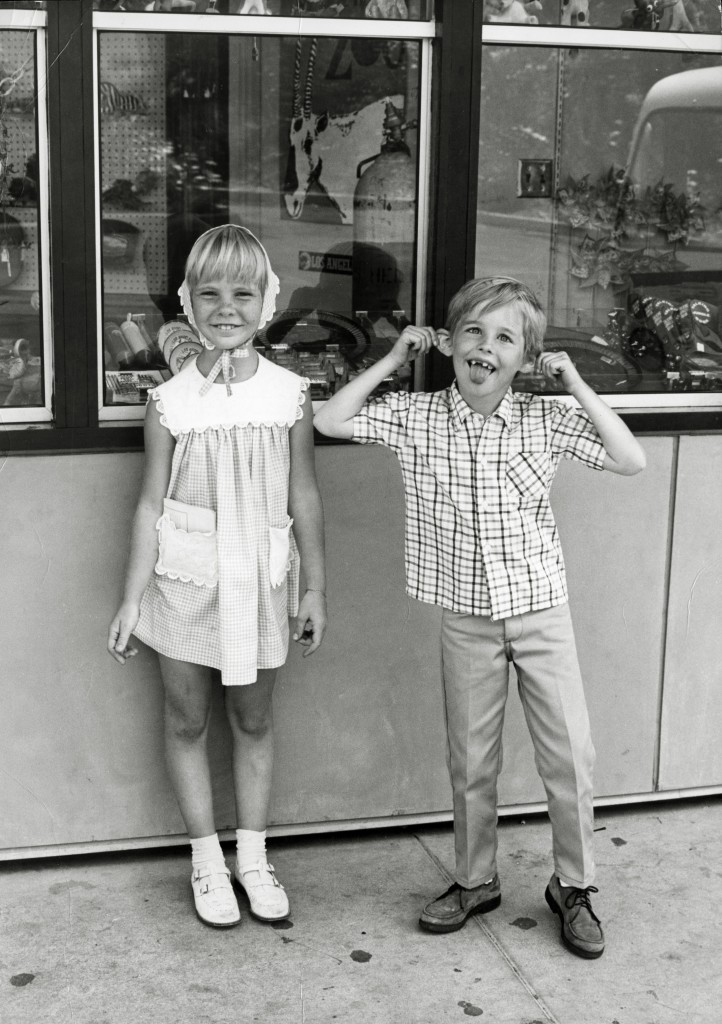 When we had days where we weren't needed a lot, we were released to go across Pico Blvd. to Ranch Park, where they even had a swimming pool. Often our schooling would involve studying in my individual dressing room, which was a little hot aluminum box next to the school bus. It may have been a small trailer, with a bed, makeup table and lights, restroom, and little dinette area.
No air conditioning, and it sweltered so badly that once a snake given to me by another kid who worked on the lot (Darby Hinton, he was in Daniel Boone) was forgotten over a long weekend. We should have taken the pet home to cool Santa Monica, but instead we left it in the dressing room at Fox and came back after the break to a dead snake.
Adam: Early in the run of GaMM, you were Burl Ives' co-star in the Thanksgiving TV-special, All Things Bright and Beautiful. What are your memories of that?
Kellie: Appearing in All Things Bright and Beautiful with Burl Ives and other stars including jazz great Lionel Hampton, was an absolute high point for me and my family. The show was directed by the same person who did Wild in the Streets – not sure which came first though I think it was Wild in the Streets before All Things Bright And Beautiful – both directed by Barry Shear.
Mr. Ives, as I called him, was a completely genuine person and when he spoke it was very special. The fact that he could play guitar and sing made him a huge hit with a kid like me. This show was shot on location, I don't know where, but I think we were picked up in a car every day to get there, a sort of limo called a "stretch".
The night the show was set to air, which I believe was on Thanksgiving in 1968, our family was gathered to watch it on TV together. The phone rang and it was Mr. Ives inviting us to come to the hotel where he was staying and watch it with him. He was in a suite at the Chateau Marmont in Hollywood. My mom, dad, me, my sister Wendy and her son Erik, we all traipsed over into Hollywood and got to the suite in time to watch the show. I have a Polaroid from that night with Erik, who was five, me and Mr. Ives all on our bellies posing with a snow white polar bear rug and the head of the polar bear like one of us in the photo.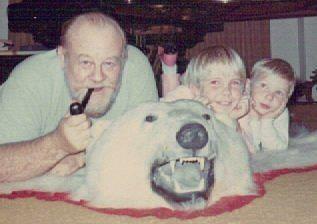 I do not have a copy of this show, though I sure wish I did. What I do have is an audio recording and it's just priceless to hear my little voice and the man we all know as the wayfaring stranger. I think that's one of the things he was called! Just a great guy.
Adam: Your favorite GaMM episode, "Puppy Love", comes from the second season. Candy falls for the dreamy Mark Helmore, played by Mark Lester. He was a hot commodity after Oliver! and Run Wild, Run Free. What was it like to play front and centre, and did you share Candy's crush (not Candy Crush, mind you) on Mark?
Kellie: The GaMM episode "Puppy Love" was indeed my favorite of all episodes, I am not too shy to say it. One of the reasons that show was so much fun is that so many kids were cast to play Candy's gang of friends, plus Penelope and Mark.
The scenes in "Puppy Love" are pretty funny to watch, and they were really fun to shoot. I completely preferred that the entire episode focused on my character, because I was a ham and considered myself underutilized on a regular basis – so it was great to have lots of lines to memorize and to be in just about every scene of the episode.
It's also funny to watch, because you can really see what was becoming or would become or perhaps already had become my actual personality. It's all just very… Kellie. Since I was raised before video cameras were everywhere, my childhood was documented in a way that not many kids my age would have been familiar with. So when I watch scenes from "Puppy Love", like the dancing and singing, and Candy mooning over Mark, and the fighting and hurt feelings and I-don't-care-attitude in the end, that's all very much like me and for that reason is special to watch. I also think I was a pretty good little actress from what I can tell.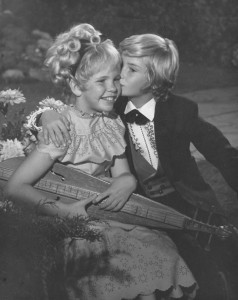 Mark Lester was nothing compared to having my own friend from real life on the show that week. Johnny Garacochea lived across the street and up three houses from where we lived on 18th Street in Santa Monica. His dad owned a Basque bakery, and his mother was young and pretty, very classic homemaker-type. My mom talked his mom into letting Johnny do some acting, and then I guess my mom talked the producers into letting Johnny be on the show – he was a nice kid and great looking kid from a very nice family – so that was more fun for me even than having a star like Mark Lester. I was not interested in boys at that age, so it wasn't a factor really, though Mark Lester was and from what I can see still is, as Candy would say, adorable.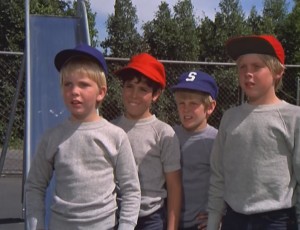 Adam: One more quote from a newspaper article that discussed your love of wildlife (you had two pet alligators?!): "One moment, Kellie will be playing with the multitude of dolls who "accompany" her to the studio each morning. The next minute, she may be conducting a serious conversation with an adult three or four times her age on a current national event" (The Abilene Reporter-News, September 28, 1969, p. 12-E). This paints a picture of an articulate young lady. Do you relate to it? Do you think that that was something you brought to the set, or a byproduct of working so young?
Kellie: The description you cite about me as a child having typical childhood pets and also perfectly adult conversations, is quite true and very much speaks to uniqueness in my upbringing. First, let's address the alligators. My mom was an experienced mom with four kids before me, including two boys. We had all kinds of lizards, snakes, turtles and other animals including rats, mice, and cats. There was an instance of two alligators in the bathtub once, and I do recall seeing that, but I think it was a one-time thing and a self-limiting problem. In other words, my mom kyboshed it and out they went.
I did have a couple of Caimans, and we'd rig the Slip 'N Slide over the backyard play slide and let the little critters off at the top until they slid into a bucket of water at the bottom. I don't know if you could get them anymore and that's probably exercising very poor judgment to drop a reptile down a waterslide, so I do not recommend or advocate that in any way 😉
Jerry and Neal's youngest child (my brother Terry) was 14 when I was born. By the time I started acting really regularly, my brothers and sisters were out of the house. I was raised with adults and spoken to as an adult more or less from the time I was very little. My brothers and sisters made a great game of teaching me to say "bullshit" to anything a nun asked me. That caused confusion amongst the sisters at St. Monica's, and was hilarious to my own brothers and sisters, to see a little kid thrown a crabby curse word out for any question asked.
My father had a tremendous sensibility for words, and was always working on word puzzles, jingles, poems and rhymes. He taught me big words from a little age, like "pusillanimous". I tested well in school and on IQ charts, and I remember being pretty fearless. I believe that I brought a lot to the table in that regard when it came to acting. Also, I was petite and they like that in the business, because you are an older child who can play younger, which makes her easier to direct. She will have better memory and ability, and still look like a really little kid.
Then, once I began working that reinforced itself. As I was exposed to more of the creative adult world, that influenced me to the point where by the time I was 11 years old, I knew everything. At least I thought I did.
Adam: Child actors are surrounded by big names and, particularly in the case of GaMM, some veteran performers. Were you in awe of any particular person/people you got to work with, or has that come with time?
Kellie: The most impressed I remember being (besides Dom DeLuise who was just a riot) was when Harry Nilsson the songwriter was on the show. My sister had his records, or maybe we got them later, but I knew he was a rising star and as I recall he was very young and kind of awkward but extremely kind and generous with the music he played for us that week. I still adore his music and can sort of work my way through one of his songs on guitar, the charming "Puppy Song", I think it's called.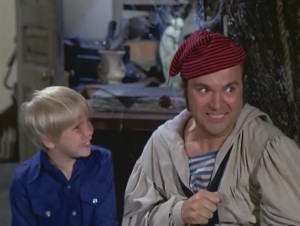 Looking back, I am astonished and impressed by the caliber of the people with which I had the honor to share a sound stage, if only briefly. We spent a lot of time, as kids on the show, going to school and then going to bed, so except for a few episodes – and Jonathan's interaction with the ghost – we weren't in the show as much as kids on today's shows (like Modern Family) or even other shows like The Courtship of Eddie's Father or Family Affair, that really centered around the children.
Adam: American International Pictures went hippie (to paraphrase Salli Sachse, one of their long-term contractees from the Beach Party movies) with Wild in the Streets. You had a small but pivotal role as a bit of an antagonist to Christopher Jones. What do you remember of him?
Kellie: I get a huge kick out of Wild in the Streets and always have. Some of the scenes were really fun to shoot, like the political rally. Others were dramatic, like the scene where Hal Holbrook rips the posters off the walls in a drunken rage.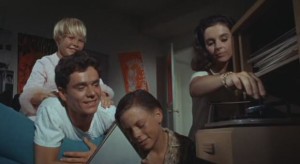 I spent an afternoon with Richard Pryor while filming that movie – we were on location near my house (which makes me wonder if my mom told the director about Douglas Park) – and we had a scene together that involved crawdads. Richard and I played with the crawdads, as I recall, and when the day was over, got to dump the bucket of crayfish into the water in the pond at Douglas Park near 25th in Santa Monica.
Shelley Winters was a big force back then – we were not supposed to be on stage when she was on – because of her salty language choices, we were told, but also because I had no scene with her in the movie. I loved her in The Poseidon Adventure.
The music in the movie was really fun, too, as were the costumes. When the movie premiered in Hollywood it was a big deal, as I remember. Something tells me that Martin Luther King's widow Coretta Scott King appeared at the premiere – but I don't know why she would be, it was just months after her husband's death. So that makes no sense but I have that memory of not seeing her but being told she was there.
That movie has gotten Rotten Apple Awards among others. It was listed in the comedy and drama section of video stores at one time. I have no memory of working with Christopher Jones, really, but I do remember the sets in that movie, including the end set. Also those were my boots I wore at the end, they were always taking my shoes for things and just spray-painting them whatever colors the wardrobe department needed.
Once, when I was a teenager, that movie was playing at the local dive theater near my place in Venice, and I got a bunch of my friends in to see it for free, but when the lights came on only dedicated few remained. I love counter culture and the photos of me in the storm trooper outfit with the peace sign are some of my favorites. I really got to act in that movie, the tears were real.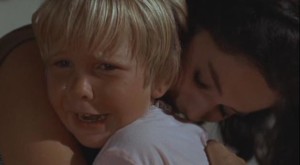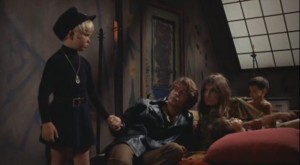 Adam: I conducted some research into PTSD a few years back. Something you wrote on your blog resonated with my thoughts:
"A new apocalypse is upon us: a generation of men and women are cut down or condemned to live without limbs, intestines, brain matter, sometimes even without souls. PTSD and TBI tear our young vets apart even after they've survived the roadside bombs. Soldiers return from tour these days as hometown heroes, and kill themselves with desperate resolve — overseas and stateside suicides are reported now in numbers unheard of in any war, ever before".
You described Vietnam as "the war of my childhood". I read that during GaMM you participated in events for the U.S. Marine Corps, including a 'Toyathon' (organized by Los Angeles children's television personality Sally Baker, a.k.a. Hobo Kelly) and even collecting coffee cans for Marine wives and mothers to pack with homemade cookies. While many children of your age grew up with Vietnam, did you find yourself exposed to more of it as a result of working?
Kellie: I have a vague recollection of cans and fundraisers but I think the real reason I remember the war is because my family was involved. My oldest brother Shaun went to Vietnam very early on in the sixties, "before anything was happening", he says now, though he was a paratrooper and Green Beret so that's a little hard to imagine. He was away from home one Christmas and we kept the tree up until he returned later that year. He is 20 years older than me and was married and out of the house by the time I remember much.
Santa Monica was a pretty small town in those days, and I recall that we'd listen to the nightly news on the radio, and they'd read names of the war dead town by town. We had to wait all the way until they got to the "s" for Santa Monica. I don't know how often this happened, or what station, but I remember being with my parents in the kitchen listening to the radio, very tense until we heard the names and didn't know any of the dead.
I grew up in an Irish-German household where talk of politics was not verboten and both of my sisters were very active politically on a local level over the years. My sister Jill lived in the south for a while when the Civil Rights marches were going on.
The reason the suicides resonate with me is because I was involved in production on a series called the Civil War Journal for A&E, over 60 episodes and many that I wrote myself. It was a doc style series in the '90s hosted by Danny Glover. That gave me a little taste of war and so I caught wind of the suicides early and was really frustrated to note that our government wasn't counting a lot of them as suicides and I could see right away the numbers were extremely alarming.
Adam: Your mother, Geraldine, passed away in 1970. How did life change after that?
Kellie: My life had already changed drastically when my mom Geraldine died in 1970, because she'd been sick for a long time before that, but when she did die just a few days before my 11th birthday, there was no going back to the way things had been.
When Jerry was diagnosed with cancer, there were exploratory surgeries and other surgeries to try and arrest the thing – she had a colostomy bag from the colon cancer and on the second year of GaMM she joked that she didn't have to leave the soundstage to go to the bathroom. So I guess she had a pretty good attitude at least in front of me.
She got sicker and sicker, though, so I went to live with my sister Jill who was living with Davis Factor, Jr. at the time. He was the very kind and wealthy grandson of Max Factor of makeup fame. Davis was in the process of getting divorced when they met and moved in together. So it seemed at that time that Jill was in the most stable relationship but also Jill had always stayed close to me and taken care of me. I was very comfortable with her and with Davis, who had three children of his own.
At first, we lived in Marina del Rey, in an apartment with rented furniture, every piece of it, which was fun. Davis had two boats, a yacht and a speedboat. We'd take the speedboat to dinner at different restaurants in the Marina.
I learned to water-ski, eat clams and abalone, started going to a public school for 6th grade when we moved to the Peninsula where each street carries a nautical name: Anchorage, Buccaneer, Catamaran, Driftwood, Eastwind, Fleet, etc.
We lived on Fleet in a big black house with yellow trim and a turquoise door. We had a pet fox that we bought at a pet shop in Century City. When that fox ran away, we got another. My bedroom was downstairs in the two story house, and I was allowed to pick out everything for the remodel down there. It was two bedrooms with a master bath area in between, open style, with a fabulous claw-foot tub and loads of beautiful handmade Mexican tile, and an enclosed latrine. We had kittens, and lots of little trips and things were going about as well as you could expect.
The morning after my mom died, I knew she was gone because I told myself, I'd know. I didn't want anyone to have to tell me, I thought that would be the saddest thing. I saw her one last time when some nuns smuggled me into the elevator and up to Intensive Care between their long habits. She was very sick and I remember a tear sliding slowly down her wrinkled cheek, it was heartbreaking.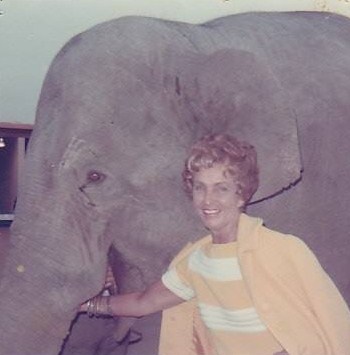 So, what changed? Everything changed. My dad was an alcoholic so once Jerry died, Neal went off the rails. There had been no insurance, I think, and so finances were tapped, including any money to speak of, because in catastrophic situations – and this was an utter catastrophe to lose my mom – a child actor's money can be used, and I had already been head of household financially for many years.
My dad sold our house in a very desirable area of Santa Monica, sold all our things I guess, except for a few pieces. He moved to Inglewood – not desirable. I still saw him – when we all lived at home he was a great daddy to me and I loved him tremendously – but as his disease progressed it became more clear that he was not fit to handle a child my age. He left me in the car once while he was in a bar and I got mad and started honking the horn and he got mad and then one of my brothers or sisters came to get me and they all got mad. Once he drove drunk with me in the car down a very windy road and it was terrifying. He flashed his gun at the grocery store for no good reason. So pretty soon, I didn't see dad anymore. He died on the hospital when I was 15 from liver disease due to alcoholism. The last time I remember seeing him was at my 9th grade graduation.
Adam: After leaving show business, you attended high school and UCLA. You've written of that time that you still have your "private journals from Venice High School in the late-1970s, where Mrs. Schneider impressed the value of a strong essay, and Mr. Batcho tortured students with seemingly endless notes in crisp red pen". I have fond memories of my teachers and how they shaped what I wanted to do. Can you tell me a little about how you got into writing?
Kellie: By the time I was 15 I kept a journal – a very torrid, dramatic and crazed journal just as you'd expect a teenage girl to keep. So by my teenage years, writing was already an important part of what I identified as me. When I was in 11th grade I entered a random contest to write an essay about trees with a chance to win a one-week stay with a forest family in Fort Bragg, California. The essay contest was sponsored by Georgia-Pacific, a big logging and paper concern.
By this time, I was living with my sister Wendy, her son Erik (five years younger than me) and Wendy's new husband, Bill. Wendy was the English Department Chair and teacher at Venice High, and her husband Bill was known as "Coach" because he coached football and other sports. Probably it was Wendy who found out about this essay and encouraged me to give it a shot.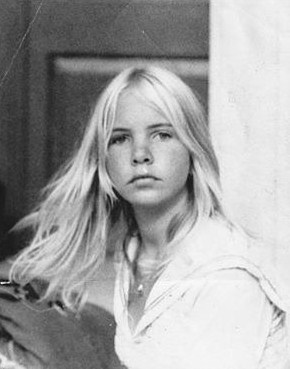 I have no recollection whatsoever what I wrote, maybe something about my love of nature, but it did the trick, because I won the essay contest and pretty soon was on a flight up north to Fort Bragg, where I was set to move in with this logging family – the dad was one of the bosses in the forest – and stay for a week to learn more about trees and logging and basically a big publicity stunt for Georgia-Pacific.
It would have been great, except, a tragedy had occurred. The logging family's older daughter's fiancé had been killed in a logging accident just a week or so before. This I found out on the flight to Fort Bragg. To my shock, when I arrived, they put me in her room and put her with her little sister to sleep. I could not believe this, and thought she needed her own space, but they wouldn't hear of it. I couldn't even believe they were having me there, it was so fresh.
The trip itself and the overall experience were wonderful, and I saw many sides of the forest that week. But I learned something really powerful about myself that had nothing to do with trees. One night, the grieving girl came into her room where I was getting ready for bed. She was very young, not much older than me, but I was the one with the wisdom on this particular subject of utter despair. We began to talk. She cried and told me about her dead fiancé and we talked for a couple of hours, and in that time I began to see that some of the painful experiences I'd had – losing both parents – had given me a gift of compassion and understanding that would be a wellspring I'd draw on forever. I mean, it didn't all come out so succinctly in my head like that, but I realized I had helped her through a tough night – one of many, I'm sure – and in doing so, had healed myself a little. So that was pretty big for a kid.
At the end of that trip, I got to basically hitchhike home via little airports. I had a school dance to get to – spring formal – and the regular connecting flights weren't working right to get me back home on time. The people in Fort Bragg set me up with the pilot of a little plane who flew me as far south as he could, then radioed ahead to see who else was going further south that way. None of this could happen today! After a few flights I got home, in time for the dance.
Well, that's a long way to go to talk about writing – but I guess it's the storytelling and the understanding that goes along with it that I am drawn to. I dropped out of UCLA by the way. If there wasn't a parking space I flipped my car around and went back home to the beach. I didn't even have enough sense to properly drop the classes, just didn't go. So I got my education doing TV documentaries – I have a specialty in Civil War and post-Civil War westward expansion and art of those same periods. During my television career, coming up through the ranks as a production secretary and production-assistant all the way to producer and director – I was always saying, "I can write that, do you want me to write that?" So I just whittled away at it and eventually got to do a lot of writing for television and then freelance writing and now I'm writing you!
I have always been a bad correspondent, though, and am notoriously forgetful with letters.
Adam: When you're not writing yourself, who/what do you like to read?
Kellie: I read a lot of memoirs because I have been dabbling in memoir for years. My favorite is The Glass Castle by Jeannette Walls. For fiction, one of my favorites is A Fine Balance by Rohinton Mistry. I also like Things Fall Apart, The Good Earth, and I have a lot of reference books I love, many for writing. We also read Outside Magazine and I pay attention to lots of sources online. I watch a lot of TV!
Adam: A few years ago you relocated with your family to the Sierra Nevada Mountains. You wrote of that time:
"Most of my identity went missing as we moved. Even after 18,000 pounds of belongings trucked its successful way from Culver City, lugged over the Grapevine and climbed into these foothills, I still struggled to find where I belonged".
How did you find your place?
Kellie: We left Los Angeles for the Sierra Nevada Foothills eight years ago. One of my favorite movies is Out of Africa with Meryl Streep and Robert Redford. If you don't laugh too hard, I'll tell you that this move from the city to the mountains is a little like my Africa – or how Africa was for Meryl's character the writer Karen von Blixen who went by the pen name Isak Dinesen. OK I know it's not that dramatic but that's what goes on in my head. We had always intended to leave the city; we thought when our daughter went into middle school. Instead, my best friend had a nearly-deadly stroke that left her in the ICU at UCLA all summer in 2006. She recovered pretty well, amazing recovery, Lazarus-like. It made us realize we wanted to get while the getting was good, so we migrated to almost five acres about half an hour outside the entrance to Yosemite National Park, in the beautiful and currently drought afflicted foothills. We stayed as close to Los Angeles as we could afford to and still be in the mountains.
To a certain degree I've found my place. I don't know that I'll live here forever. I feel really blessed to have found work that I love most days – something I can do that's in my field and to be able to work from home, all that is a big joy and a big surprise. Our daughter is delightful and is super busy in her junior year of high school now. She wants to be a forensic scientist not an actor so that was worth the move! My husband Dave and I have been married for almost 19 years, he is a landscape architect and has a great job in the city. I have a dog I adore, and a flock of chickens, and beauty surrounds me. There's also a hell of a lot of fires, lately, but that's part of the adventure – and something I never dreamed I'd be writing about, in terms of being a reporter, certainly. So I love the turns my life has taken, and consider myself very fortunate to have made it this far.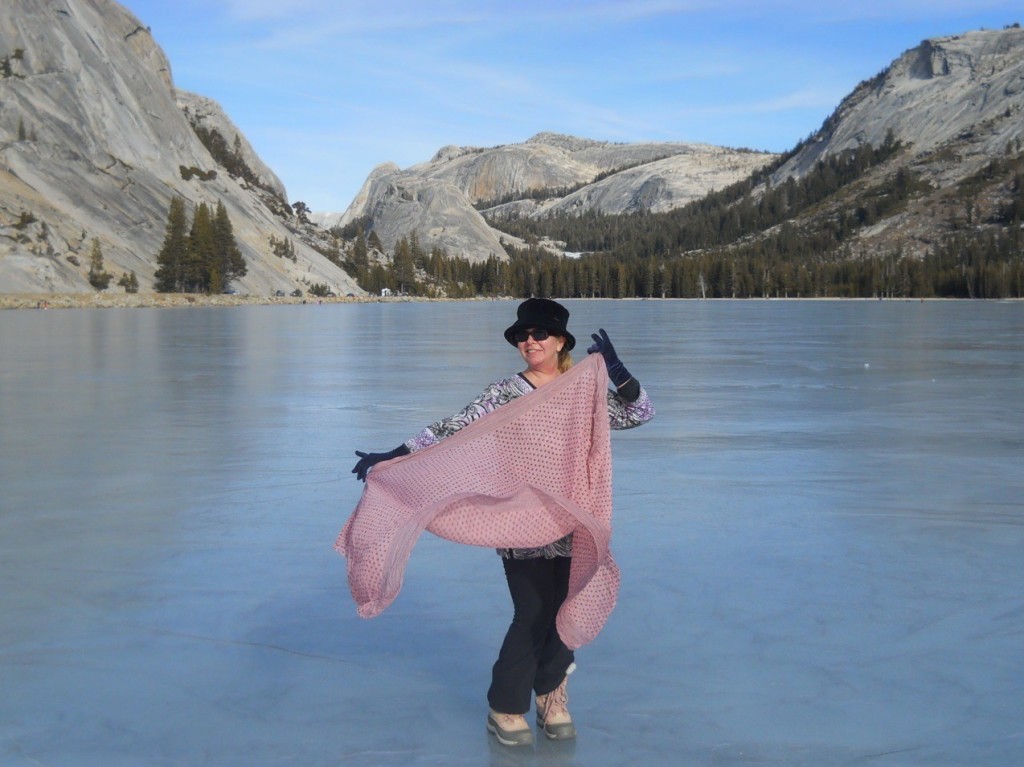 Adam: What's next?
Kellie: I have been a stay-home Mom for almost 17 years and have had a bunch of part time jobs, mostly in the areas of entertainment, but not all. For a brief few weeks, I was a waitress in a tea shop my sister-in-law owned here in the mountains. It seemed like a good idea at the time, but only lasted three weeks. That's twice I haven't made it as a waitress, so that means I wouldn't be a very good actress, right?
Inside my head I am constantly writing. For a long time before this, I was a writer who didn't write. I have a half-finished memoir about the time from around 1966-1976 so it covers the television years and also, what I think are more interesting, transitional years of teen angst and coming of age.
A little more than two years ago, I started working for Sierra News Online, and it has been an amazing experience. I had no clue about journalism, had never tried it or studied it.
Since I began working for SNO I've probably written many hundreds if not a thousand little stories. Some are very tiny and others hold some weight. Mostly I enjoy writing the human interest pieces and people respond very well to those. So we are trying to structure things so I can do more of that. The website is a very interesting place to be, it has grown exponentially since I began and it's fascinating in terms of the business end of things.
It's my goal to publish at least one book, though I have a few in me, and I am working ever-modestly toward that goal. Send help!
The Ghost & Mrs. Muir can be purchased through Madman Entertainment's website, as well as online and in-store at several DVD outlets. Kellie is on Facebook and I'm sure she would love it for you to drop past there. She also has her blog where she writes about life, past and present, as well as posting photos of her passions (such as repurposed furniture), and her menagerie of cats and dogs and chickens and things (I've been inspired in my phrasing of that from The Muppets Take Manhattan, I'm sure of it). Besides stories of her own life, Kellie writes on the blog and Facebook page of her experiences of telling the stories of others. As she mentioned in the interview, Kellie worked on the series Civil War Journal. It was there that she produced or scripted programs on Lincoln's Gettysburg address, the unsung heroes of that battle, the Battle of Fredericksburg, the "boy generals" of the Civil War, the prison camps, and many other subjects. Her work in production, producing, writing and directing has also involved documentary treatments of Mata Hari and John Wilkes Booth, and even country music stars. Oh yes, she did tell his heart, his achy breaky… Perhaps what I like most about Kellie's Internet presence is her insights on being a writer, sometimes sharing the insights of others. I love this quote of Mignon McLaughlin that Kellie posted: "There's only one person who needs a glass of water oftener than a small child tucked in for the night, and that's a writer sitting down to write". Now where's my Evian (who am I kidding, it's tap). You can also find Kellie at Sierra News Online.
Top photo of Kellie by Roxy Kobashi.