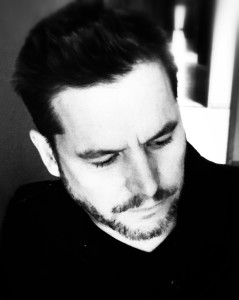 Gavin Harrison has always worn many hats. Of course, one of them was acting. On Australian television he played cyclist Hugo Strzelecki on the Seven Network's revered drama series A Country Practice. Before that, he had several stints on Home and Away as Morris "Revhead" Gibson, one of the soap's first bad boys. At the moment, Gavin's main role is as a producer with his own advertising production company, Section9 Productions. The Los Angeles-based company engages in global print campaigns for everything from Kia to BMW to Tesla in the automotive industry, to Absolut Vodka, American Airlines, and Philips. It's no surprise to find that it is a "full-service" company, meaning Gavin and his crew are involved right from pre-production, to shooting, and then to post-production. That includes scouting locations, casting, co-ordinating production, lighting, and working alongside photographers. After all, Gavin has worked in all these areas at one time or another, and has done so since he was 15. He's clearly happiest when he is doing multiple things.
Gavin was accepted into film school as a teenager. From starting out as a second-assistant director, he ended up at Priest Productions. It's perhaps difficult – given how woven into the music industry the video clip has become over the last 30 years – to imagine how pioneering on a worldwide stage its Australian owner, Steven Priest, was in the '80s as a producer and director of videos, live music specials, and commercials. The work of him and his team included videos for Elton John, KISS, The Angels, Cold Chiesel, INXS, Mi-Sex, Duran Duran, Noiseworks, John Farnham, and Little River Band. This was Gavin's apprenticeship in production. Acting came into the picture around the same time, when Gavin got his first role (a different character to Hugo) out of high school on A Country Practice.
There were early roles in Australian productions. In You've Probably Saved His Life, Gavin played a schoolboy swimmer named Tom whose father dies unexpectedly. In one scene, Tom and his sister (played by Sarah Lambert, who is the creator of the Australian Nine Network's current hit series Love Child) try to cheer up their grieving mother, Pam (Judy Morris), by cooking her dinner. It's a spectacular disaster, but a poignant scene in this short film produced as an education tool for St John Ambulance Australia. If you were in an Australian school at the time, you probably saw it one day in class; along with the "where do babies come from?" video. Another part was a guest role as Kieron Taylor, who may or may not be the long-lost son of a dangerous dictator played by Gerard Kennedy, in the 1980's version of the television series Mission: Impossible. This was a U.S. production filmed on the Gold Coast in Queensland, and again starred Peter Graves.
From there, it was on to Home and Away in 1988. Revhead may have been somewhat misunderstood by the folk of seaside town Summer Bay, but there's no denying he was a dirty guy. The panel beater (for non-Australian folk reading here, someone who repairs damaged motor vehicles) made enemies of good boys Steven Matheson (Adam Willits), Adam Cameron (Mat Stevenson) and Blake Dean (Les Hill), and was often found hassling (a very Home and Away word) the likes of Roo Stewart (Justine Clarke), Emma Jackson (Dannii Minogue) and Viv Newton (Mouche Phillips). Gavin played nice guys in between his appearances on Home and Away. He was Renato Santinelli on the short-lived Family and Friends on the Nine Network in 1990, and had a guest appearance as a boxer on the acclaimed ABC drama GP. This was one of his favourite roles, and one with significant training involved to get Gavin to have the look and feel of a boxer. When Revhead was finally put away for good in 1991 (he must have been paroled by now), Gavin took on a full-time role on A Country Practice.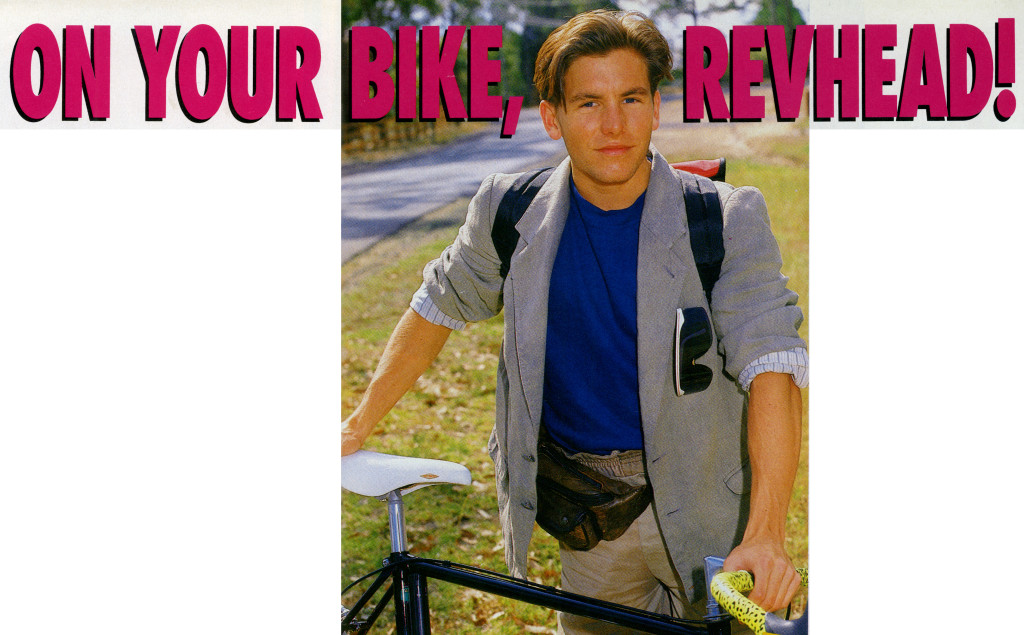 Gavin played Hugo Strzelecki on A Country Practice from 1992 to shortly before the series ended in 1993. In his first episode, which aired in Australia on January 27, Hugo's dreams of the Tour de France are sidelined after a car accident, leading him to stay in rural Wandin Valley. The accident was at the hands of the person who eventually becomes his best pal, Darcy Hudson, who was played by Kym Wilson. Admittedly, most of the people who got anywhere near Darcy's driving didn't fare much better. Once she even ran down someone who was just borrowing Hugo's bike. It all seems a little sinister. Nonetheless, Gavin and Kym were a great pair on-screen as the new kids in town, as were Gavin and Judith McGrath, who played Darcy's mother Bernice; Maureen Edwards as the hospital's director of nursing, Matron Rosemary Prior; and Joyce Jacobs, the town gossip, Esme Watson. Hugo even engaged in a croissant bake-off with Esme. He was a brave boy to go up against someone who had been baking since before he'd taken the training wheels off of his cycle.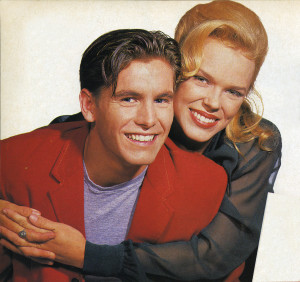 A Country Practice was one of the premier dramas on Australian television at the time, and mixed light and dramatic moments with dexterity. Some of the heavy for Hugo included significant injuries and illness; conflict with his father (something that seemed to be prevalent for many of Gavin's characters); and a moral ambivalence that was involved in some of Hugo's decisions, such as when he had the chance to inflict a damaging "sucker punch" on a boxing opponent. In the two-part "Little Boy Blue", which was very much ahead of its time in dealing with gay issues on television, Hugo and training friend Brett Cooper (Simon Stokes) are beaten up in a homophobic attack. It remains one of Gavin's favourite storylines.
Eventually it was not Darcy or the Tour de France that kept Hugo in or out of the Valley, respectively, but a romance with Christina Agapitos, a young woman with leukemia. She was played by Gavin's real-life friend and former Home and Away co-star Rebekah Elmaloglou. For those episodes, there was significant consultation between A Country Practice staff and CanTeen, the Australian support service and charity for young people living with cancer. At the time, Gavin also had significant involvement with another support service for seriously-ill children, the Starlight Foundation. His involvement with Starlight was driven initially by the loss of a childhood friend to cancer.
After Gavin left A Country Practice, he headed to L.A., where he hit the ground running in a string of programs. There was the British-American mini-series Signs and Wonders involving a mother trying to wrestle her daughter from a cult with the help of a de-programmer played James Earl Jones; Amazing Grace on NBC starring Patty Duke, in which he played a runaway named Link, and where Gavin felt he experienced one of his best moments on screen; and bad-guy roles on CBS' Chicago Hope and Diagnosis Murder. You're pretty bad when you have Mark Harmon, and especially Dick Van Dyke, in your path of destruction. In film, he co-starred as real-life Fred "Freddie" Barker, the youngest of Kate "Ma" Barker's (Theresa Russell) boys, in Public Enemies.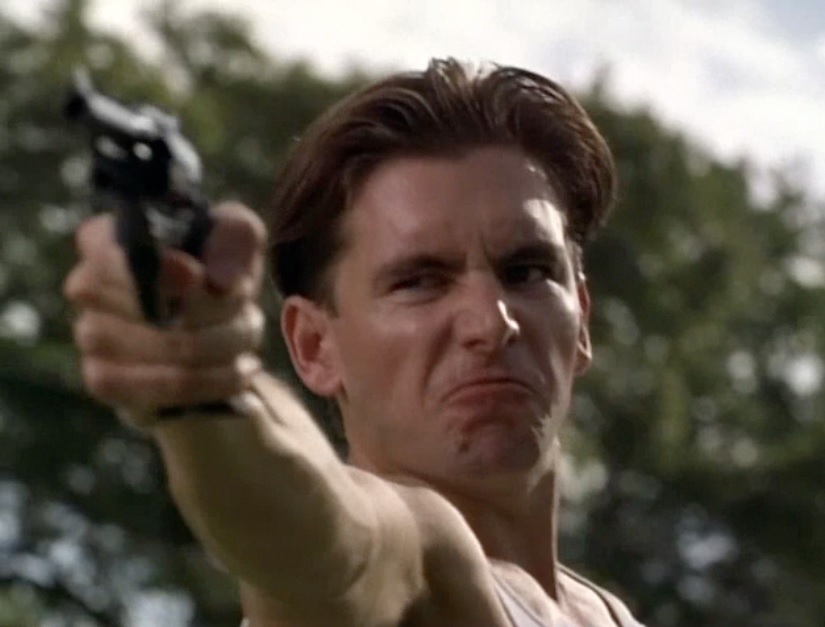 After a role in 1998's Exposé, Gavin realised that he wasn't going in the direction that he wanted. After some downtime, which in many ways was some of his first since he was 15, he started working again as a camera assistant. Among those he worked with were Helmut Newton and his wife, June Browne, known for her photography by the name Alice Springs. While Gavin had always intended to work in front of and behind the camera in the U.S., part of his decision was that his current career would be disconnected from his acting work. In his words, he "buried" his old life as an actor. He built a new career in photography. One night, after an accident, he found that he couldn't work in that role anymore. It was then, at this potential crisis point, that the seeds were sown for what would become Section9 Productions.
Gavin and I spoke recently, and in great detail, about his early life, roles on the iconic television series that he was a part of, and his life for the past 20 years in Los Angeles. I think you'll be particularly interested in Gavin's perspective on how all the components of his life – what he has done as an actor, producer, photographer, and filmmaker – have recently come together for him. We also spoke about his relatively new foray into making music under the artist name mtrack. Oh, and he told me to come join him next time I'm in L.A. for (depending on the season) snowboarding or water skiing. Gavin assures me that "it doesn't matter what level you're at". He might just eat his snow hat.
Adam: How did you start in the business? Was it an interest in production or acting that initially led you down this road?
Gavin: Basically I used to love photography and music when I was younger at school. I was a day boy at Newington College. I played violin from third grade through and so I played violin in the Chamber Orchestra. I really enjoyed it for the most part and then you got exposed to a bit of theatre at school, which was great. In Year 10, I really wanted to get into film. My parents basically said if you can get into a college you can leave, but they were not about to have me leave Newington in Year 10. My mum's an artist too – she's an amazing painter and does ceramics, she's a really fantastic, grounded woman – and she was really supportive. My dad was too, but he's a bit more pragmatic; he's an engineer so he's a little bit more nuts and bolts while my mum is a bit free-flowing.
My mum helped me look into KvB College. You had to be 18 or be in an industry where you could submit some work. I went to the AV studio and asked Mr. Swain, who was also really supportive and a great teacher, to let me use the gear at lunch time and after school. I was making music videos. I was shooting them, editing and I was in them, because who wants to give up their lunch time or after school? I was the nemesis in it so I'd wear different clothes and then I'd chase myself around in the same music video. That's how I started to produce something to see if I could leave school and pursue something that I loved.
KvB College really liked what I had done and they gave me an aptitude test because I was 15. Based on the aptitude test and the work, they actually made an exception and I went straight into that film school. I hadn't even turned 16 yet.
Adam: You were probably a bit of anomaly going in fresh without having done a lot?
Gavin: I think even just given my age. I had so much energy at the time – I kind of still do – and was so into it. If anybody needed anything done, I was doing it. I was a cameraman if they wanted to work late. I was only 16 so I didn't really have a social life, and I didn't have a girlfriend. Of course you're running around at that age and doing your thing, but I was in there late night working, editing, and just doing a mammoth amount of work because I loved it. It was very easy for me to put the time in.
Adam: Is that how you started working with Steven Priest or am I getting ahead there?
Gavin: No, that's correct. I was working with a first assistant director as a second assistant on sets of TV commercials and some music videos. I met a director, John Jobson, through this first AD. He started to do some work at Priest Productions, some music videos, and then he brought me in there as his assistant working with him in the back office. I got to know those guys there, and when John Jobson went back to L.A. they asked me to stay on. I became a part of the production team coming out of college when I was around 17.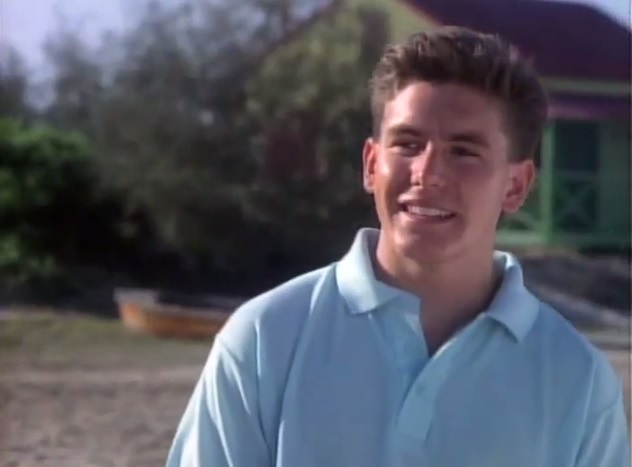 Acting had kind of started a little bit before that as well. I got my first role on A Country Practice when I was 15 or 16, just when I was leaving Newington College. I played my first character. I was really more focused on being behind the camera rather than in front of the camera. I felt that if I couldn't be stable in front of the camera all the time, I might as well learn behind the camera. My parents felt that was a good decision for me to want to understand the complete medium of film and television, wherever I might be working.
Adam: Did it kind of feel very bang, bang, bang, like it kind of all happened at once?
Gavin: Yeah, I think so. How it really started was I would pick up my sister from dancing in the city. She was at a ballet school that merged with a talent school. My parents felt safer if I take my little sister home so when I finished playing rugby I would go in and wait for her. I was waiting in the lobby all the time, and a talent agent asked me if I wanted to take any classes or get involved in any part of what the school was about. I landed a role in what I think was an international Coca-Cola commercial, skateboarding or doing something like that.
Adam: Just completely kind of random.
Gavin: Yeah it was random. I mean I was into photography and film and music, but I didn't think that it would start before leaving school. I started going on some auditions and then I landed my first role in A Country Practice. I think I did A Country Practice twice before I became a regular.
Adam: I think that I remember them. You were a musician or something like that?
Gavin: I was a musician, yeah, and I played guitar and had a crazy drunken dad. I think I played really quickly a jockey or something as well. It all started happening pretty quickly and I was learning as I was going.
Adam: Did you know Steven Priest well?
Gavin: Yeah, I worked there for a while. It was kind of toward the end of the company's time, like Russell Mulcahy and those guys had come out of that house. I worked with them for 14, 16 hours a day and you get to know them pretty well. I even saw Steven just before he passed away. He had a pretty colourful life throughout the excessive superstardom era of the '80s and '90s.
Adam: What are some of the videos that are you worked on which are memorable to you?
Gavin: I think working on some Noiseworks videos when they were just coming up and some really great shots out in the desert, Cronulla in the sand dunes with these massive lunar crane arms and seeing large production happening. Then working with Jimmy Barnes was a lot of fun. Anywhere where you're on a set and the camaraderie is there and people are being creative and there's loud music.
Johnny Diesel was super cool. He was like the Australian version of Johnny Depp. I thought he carried himself really well and was very professional and really together. He had a stand-alone unique kind of energy about him that I thought was really interesting.
Adam: I like that description because when you come across people like that, it's there, it's all in the way they carry themselves.
Gavin: It's innate, it's not put on, and they don't dress up. It's just innate in their nature and their energy and it's kind of nice to be around that.
Adam: Were you ever star-struck by anyone who you were working with?
Gavin: I don't think so because I'd been on the set as an actor before and I'd been around all the guys in A Country Practice and GP. For us as kids in Australia there were three or four television stations so they were really famous people besides your movie stars. They were local, home grown, really fantastic accomplished actors. But I think it was mitigated in me because I had been in front of a camera with them. I was pretty comfortable around these kinds of people who were in the public eye.
Adam: I think that describes it really well. It was a very different time over here in terms of TV. People on A Country Practice and shows like GP were really at the front and centre.
Gavin: Yeah, unless you went to theatre, but as the general population at home GP, A Country Practice, and Home and Away were the people who were amazing and you could be star-struck by it. Then there were the musicians. We covered a Hall and Oates concert and we did Julio Iglesias. It was always interesting to see the big international productions. We worked on the opening of the Melbourne Tennis Centre and I accidentally ran into Martina Navratilova. I was running getting all these banners set up and it was busy. She stepped out of one of the dressing rooms and I pulled up really quickly, and she was right there; I almost really slammed into her. She was in my eye line and I was like, Wow, that's Martina Navratilova. I was pretty in awe of who she was at the time.
Adam: Were you into sport?
Gavin: At school yeah, I liked rugby and I liked running, swimming, and water skiing.  I tried to watch some sport – you know how you'd watch cricket with your parents while they were having a cool drink in the afternoon on a weekend – but, in general, I played more of it than I watched.
Adam: I remember a photo shoot in TV Week where you were water skiing with Dieter Brummer and Tristan Bancks from Home and Away. You were on A Country Practice at that point. Did you start water skiing young?
Gavin: We grew up in southern Sydney in Oatley. My parents bought a house on a valley on the river there so that's where water skiing comes in. A good friend of mine's parents would go up to the river – they had a little house – and they kind of taught me when I was 10 or 11. I would just ski every weekend. One of my closest friends and I would just grab some friends and we'd ski all day long. Dodging jelly fish and having a good time, basically. Later on, I bought a boat and some friends and I would go to the Hawkesbury River on the weekend. I just love being on the river and skiing. I find it very meditative. I still do it here when I can get the chance. Summer I'll go water skiing and then winter my wife and I go snowboarding as much as we can.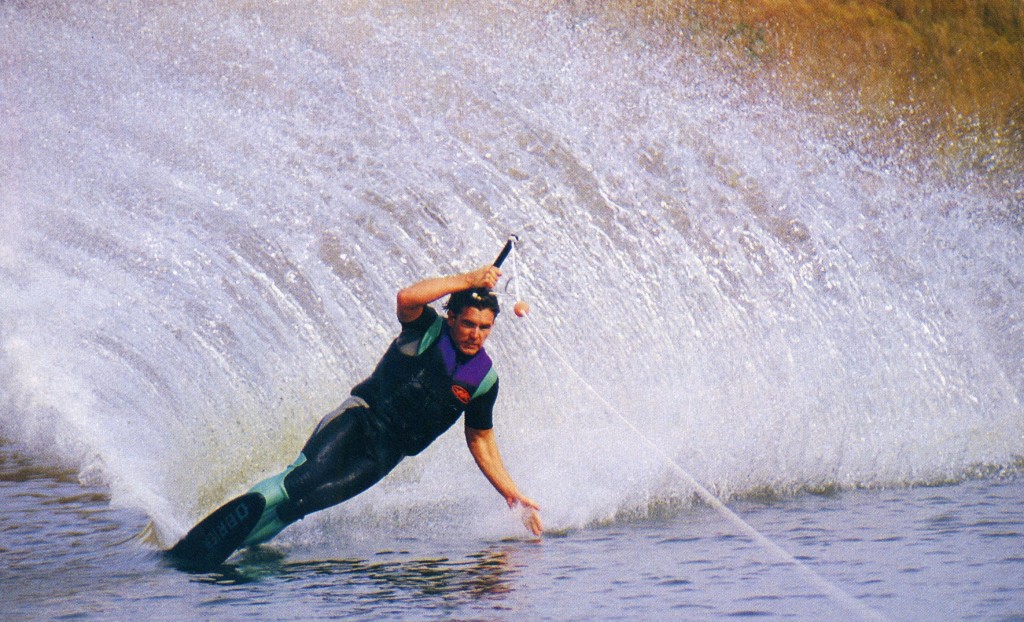 Adam: Returning to Steven Priest and working at Priest Productions. When he died was that the first loss that you'd experienced?
Gavin: No, I had a really good friend of mine pass away when he was 21 and I was 16, 17 and that's why I got involved with the Starlight Foundation. One of my mum's closest friends growing up, her son got cancer and then he fought that fight and then he lost that fight. I saw him before he died and went to the funeral. I found that really hard to wrap my head around at the time. You know you have those knee-jerk reactions of, "Why him? Why this? Why that?" In the end there's really no reason why, but I grew up pretty quickly at that point seeing my friend die from cancer.
At the height of A Country Practice, I did a lot of work with Starlight Foundation going to the children's cancer ward and spending spare time there. It kept me grounded rather than running around being on TV, so to speak. Even when I moved to the States, I took some people who were having their wishes granted to Disneyland. One of the guys who I met, Steven Walter, passed away. I became really friendly with him and his mum. I'm still really good friends with his mum. She's legendary in how she's kept her son's legacy alive, and how much money they've raised for the Steven Walter Children's Cancer Foundation. They do the Snowy Ride, a motorcycle event. He was a motorcycle fanatic, an amazing rider. That was another young death, he was 19. It's very grounding and gives you perspective.
Adam: I guess with time you get to understand these things more and, like you said, there's no reason to it; it just is. But at a young age it's an experience that changes you.
Gavin: It does, it challenges you, and you just have to be more accepting. I mean you obviously feel the emotional side of it, and sometimes there are no answers to some of the questions and you have to make peace with that. Then you also can't use that as an excuse to be down, because I don't think that's a great way to move forward. You can't bury the emotion, but you just can't use it as an excuse to be down.
Adam: I found with some losses that experienced later on, in particular two suicides, I didn't realise how hard they hit me. When you're older, you kind of keep going, get ready in the morning, and go to work. And you do it until you stop and realise, Hey, I'm not really functioning here.
Gavin: Yes, especially if you've got that and suicide. I've had a few friends who I went to school with commit suicide. Sometimes it takes a while because I think as an adult your safety mechanisms come into play and they only let you feel enough not to basically go off a cliff yourself. So I think it's the slow, unravelling of being able to deal with emotions, like you said. It slowly starts hitting you as these things come on. It could be a year later and you're sitting down in the morning just crying your eyes out and you realise it's all of these things.
Adam: Can we talk – oh I sound like Joan Rivers – that's what she used to say.
Gavin: She's gone too.
Adam: I loved her. I met her in a hotel lobby once. Let's talk about some of your early acting work. Do you remember You've Probably Saved His Life, which was a public educational video from St John Ambulance, but one that was structured as a dramatic story? You played Judy Morris' son and your father dies because no one knows how to perform CPR.
Gavin: Oh yes, Judy Morris, I totally forgot about this. What year was that?
Adam: 1987.
Gavin: So I would've been 16. That was probably around the first A Country Practice. I can't remember now what the premise of the story was, but what I did know at the time was that was a pretty amazing opportunity to be working with Judy Morris.
Adam: The other one I wanted to talk about was Mission: Impossible. You were Gerard Kennedy's potential son in that.
Gavin: Yes, his holographic potential son. That was around the same time I think. It was really interesting to watch again because it was one of the first things I had ever done. You're going off whatever instincts you might have at the time. It was really a great experience. I had to learn how to scuba dive and swim without a mask, and be trained in all these pools up on the Gold Coast. Terry Markwell was really great. Peter Graves was also very nice, and so was Thaao Penghlis. They were all very welcoming, and to be a new member of the Mission: Impossible team in that episode at my age was pretty amazing. Then there were the helicopters and people chasing you down with guns. It was kind of this fantasy land that I got to run around in, and one that you'd watch on television as a kid.
Adam: When you look at it now does it take you back?
Gavin: It really takes me back and you look at it as a different person completely. It's amazing how, if you get caught on video or film at a really young age and you look back at it, it really gives you a good perspective on who you were at the time.
When I was watching it, I was actually quite separated from it. I was enjoying it thinking it was kind of, not funny, but endearing to see this really young guy – who happens to be me – stumbling my way through and trying to find my feet as an actor. I was going for it and doing the best I could, and trying to wrap my head around being really young on this international show. I kind of felt proud of myself for going after it at the time without a ton of experience.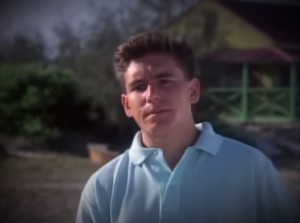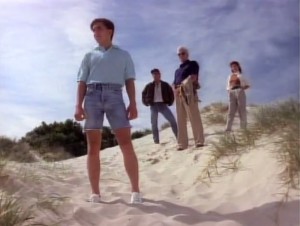 Adam: How did you start working on Home and Away?
Gavin: I think I auditioned for it. I can't quite remember. I believe that Revhead was the first and only role I did on that show. They kept bringing me back all the time. Naomi Watts played my sister in a few episodes in a wheelchair.
Adam: What do you remember of her?
Gavin: She was a sweetheart. I thought she was really sweet and grounded. I saw her outside of the show a couple of times with different friends and she always was grounded and very nice; and she was really easy to work with. With all her success, I think she still comes off that way. Naomi's also a little bit private, which I like. She just lets the work speak for itself.
Adam: Were there other people on the show that you particularly liked working with?
Gavin: Rebekah Elmaloglou was a good friend of my sister's. They did ballet together, so Rebekah and I had a long relationship just as friends from my sister. And then Ray Meagher was nice. I'm switching here, but when you said who did I like working with, Judith McGrath on A Country Practice was a person who I thought was amazing, too. She was great.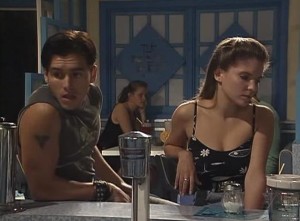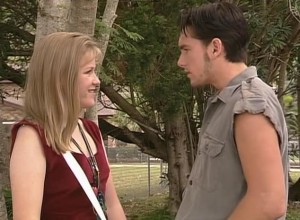 On Home and Away everyone was pretty nice. Belinda Jarrett was nice. I think when you're playing these characters and you have to be in different situations or have a love interest, and you're pretty young, that can always be a little bit difficult. We had to kind of work at those things on set because she was quite young and she had to have this relationship with my character – and I'm nothing like Revhead – in front of cameras. I think that was a little bit challenging just because of people's ages at the time, but she was a nice person absolutely.
Adam: Not that Revhead was a teen idol as such, but did those sorts of labels sit well with you?
Gavin: I think at the time I didn't mind whatever they wanted to call me so I could continue to do what I was doing. That is completely a part of the business and a part of the publicity. Jane Nagel, who did publicity at Home and Away and A Country Practice, gave me a good business perspective on it, especially on A Country Practice. Since I had also been involved in both sides of the industry, I learnt really young that there's the person, the professional, and the product, and that these three aspects of my life should be viewed as such when I was doing certain things.
Adam: Was being associated with playing a character like Revhead difficult?
Gavin: At the beginning. I didn't really like the name at all, and as a kid I'd copped a few hits from guys like him. Then once I realised that I could fit the character and it was a challenge, then I found a lot of fun in it. I could tap into this kind of rough "Westie" ocker-type guy, but you could actually style it in a way that was a little cooler out in amongst a beach town. I resisted it at first and once I realised it was a challenge it became a lot of fun actually.
You know what's funny right now is that my nieces and nephews are playing reruns of Home and Away, so Revhead is back on the screens. I think my eldest recognises me but the other two say, "Is that really Uncle Gavin?" Then they search me out on YouTube and they think it's really funny that their uncle is running around with this heavy Aussie accent looking the way I do, playing Revhead the spanner man on television in Australia.
Adam: They're probably not used to Uncle Gavin saying, "Rack off!"
Gavin: No exactly! It's so funny, all those colloquial terms that we used to throw out there – all the "mates" and the "rack offs", and all that kind of stuff.
Adam: How did you get you get Renato on Family and Friends? Was it through your association with people working on that show who had been involved in Home and Away?
Gavin: It was a Channel 7 show and I'm trying to think whether they offered it to me or I auditioned. I can't really remember. I don't think I really knew anybody going into it.
Adam: Home and Away producers John Holmes and Alan Bateman were on there.
Gavin: Well that's probably why. I think if I had been working on that show with them they probably had me audition from Revhead to Renato, the Italian-Australian kid in lots of scenes in speedos. He was a swimmer. I really enjoyed that show. Jonathan Hardy was great. Rachael Beck and I became friends. I thought she was an amazing artist also and, to this day, I think she's a really consummate professional. But I enjoyed the show and I think it came from A Country Practice early on and Home and Away that maybe the producers thought it would be a good fit and I auditioned for it.
Adam: One show that you said at the time was a really good professional experience was on GP, when you played a boxer. You trained with Bernie Hall for that? From what I've read, he was quite a character.
Gavin: He was a character. I remember going up there to the gym and asking him about it, and he's straight out of that leathery old – like the trainer from Rocky. He was just in the gym his whole life and he felt like the gym, smelt like the gym, looked like the gym. There was an authenticity to him, and I think training with him really prepared me mentally to understand what it was like to be a boxer to the certain degree that you could.
I trained incredibly hard for that role and it was really important for the dynamic of the character. I think that the guy who I fought against in GP was a national champion. He was a very accomplished guy and he had to lose to my character, which he graciously did. I was in good shape at the time but I realised that you don't have to look like The Rock to pack a punch. I got hit a few times in training with the guy, and he was so powerful and so fast. I didn't know what it was to be fit until I trained as a boxer. My whole life I'd been pretty athletic, but to train as a boxer it was a whole other level.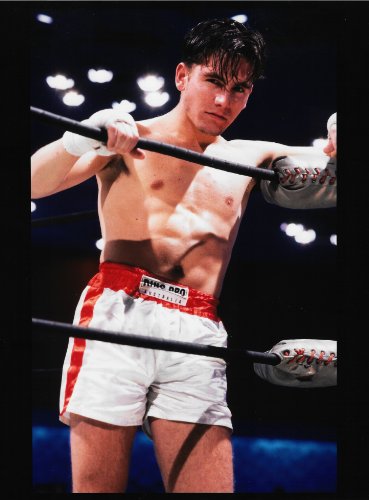 Adam: Let's speak about to A Country Practice. How did you get that role?
Gavin: That was an audition process as well. That's the most vivid audition I remember because there were two or three guys sitting outside and we all kept coming in and doing the scene with Kym Wilson. We obviously knew it was for a recurring role or to become a new cast member so I knew it was a big deal. But I really enjoyed the process. It was one of those times where I told myself to just let it go, enjoy yourself, and be in the moment. I really loved the show. I had done it a few times before and I felt pretty comfortable. I also knew Kym Wilson briefly from the talent school or something like that so she wasn't so foreign to me. Of course, I hoped that I would get this part, but I didn't really have this crazy energy of "I've got to get this – this is going to change my life". At the time, I was directing some music videos and working on other different sets when I auditioned so it wasn't the thing that was going to make or break my life at the time. It was amazing when it did happen.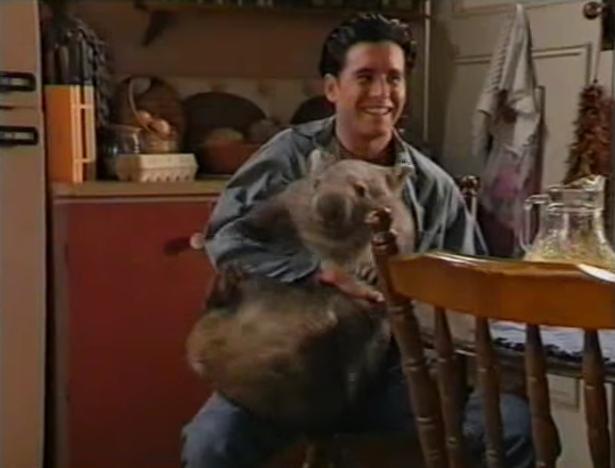 Adam: How old were you when you started on A Country Practice?
Gavin: I was 21.
Adam: And Kym Wilson's great, I love watching her.
Gavin: I think she's working in fashion and is over here in the States. I've kind of gone back and forth talking through people and friends that say "Hi" to her. We had a great time working on the show. We had great chemistry and she was always fun to be around.
Adam: At the time that you and Kym came on to the show it was a period of change for the series, in particular with a number of cast changes. Was it a difficult time or was that not really in play?
Gavin: No, it wasn't really in play. I think for the people who were still in the show it was probably exciting to have some changes since it had been on for so long. Maybe the ratings also weren't where the network wanted them to be so they said they were going to bring a younger storyline in and introduce some other characters to add some new flavor or energy to the show. It felt good. It kind of felt like you were a part of something that had been around a long time, but you were also responsible for helping it to continue. For me, it was exciting to be there and you really wanted to do an amazing job and maintain the integrity of the show.
I thought A Country Practice was one of the most respected programmes that you could appear on at the time. Everyone wanted to support each other so it made it fantastic to work within the cast. It had social depth and it had humour, which I really liked. When your storylines would come around and they were about heavy issues, you felt that you had a responsibility to do it well and to tell the story. There were so many levels to the show that it helped me mature and really taught me a lot as a person, just from working on it and reading the scripts.
Adam: How did you approach Hugo?
Gavin: With Hugo, for me, it was an open canvas to bring parts of my life to this guy who was riding through town getting ready to go to Tour de France and had all the promise in the world. Then he just got sideswiped and ended up in Wandin Valley Hospital, and the challenge was to accept what had happened to him. As I said earlier, I think you need to go deep and feel disappointed and ask questions like, "Why me?" Then it's how you deal with those set of circumstances that define you. The beginning of the character in the series was a defining moment: his dream just got shattered and everything changed in that moment. It was really him redefining himself because he had put everything and every bit of energy into this one goal of going to the Tour de France.
I found a journey of Hugo trying to figure out how to build new dreams, and how to deal with who he was in this new place. He also had the ability to be anybody in this new place. I was really trying to be open to and interpret the writing and what they saw for the character. Because there wasn't really a great idea of who the character was, except that this is where he's going and this is what happened. From there, I was kind of open to build on it.
Adam: I liked the subtlety in the character. Hugo comes across as a very happy-go-lucky guy, but there are those levels of change and transformation going on.
Gavin: Yeah, and I think he was happy to be in the town, and he hadn't really had a home. Hugo's always been on the run to get somewhere. Then his dad came and they fought and it's basically like, "Hey, I've finally found some happiness somewhere, and you're coming in here and reminding me of why I wanted to ride my bike to get away from my life". When things hit him hard, like his Lyme disease, he got a bit aggressive. I think that was because he just started to like what was happening, and then it was changing again.
Adam: Hugo's experience is like when you find yourself moving along and then all of sudden something stops you. It may be getting ill briefly or something like that, but there's a reason for it. Your body or something else is saying to you, "If you don't stop I'm going to stop you, because you've got something to learn here".
Gavin: Yeah it's the Universe putting the brakes on for you and it's hitting that Universal wall. At some point you're going to hit it: emotionally, personally, self-created, out of the blue, an accident. I think sometimes it's a really good thing. Sometimes in life when those things happen, they're good.
Adam: You mentioned Judith McGrath before. Was there anyone else that you really enjoyed working with?
Gavin: I would say everyone. I'm not just saying that, but everyone was great. Some people you know better because you're in more scenes with them. I made good friends with Jamie Croft. He's a great young talented actor who was on the show. Shane Porteous just commanded so much respect; he was almost like the Buddha cruising around because he was the consummate professional and so he commanded a lot of respect.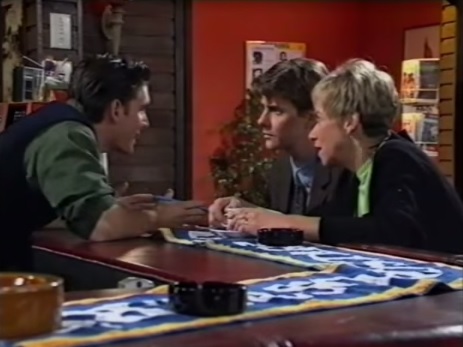 I worked with Syd Heylen and Gordon Piper in the scenes in the pub. Since they'd been on the show for so long, it seemed like Syd, Gordon, and Joyce Jacobs were always having an incredibly good time. You just loved them and thought for each of them, What a life. Michelle Pettigrove was a sweetheart. Georgie Parker was there when I started, and she was really nice too. They were so welcoming. It was incredible. I hate to say it, but when you get a bunch of actors together who really care about what they're doing they seem to really take you in. I found when I was younger that they took you in and wanted you to succeed.
I got to do a bunch of scenes with Joyce Jacobs. She'd come in to the bar and I'd always have some interaction with her. I thought that was always really great for my character because she was such a classic, funny woman. I really enjoyed those moments that I got to spend with her. Brian Wenzel, he was tough and down the line, no messing around, super pro, get it done. And Maureen Edwards was really sweet. She couldn't be nicer actually; a classic wonderful woman. I think we were really lucky with the crew and the cast that were on the show.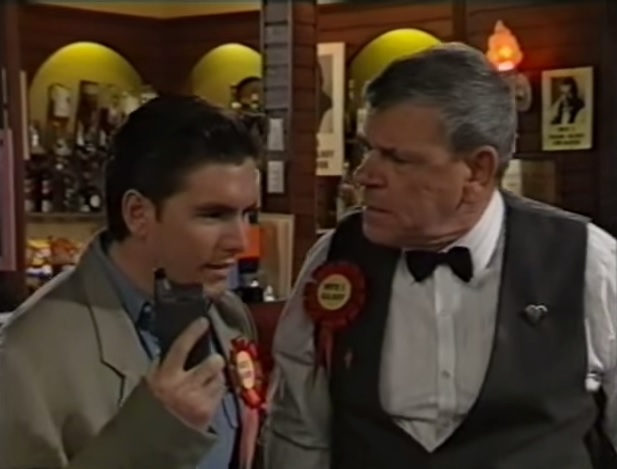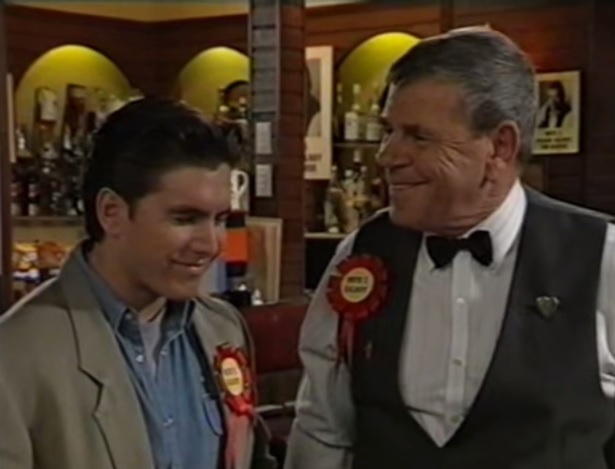 Adam: What were your favourite storylines?
Gavin: The episode when they had the cyclist and he was gay and we got beat up. That really rang true to me because I used to get hassled on the trains. I had a school uniform on and we would get roughed up and beat up and spat on, and called a bunch of names as well. When that character came in, I lived in Sydney and was a big part of the gay community. The most comfortable and safest I felt when I was on television was in Darlinghurst. I would go out to the clubs and dance. I loved it because I felt safe and accepted. There would never be some guy who wanted to flatten me because I was on television. Being a part of that community at the time was really healthy and it was very protective. And I love to dance my ass off all night long.
I remember thinking that it was important to do it right. I thought it was a pretty amazing thing to do at the time. Also those blurred lines with the two characters. Hugo was a bit naïve, but to be meeting this guy and go on the journey with him was great; especially because the community at the time was like my incredibly safe family. That's why I remember that as one of the most important ones.
Adam: Even before A Country Practice you had the intention to head to the U.S. at some point. How did American come to be part of the plan?
Gavin: I have such fond memories of A Country Practice. I could've stayed and kept doing all of that, but it was in my nature to keep testing it out and there were no other TV stations at the time. The producers weren't upset. They were really supportive about doing it. At that time you're just young and running as fast as you can, to experience as much as you can. That's why I really loved the show and was thankful to the producers on the show. They had a lot of class and integrity.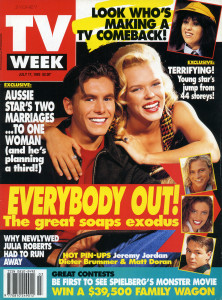 Adam: That's great to hear. I guess they'd had a lot of younger people on the show before and saw the need for them to go and spread their wings and develop and keep moving.
Gavin: Absolutely. They were great. I think it was based on me just wanting to see what's out there. It's not that I didn't want to be in Australia or be on Australian work. I had been working with production companies and talking with international people. When I was on Mission: Impossible, some actors and people who were coaching me then all said that whenever I came to the States to look them up. The door was open to me that, if I went there, I knew somebody. That made it easier to talk to my parents and tell them that I really wanted to go and check it out. I had no real idea what it would be. I knew some people there, and I thought it was best at the time to go and test myself on a global stage. It was really more the exciting pursuit of adventure.
Adam: Did you get an agent straight away when you were there?
Gavin: I spent a few years going back and forth so I had a manager and then I had an agent. I had all this stuff set up and then I set up all my legalities while I was on A Country Practice so that when I got off the plane I was legal and ready to go.
Adam: Was Signs and Wonders the first project you did once you were there?
Gavin: I think the first thing I did was a voice-over for Disney, Toto Lost in New York. I did a Kahlúa commercial voice as well, and then the first thing I booked was Signs and Wonders. It was a BBC miniseries with a bunch of amazing people in that as well. That particular experience doing a two-hander with James Earl Jones when we were in scenes together was a little bit mind-blowing for me. I remember sitting down with him in between scenes and he was very relaxed and quite talkative and a really nice man. Then he opens his mouth and you're like, It's Darth Vader and Mufasa from The Lion King; and it's all of them in one. I'm talking to all of these people in one go. Then he says my character's name and you're thinking, Oh man, this is Darth Vader talking here right now. His voice is so amazing.
Adam: Do you remember that episode of The Simpsons where James Earl Jones' characters – Darth Vader, Mufasa, and even his CNN voice-over – talk to Lisa one-by-one?
Gavin: It was like that.  There's a scene where he walked down the stairs to talk to me and I'm just standing there looking at him. I was quite amazed that he was walking down the stairs to talk to me, or my character. That was one of those out-of-body experiences that I did have when I first arrived because he's pretty huge as far as his career goes and just him as a man and his talent. I obviously snapped back in and had a conversation with him in the scene.
Adam: There were some heavy hitters in Signs and Wonders.
Gavin: Yes, Jodhi May, Prunella Scales, Donald Pleasence, David Warren, and Colin Farrell was in some of it. I did most of my work with Jodhi May and just a few scenes with James Earl Jones, but that was just amazing unto itself.
Adam: Were your parts filmed only in L.A.?
Gavin: Yes, I think it was shown in the UK and it was shown here. We just did the L.A. part of it.
Adam: I think that was Donald Pleasence's final role.
Gavin: I think it was one of his last screen appearances. I think he died soon after that or at the very end of that. And Jodhi May was in The Last of the Mohicans. I really love that movie and the soundtrack to that movie. I thought that film was another great cinematic masterpiece in how it was shot. So to work with her was also fantastic.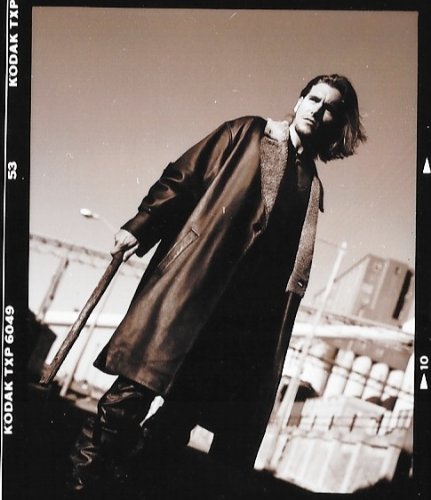 Adam: Was Amazing Grace next?
Gavin: I think I came off of Signs and Wonders and then I was cast in Amazing Grace. It started off really well when I first arrived here.
Adam: Amazing Grace had a struggle from the beginning. It was supposed to premiere in the fall and it didn't. Then when it did premiere it was up against Dr. Quinn, Medicine Women, which you imagine may have a pretty similar audience. It seemed to also have that problem striking a balance between being a religious or a spiritual show and appealing to a non-religious audience. Did you enjoy that one?
Gavin: I enjoyed the character and working with Patty Duke immensely. That was shot up in her home town. I don't think she wanted to move and there were a lot of challenges with the weather being up there. I think they struggled to find a balance, as you said. It was a police show then they had spirituality, and ex-addiction coming back. I don't know whether she also wanted to continue on with the show. It was quite grueling shooting it in Idaho during the winter. It was really cold. I loved it, but I think it was quite grueling doing it. I moved there to be in the show.
Adam: What was Patty Duke like to work with? I enjoy her as an actor but also her mental health advocacy is very much an interest of mine.
Gavin: I thought she was very stable and very strong. She really cared about the welfare of the younger actors who were her son and her daughter on the show. Of course you have to because there's SAG and there's welfare and all of that. But she took it to another level I think because she was a child star herself. She was a producer on the show, as well, and so she really rallied around the show. I think it was a lot of work for her but she believed in it. I found her to be very warm.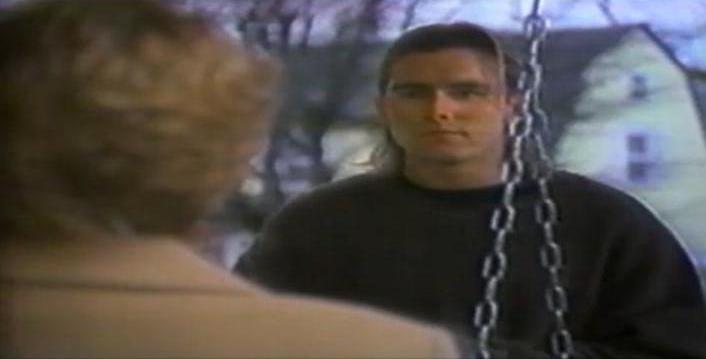 One of the best moments I've ever had as an actor or doing a scene with somebody was a scene with her on the porch. In that show I finally felt what it really, really meant to be in the moment with somebody. Still to this day, I think that was the best experience that I've ever had. I had done a lot of work beforehand, but something was different in that one scene on the porch.
Adam:  That's such a good progression as well.
Gavin: Yes, to realise it and to not really know that it was happening. When it happened it was so calm and connected, and then when it was over and I watched it back later, I really believed it. That's something you want to achieve.
Adam: I thought that Fred Barker in Public Enemies was the most interesting of the Barker brothers portrayed in the film. He changes and it's a change you believe. You can see his development from being a rather innocent kid to becoming this sort of cold-blooded killer. It also made me realise how much I'd missed seeing you on TV or in movies.
Gavin: It was an incredibly interesting fun adventure to be working with Eric Roberts and Theresa Russell and the other guys who were in the film. I felt very honoured just to be a part of it. It's a run around, shoot 'em up kind of movie, but you're working with people who are really accomplished. In scenes you're putting yourself in your craft with really great people who you have a deep respect for. In a way, it brings some kind of comfort that you feel you're growing and moving in the right direction. So there's some validation by working with these guys.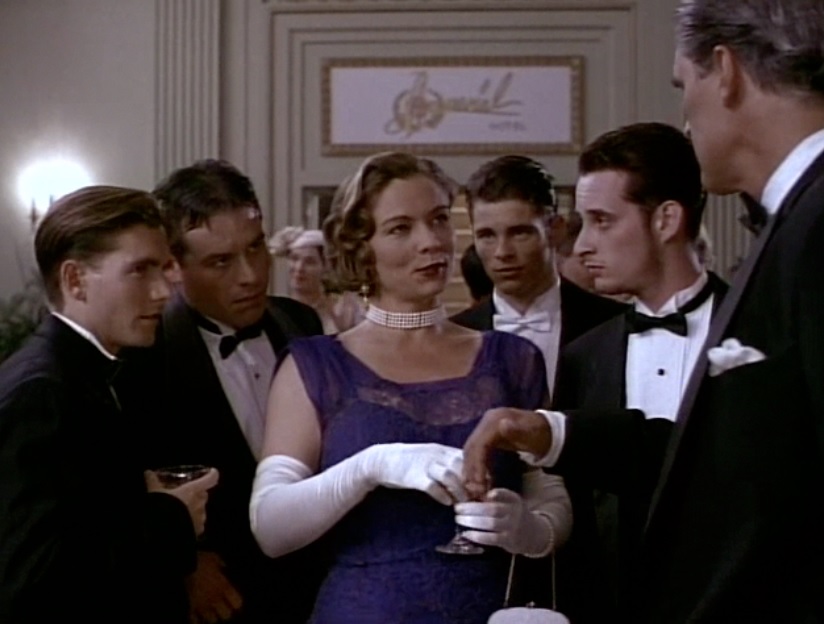 Theresa Russell was a beautiful, professional person. Similar to working with Patty Duke, there were those scenes where you feel that you're no longer outside yourself looking in. You actually become present and the moment becomes real. It doesn't always happen, but when it does it just passes you by like you experienced it without any objective self point-of-view. You could get that with her. It was the same with Eric Roberts. His timing and watching him was like going to class so I felt very fortunate.
The character itself had a really fantastic arc, from basically being mummy's boy to becoming the most ruthless of all the brothers. As an actor you could find these markers where you could shift and change and evolve the character. It was really great to do a period piece as well. I hadn't done that before. The extent of using weapons was interesting. It's intense because you know it's dangerous, but you have a really good time doing it.
Adam: When you talk about being in that moment with Theresa Russell you can really see that. The mother-son relationship that Ma and Fred Barker have is a very complex relationship, but it's sort of a natural fit in a very weird way.
Gavin: Back in those times, if they were on the run, they were never exposed to any women or even just other people. Her having that kind of intimate, weird relationship with her son, or sons, was all they really had so blurring those lines at the time seemed like it was natural. It's almost an extreme version of home schooling with weapons. They see none of the outside world and the only female around him at the time was her. The other brothers were older and they were off doing their thing, but he had just come into that age where he was looking outside his mom. He never really got there.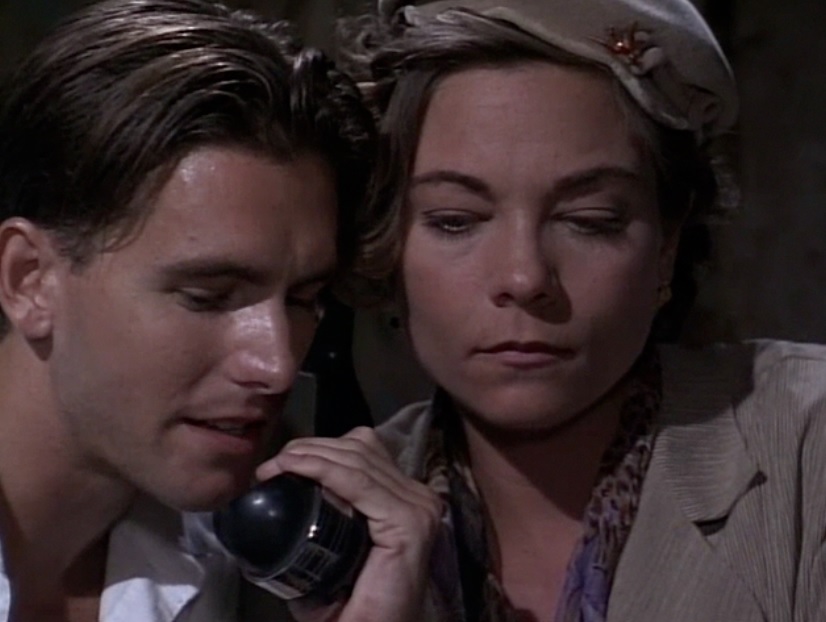 Adam: There's that great scene where Eric Roberts' character is coming to his end and Fred is the one responsible for that.
Gavin: It's straight jealousy. I put a gun to his head and basically it's a man-to-man stand-off. It's not only "You're hitting on my mom", but in his mind it's his woman. It was this blurred line about who she was. When it came to being able to kill the guy, it was quite satisfying for the character. It erased the competition.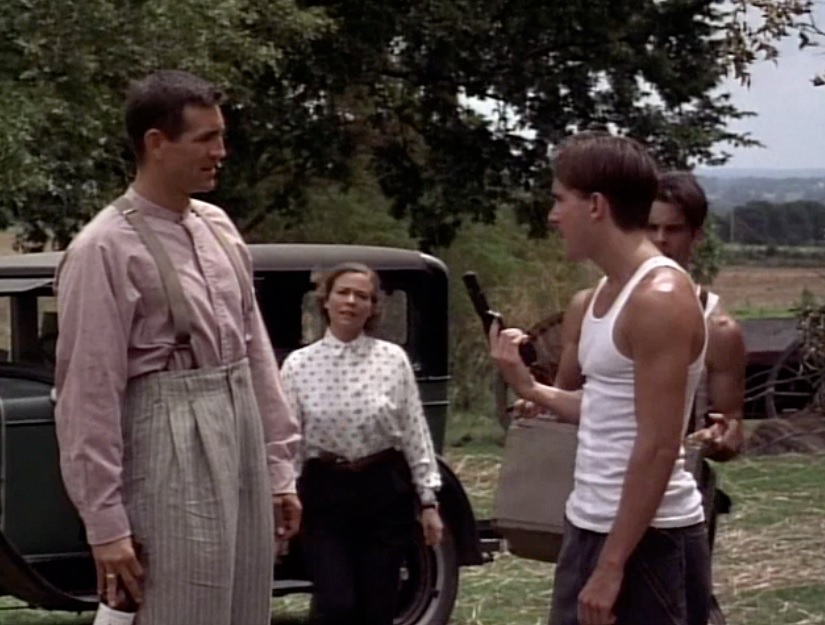 Adam: Was Chicago Hope filmed in Las Vegas?
Gavin: Yes, it was filmed in Las Vegas. It was quite brief, a little street scene with Mark Harmon. But it was fun being from Australia in Vegas, and I had a great time being on set shooting with Mark Harmon. That was another one of those unique characters you kind of get in their world a little bit and you find out what's happening at that level, which was making money and no fear of committing some violent act if you have to.
Adam: Nothing to lose.
Gavin: Exactly, yeah.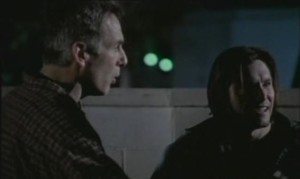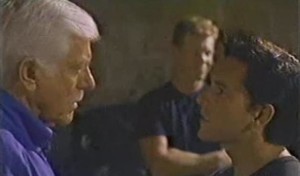 Adam: Let's talk about Diagnosis Murder and your character Aaron Ving. That was a big part.
Gavin: That was a big part and I loved the character. He was very single-minded, ultra-violent, and believed in everything that he was doing. Aaron was almost this pre-programmed person, whether he was brought up that way or whether he found his belief somehow, but something snapped in him and then he became so single-minded about what he had to achieve. It was such a focused energy that he couldn't have any objective perspective. I found the intensity of that character really enjoyable to play.
Adam: He was completely committed to the cause. I thought it was quite a sophisticated script. It almost drew on that 1960's kind of idea of revolution and militants.
Gavin: I thought so too, and they were kind of addressing those things. It's not a family show, but similar to A Country Practice it's got comedy and humour, and then it has its deep stuff. This was before all the things that are happening in the world now. I think the approach taken made it come together.
I remember going into that audition and L.A. traffic was brutal. I think it was a producer session where they make their decision. I just came in there and, with the energy of dealing with the traffic, I couldn't overthink it. I just had to get in there and unload. Before I knew it, the audition was finished and I walked out of there and thought, What really just happened? It was another one of those moments where I didn't really know what just happened, but it felt really good. Then they called and offered the part to me.
Adam: You can do all the preparation for something, but sometimes it's just being in that moment.
Gavin: Yeah you can't overthink it, but that's the challenge sometimes.
Adam: Your characters have a penchant for trying to kill off loved characters. Revhead in Home and Away was kind of responsible for killing off Guy Pearce's character. Then there was Mark Harmon in Chicago Hope and Dick Van Dyke in Diagnosis Murder.
Gavin: Yes, I think Revhead was responsible for his death. It was same with Dick Van Dyke. I was playing this militia-type domestic terrorist guy, and all I'm thinking about is, I've got a gun to Chitty Chitty Bang Bang's head right here. I grew up watching his movies and all of a sudden I'm on top of him with a 9mm hand gun and then taking fire. I don't know what it is. I'm really laid-back and I like to get along with people, but for whatever reason those roles seemed to work pretty well for me at the time.
Adam: I watched Exposé last night.
Gavin: How was it?
Adam: I enjoyed it. I think your character was set apart because everyone is completely out there and he just kept it all together. He was a photographer as well so that's quite close to you. I thought it was interesting what they were trying to do with dealing with the idea of adoption and foster care systems within this thriller.
Gavin: I thought the idea was good. It was a first-time director and I don't know how well it came together for what it was doing; but I liked the idea of the character. I got time to go out with the "stringers", the guys that get the calls on the police scanners and drive straight to the event or the incident. Sometimes they arrive there before the police officers. This is kind of before TMZ, before everyone's running around with cell phones and capturing reality incidents, horror shootings, car wrecks. Because my character was a stringer, I got to go out and run around with some of these guys around L.A. in their vans. It got pretty intense because a scan comes across and there's a shooting they're rolling straight over to the location. It certainly gave me the feeling of being in amongst the brutality of a city and when you're on the front line, so to speak, of looking at the aggression and the violence it really opened my eyes to what these guys deal with every day. The character was also me coming back from Amazing Grace, and being able to be a little bit more laid-back in my own skin instead of being the guy that wants to go around and shoot everybody.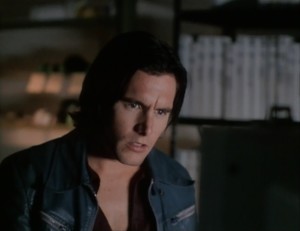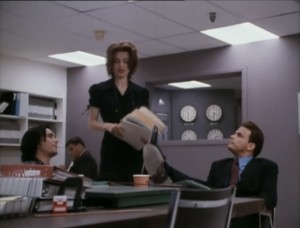 Adam: Was that the last thing that you did?
Gavin: I think that it was the last thing that I did, and then I made the decision to stop acting.
Adam: Tell me about what was going on.
Gavin: I wasn't really comfortable not having control of where I was going in my life. I've always done multiple things, being a freelance filmmaker or working in music or being first assistant like what I was doing in Australia. In America, I was so busy auditioning. That's the part of acting where you can have 10 good actors, but only the person who is completely right in the director's mind is going to get booked. Then there's that factor of the Universe coming and slapping you in the head a little bit. There were a lot of people who I met and thought were a certain way, but weren't really who I thought they were. I felt a bit disillusioned with everything that was around me, and what I had built in L.A. felt very uncertain.
I moved down to Huntington Beach, out of L.A., to a really good friend's. It was to take a breather and a break from the energy that I'd used to get from Australia to the States. I had also been working since I was 15.  From a really young age up to 28, my life had been a whirlwind. I think my mind and body were telling me that I needed to stop and look at what I really wanted to do.
Adam: What did you do next?
Gavin: I took about year off. I really just did some odd jobs, played music, wrote and did a lot of drawing. It was slowing my life down for the first time since I was 15 years old.
I got back into the production side of things. I just wanted to do something that, when I showed up, was based on my technique and my abilities, and not just on whether you are right or wrong for the part. I really wanted to own what I was doing and so I decided to get back into being behind the camera.
I started working again as a camera assistant in print. I had spent so much time being photographed in Australia and had a really good understanding of it. I didn't tell anybody that I was ever an actor. I had this random disconnect from acting where I buried my entire past of being an actor in this country or anywhere else. I wanted the people I was working with to see or judge me for my abilities as a camera assistant or a lighting designer, DP at the time. So I went on this journey. I don't know how healthy it was, but the only way I could do it was to absolutely bury everything that existed to me as an actor.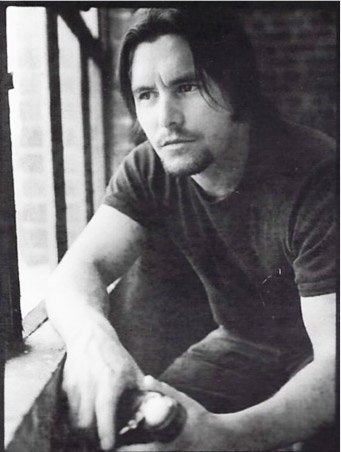 Adam: It may seem like an intense decision, but at the same time it was based on everything that was leading up to it.
Gavin: I think so. I think sometimes it seems intense, but it gets to the point where it can be the only decision. You just have to see in front of you and let go and trust the process somehow, and have some solid people around you to do that.
I started camera assisting for some celebrity photographers. As well as dealing with all the cameras and the film, I was pretty much the DJ at the photo shoots in the studio because I love music. Over time, I became really good at being a first assistant, doing a lot of lighting for different people: whether we were doing British Vogue and you're working with people such as Pamela Anderson; or you're working with Helmut Newton and shooting Mickey Rourke. I was handling all the technical side of it, a lot of the lighting for photographers, and running film before it went digital. I spent a lot of years doing that.
One night I was in a taxi coming home from an L.L.Bean shoot in L.A. The cab driver fell asleep at the wheel and careered off the freeway. The car hit the curb and some signs that broke and smashed. It was quite violent smashing a bunch of things on the side of the freeway, but we didn't hit something dead ahead. I thought that I was okay. I went back to my place, and in the middle of the night I tried to move and I couldn't move my head or my neck.
I was taken to hospital. I had a bulging disc in C6, C7 and all this nerve damage in my arms. I couldn't move and I couldn't pick anything up. It was really bad. I had to do two or three months of rehab. Part of the job was setting lights and moving cameras so all of a sudden I'm no longer employable.
A producer who I'd worked with as a first assistant called me about a Toyota job or something. I told him that I'd been in an accident, but that I can pick up the trash and I can make some really great tea and coffee; I just need to work. So from being at the level that I was as a camera assistant to basically being really humble and sort of saying, "I need to pay my bills. Can you at least give me the opportunity to pick up the trash and serve tea and coffee and sort out craft service? I would be indebted". They knew me so they were able to help me out, which was nice. From that point I started back in production as a PA and then going from there to location scouting and location co-ordinating for other companies.
Adam: How did Section9 begin?
Gavin: This accident took me out, but then it started to make me use my mind and skills that I'd learned over the years to tailor into what would become Section9. I saved up enough money to insure myself, which is a big part of owning a production company. I insured myself and went out on my own with Section9 as an advertising production company in print. As soon as that happened, people in the industry heard that I was doing this on my own, and we got incredibly busy. It was satisfying because I could do things creatively, and work with all the layouts and great photographers. I understand lighting, casting, so in a way all those things that I had done set me up to be a very calm, deliberate producer. It started to shape itself as what a gift this was that I could create something I never thought I would – out of necessity. It's something that I've really loved to do over the last 10 years.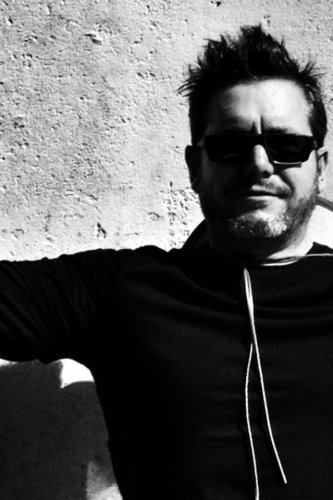 Adam: You do a lot of work involving high-performance and luxury cars. Is that your core business?
Gavin: Yes, it's my core business. Section9 core business is advertising nationally and globally, and it's completely encompassing when you're in production. We did a job that was a 54-day shoot schedule and I was on the job for around 90 days. People look at photography and say, "Oh wow you got a photo", and think that it's done in a day, but the kind of production that I specialise in is like doing mini-motion pictures. It might be a 12, 15 day shoot and you're prepping for three weeks, and wrapping for another two or three weeks. Generally I take on these larger, technical, complicated jobs where you're shutting down roads or closing down bridges and landing helicopters. You've got people flying in from all over the world and it's a very big logistics creative production. We also do a lot of technical stuff where they shoot standing cars, and then add CGI vehicles in later.
I mix those sorts of projects in with some of the simpler logistical productions. With Philips electronics, we cruised around downtown with a small crew. I really enjoy that as much as I enjoy closing down parts of the freeway and shutting bridges and things like that.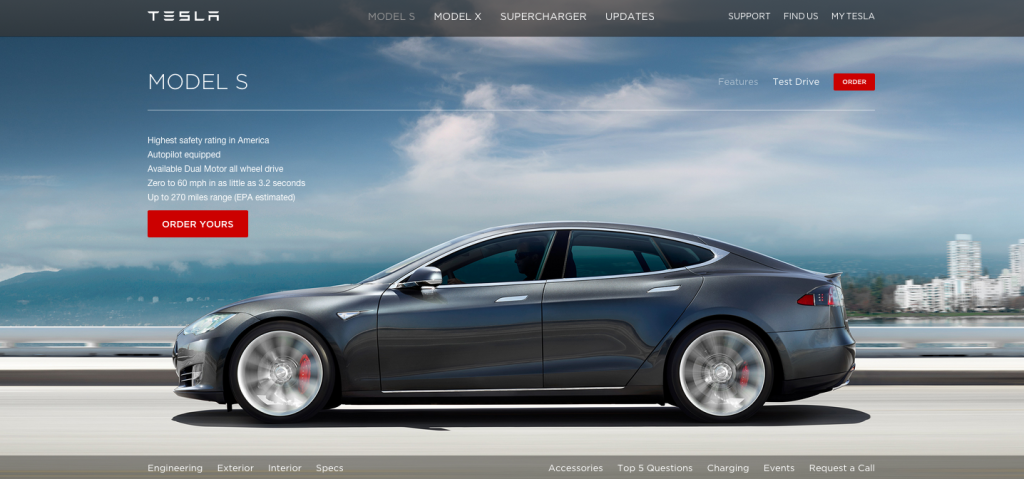 Adam: The Philips ones were very creative.
Gavin: They were really good and the talent was great. We did a lot street casting.
Adam: I guess location, particularly for the vehicle advertising, is really important to what you do as well.
Gavin: It's paramount. It's really about finding amazing locations to put the product in to represent the demographic and reflect the feel of the vehicles. You want to come back and present locations to a creative director and a client where they say, "This is amazing. Our car will look incredible here in this light". I find the preparation and the scouting of the location really exciting and very interesting.
Adam: Did you work with Helmut Newton for Gillette?
Gavin: He died just before we shot Gillette. I worked for him up until he died when I came out here for two months at a time. I had assisted a guy for Vogue when I was a camera assistant, and then I had the car accident. I kind of just recovered and was getting physically back and he said "Helmut Newton is looking for a new assistant in L.A., and I really want to recommend you to him". I asked, "Is he gear heavy". I was thinking that if he's going to do massive lights, I won't be able to help. He told me, "No, he's not gear heavy at all. He's got a couple of cameras and small amounts of lighting, and I think you'd really connect with him". So I was called by his rep and his agent and then they set up a phone call with Helmut and I had to be available.
He called me and he said "So you're the Australian, right?" I said, "Yeah". He told me, "I'm married to one". I said, "Lucky for you". He laughed, he was just laughing, because his wife's Australian. We kind of hit it off, and he asked me to come to the Chateau Marmont and sit down and look at his equipment. He took me out into the hallway and made sure that I understood technically everything that was happening with the negatives, film, making sure nothing was thin; making sure that everything was how he wanted it and how he expected it. From there I started working with him shooting Ben Kingsley and all sorts of different people from there.
Working with Helmut Newton was amazing because he showed me that you don't have to be an asshole to be a world-class artist. You can actually be really focused and have all of this success, and have an incredibly long career, and still be a really consummate and nice professional individual. Another thing that I took from working from him was that he said, if you don't have a point of view or a vision from which you see the world, all you are is a technician. Being a technician is not bad, but what made him who he is was his strong vision and point of view from which he saw everything. His perspective on the world was his and it's very distinct. When you see a Helmut Newton picture, you know it.
I became really friendly with him and his wife. I spoke to Helmut the day before he died. We were about to do a big Gillette campaign and everything was ready. I got a call from the producer saying that he passed away. We met at a café and the producer was talking to myself and June, his wife, who's a really accomplished photographer in her own right. She's Alice Springs. June says, "I'm going to shoot it, and Gavin you're going to light it".
I went back to the studio the next day. I remember standing there looking up and wondering what I should do. In that moment I realised that he wasn't around and I needed to do what needed to be done. I would take the Polaroids back to the Chateau every night and June gave me direction and input on what was happening. We created a really amazing bond through the time from him passing away to her and I going through this whole job together. I think it helped everyone get through it that she really took the lead. She's an amazing woman for doing that.
Adam: When did you start making music?
Gavin: I spent years not doing anything because I had a bunch of excuses of why I wasn't at the level that I needed to be to start: I don't know how to use Logic, I don't know how to record anything, and I'm so busy doing production. One day I finished this massive campaign and I was pretty exhausted but it felt really good to be at home. My wife was sitting on the couch talking to her brother and I was thinking, How happy am I right now. Then I realised I have an iPad and I can program the music. I didn't know how to record on it so I plugged the Bose speaker in, put my iPhone next to it, downloaded a recorder, and hit record. My mind just went don't be so precious and find a way to record this. I recorded it on my iPhone off a Bose speaker playing it live off the program in my iPad. That's the first kind of starting point of me doing music.
I don't set out to make a song or sit down and compose or write a song. I'll be at home after a job and my computer's there, and I just have a certain energy or someone will be talking to me about something. I'll sit down at the computer and I'll write and compose it in that moment and then tweak it later. I was having a big conversation with someone and they had a friend who had just died. We were talking about life and funerals, and going through life. He left and I just sat down and made the song "Calm Life Mind". When I sent it to him it allowed him to cry and that he could let go and feel good energy about his friend. That's what I love about making music.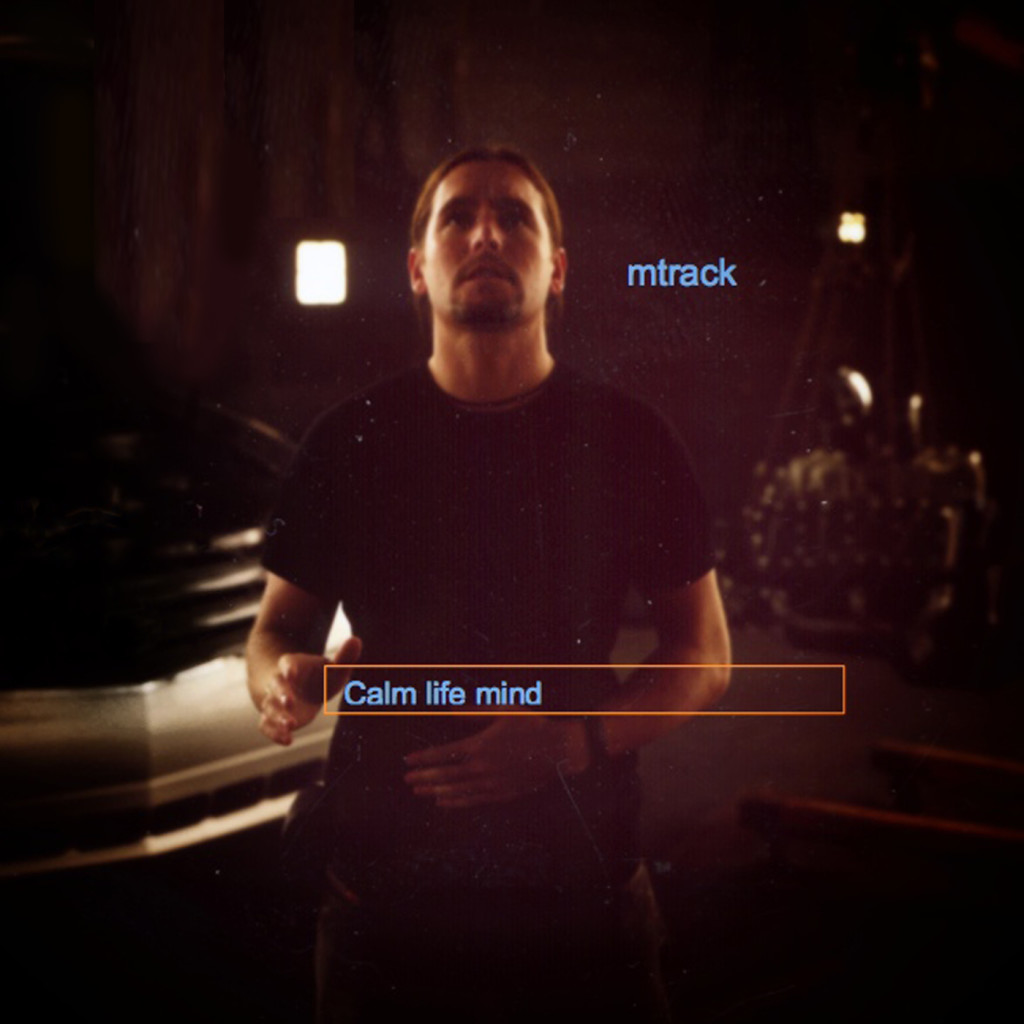 Adam: "Gentle Gloves" has a very ambient chill-out type thing, and "Nava" almost has a Thom Yorke style to it.
Gavin: People mention some stuff like that. Those two songs and "How Happy Am I" get the most kind of feedback from listeners. "Gentle Gloves" came from my friend being really hard on himself about something that didn't work out and I just said, "Hey, it's okay to be hard on yourself, but when you're kind of knocking yourself down you should at least put on some gentle gloves". I understand the need to be hard on yourself for maybe a wrong decision, but if you're going to do it just be gentle about it.
Adam: Music seems to happen for you organically, when the need or thought arises.
Gavin: I think so.  For "Okay Ole", Ole is a really good friend of my wife's and he's this unsung super positive amazing guy, always calm, always in the background, and really reliable. Everything's always okay with Ole, everything is cool. There's this really incredible strength in his calmness and his consistency. I was walking around a store with my wife, and when I got home I started that song.
Adam: I guess your house is not necessarily everyone around the piano, but it's a musical house.
Gavin: Yes, there are three guitars out there. If someone comes over and wants to pick up a guitar and play, they can do that for sure.
Adam: Just one more to talk about, "Low Rolling Cinema" is pretty different from some of the other songs.
Gavin: That's me just checking into beats and fields that I like, and blending certain styles and sounds that I haven't necessarily heard so much in my life. It's a part of me discovering new music that I haven't really heard myself. I remember hanging out in the lounge room listening to Triple J super late night as a kid with the boom box, and then falling asleep with a transistor radio under my pillow and waking up with a screaming ear ache. Then when I had a double tape deck, I could actually start making mix tapes of what I'd spent weeks taping off of Triple J. I was 11 when I used to do that.
Adam: I hope kids still make mixed tapes. I mean they probably make mixed playlists now.
Gavin: Yeah, I think it's all mixed playlists now. I used to love the art of the albums.  All the art I try and produce myself for all the singles and whatever music I'm putting out. I use that as a creative outlet now so music gives me music and it also gives me photography. All of the images on the mtrack Instagram are my photography.
Adam: What is your life like today? You've been travelling?
Gavin: Yes, I was gone for a little while ago for about three weeks to France, Germany, and Monte Carlo. I was looking into some new technology we're working on for mobile apps. In Monte Carlo, I spent some time with Helmut's wife. We also just got back from Sydney. I hadn't been back in a while. I used to always go home every 18 months or so to see mum and dad, and see my brother and sister and their kids. Since I've bought a house, they're all, "Let's go to L.A.". I've kind of been the Hotel Harrison in L.A. for my family so it's been really great.
I did an audition on tape just recently for fun for myself for a project in Australia and it felt really good. I love my life today, but the fact that it is opening up and it's reflecting my life up until this day is making it a little more interesting. It's giving me a wider perspective to have a little more fun, and do a few more things that I used to love to do again.
Adam: Acting is something you're open to again?
Gavin: Absolutely. I'm starting to look at doing more acting in the future. I miss the process and connection. Recently I just decided to let go of all these ideas of who you create yourself to be – whether it's an actor, a producer, a writer, or whatever. You actually are who you are, and all of those elements of your life really link up. It's very simple to say but when they've taken you in extreme directions, and when you have had to make some really big changes to refocus your life and see yourself in a different light, that's when you compartmentalise parts of your life. Part of opening that up was when you actually reached out to me. I started looking back at some press and things from the past and put them on IMDb. It was very much a reconnecting thing for me to do, which was to look back at all that stuff and say, "You know what, I did it and I actually really enjoyed doing all of it". That's why it's really great that you reached out to me because it was a part of me reconnecting with this whole chapter of running around doing stuff with guns and everything else. So you're a part of that because if I was to say yes to you, I had to say yes to my life.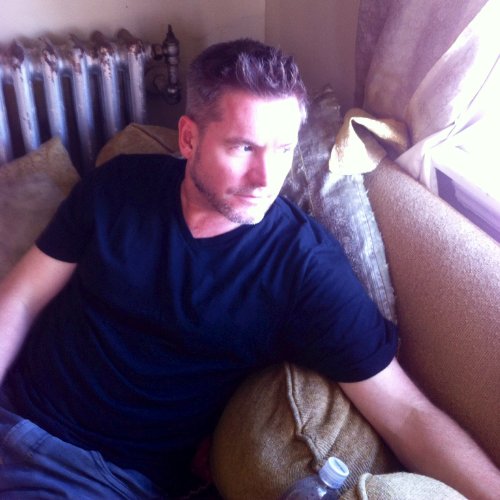 You can visit Section9 Production's website to see and read more about Gavin's work, and the company's Tumblr page provides images and a behind-the-scenes perspective on some of the shoots.
Gavin's music is available from iTunes, SoundCloud, and Spotify. He also has a Tumblr. I highly recommend looking at the art and images there as you listen to the music. You'll stay on the site for a long time, and have a great time doing so. Music videos for his singles will be among Gavin's next projects.
Gavin's photography is available on Instagram. His IMDb page is here.
Top photo by Jaason Simmons.