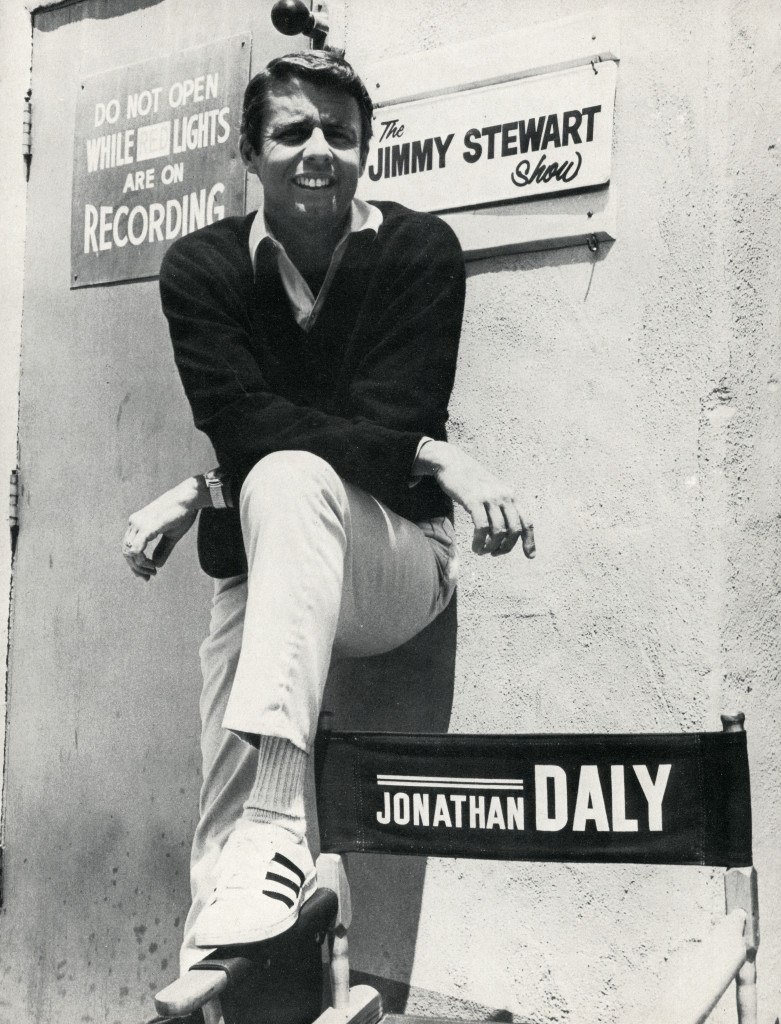 If you ask Jonathan Daly to describe himself, he has a few choices. He is an actor, most often in comedy; a writer, of nightclub acts, television series, plays, and more recently, screenplays for films; a director; and a producer. He has often combined these roles at the same time and, at one time or another, done all of them in spades. Jonathan's initial prominence and popularity was in front of an audience. On U.S. television, Jonathan is well-known for co-starring roles in the final season of Petticoat Junction (1969-70) as Orrin Pike, Bobbie Jo's (Lori Saunders) suitor, and in 1970s series The Jimmy Stewart Show as Peter Howard (Jimmy's character's son), and then C.P.O. Sharkey, playing Lt. Whipple, the superior of none other than Don Rickles. He was a familiar face in guest parts on The Flying Nun, Bewitched, The Ghost & Mrs. Muir, The Courtship of Eddie's Father, and The Partridge Family. There were also films: among them, The Young Warriors with James Drury; Out of Sight which included a who's who of rock and pop musicians; and Disney's Rascal and Amy, which were Jonathan's favourite films, and two of seven pictures he made at that "wonderful studio".
There was a time before these series and films when Jonathan was known somewhere else, and by a whole nation no less who had only recently come to television. With a partner named Ken Delo, and an act that initially started as a "Martin and Lewis thing", but became much more, Jonathan set out for Australia. It was early 1960 when producer Norman Spencer brought Delo and Daly to Melbourne. They had been working together for only a couple of years. In that time, as Jonathan explains, the focus was on building a relationship rather than the act. Viewers, and the press, likely did not know what to expect from the comedy team when they made their Australian television debut Saturday April 2 at 8pm on Melbourne's GTV-9 on the nationally-aired The BP Super Show. Very quickly Australia took the duo into their hearts and homes. GTV-9 would be their home for several months, as an initial four-week stay (some papers said six) turned into six months. At GTV-9 Jonathan and Ken found supportive colleagues and good friends. It was there they appeared regularly on In Melbourne Tonight and The Graham Kennedy Show, the version of IMT for national consumption that also meant the duo became well-known interstate. The legend of the show's host, Graham Kennedy, has grown over the ensuing decades, but Jonathan found in him a collegial colleague with whom he shared the stage many times. IMT's roster included Bert Newton, Panda, Joff Ellen, and appearances by the very special Elaine McKenna, with whom Jonathan worked often, and shared considerable chemistry.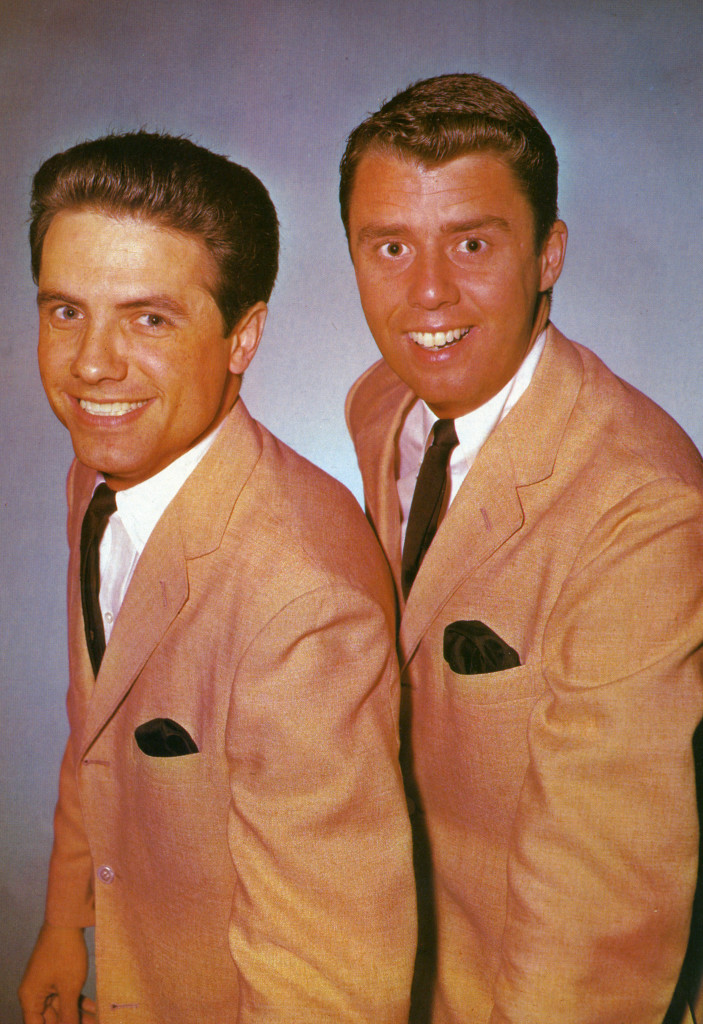 It was the time of the nightclub in Melbourne – and, indeed, much of the country – with Delo and Daly becoming a sensation wherever they went: the Savoy Plaza in Melbourne, Chequers in Sydney, and Lennons Broadbeach Hotel in the Gold Coast, amongst them. They did not, however, appear at the very famous nightclub The Embers, with Jonathan tasked with telling formidable club owner, Jimmy Noall, why his establishment was not suitable for comedy.
By the time the team left Australia, after filming two specials, their "acceptance by Australian TV audiences … set them apart as being by far the most successful of the U.S. TV comedy 'imports'" (The Age, Radio and Television Supplement, October 6, 1960), with the pair later described as having "had the biggest success of any overseas act on Australian TV, and what was planned as a limited stay in 1960 turned into the longest for any imported variety act" (The Age, TV and Radio Guide, May 31, 1962). Colin Bednall, head of GTV-9, knew a good thing when he saw it, and he offered Jonathan the chance to write and produce. An appealing prospect, Jonathan and Australian wife Marlene Duff returned from the U.S. for Jonathan to work at GTV-9 for a year. In a nice tie-in to his very first appearance in Australia, he was assigned The BP Super Show. The BP Super Show was the network's prestige program, "the channel's show window" (The Age, Radio and Television Supplement, April 7, 1960). Indeed, in the month before Jonathan took over the reins, the star of the February episode was Ella Fitzgerald in a special filmed performance – at The Embers of all places!
Jonathan's stint with The BP Super Show began with an episode starring Lorrae Desmond, Jerry Vale, French acrobats The Dandinis, Kamahl, and Tommy Hanlon Jr. Horrie Dargie compered and his quintet were featured on this show, which went to air February 11, 1961. On March 25, The VW Show began. This show, sponsored by Volkswagen, alternated with The BP Super Show, so that every two weeks viewers received either a BP or VW instalment. For this first production, Horrie Dargie compered a show featuring Alan Dean, Ray Hastings, Kathleen Gorham and Robert Pomie, Dorothy Baker, the Coral Deague Dancers, and the GTV-9 Orchestra conducted by the maestro, Arthur Young. The shows showcased new talent, overseas talent, Australian stars, vocalists, comedians, dancers and acrobats. Take a BP show from April 8, 1960 that featured The Allen Brothers act: Chris and that Boy from Oz, Peter. In many ways it was also a showcase for Jonathan's many talents, as he would increasingly move across performing, writing, and producing.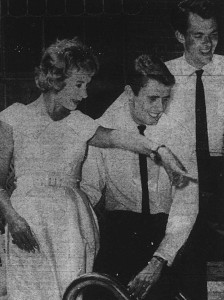 It became a bit of a habit for Jonathan to be about to board a plane (once literally), or to actually board a plane back to the U.S., before being asked to do something else in Australia. After his time with the BP and VW shows was over, he moved on to HSV-7. It was there that he compered Daly at Night, a forerunner to night time talk shows on Australian TV and an introduction to "the authentic Tonight format" (Australian TV: The First 25 Years, ed. Peter Beilby, 1981). The show was a D.Y.T. production, with Horrie Dargie, Arthur Young, and John Tilbrook having set up their own production unit. Described as a "controversial discussion show" (The Australian Women's Weekly, 13 November 1963), critics didn't completely take to Jonathan behind the desk and his panel and team that included Vikki Hammond, Horrie Dargie, Arthur Young, Frank Thring, Kitty Bluett, and Lou Richards. The Wednesday-Friday series did, however, produce plenty of memorable moments and ran for a year; starting March 7, 1962 and ending on March 29, 1963.
In many ways, the team of Delo and Daly had cast a long shadow on Australian television. In the time that the team had largely been off of TV, which was some two or so years with the exception of a special at GTV-9 called In the Soup in 1961, momentum was building for a return. After the stage lights of Daly at Night dimmed, Jonathan returned to the U.S. When his plane back to Australia landed on May 5, 1963, Ken was with him. At the time of their arrival to a "welcoming committee" at the airport including Norm Spencer, now at HSV-7 as assistant manager production, Horrie Dargie, John Tilbrook, Kitty Bluett, Julian Jover, and Joe Latona, Jonathan declared, "It's wonderful to be back!" (TV Times, Victoria edition, May 15, 1963). That's high energy after a rather lengthy flight between continents!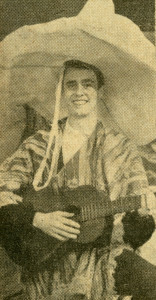 The negotiations between D.Y.T. and HSV-7, the search for sponsors, and other details of the show "created more press speculation since it was mooted than any other" (The Age, TV and Radio Guide, June 6, 1963). TV Week reported that "Delo and Daly have planned their show with Cape Canaveral-type security" (South Australia edition, June 29, 1963).
The Delo & Daly Show launched on HSV-7 in Melbourne on September 3, 1963. It eventually had "a six State 'web'" with New South Wales, Queensland, South Australia, Tasmania, and Western Australia carrying the program (The Age, TV and Radio Guide, January 23, 1964). I imagine for viewers tuning in to the first episode that it was a thrill to again watch Ken and Jonathan, as they walked together on their set's distinctive checkered floor toward the camera. It was a thrill for me when I watched a tape of the first program earlier this year.
The Delo & Delo show was variety in every sense of the word. Ken and Jonathan sang medleys, sometimes with their guest stars, and Ken also typically sang solo. The two engaged in fast-paced skits, involving take-offs of commercials and other popular forms. In between skits, The Delo & Daly Girls would try to keep straight faces as they set the scenes. In one skit in the first episode, an excited Jonathan is Ralph, a hiker about to start a monumental trek from the corner of Bourke and Exhibition streets in Melbourne across the entire continent. It's just too bad that he's not good at crossing a road, and it's over before it begins. In another as part of the regular "Let's Talk" segments, Superman (Jonathan) asks his interviewer (Ken) to call him "Soup", and he talks of how at 21 when most of his peers got cars or boats, he got a cape; as well the problems of leaving his suits unattended in phone boxes.
In a skit from the second episode, Jonathan is an optimistic prison warden who doesn't "like to use the word 'escape'"; instead preferring to "just say they're away" when his inmate count reveals some deficits.
Jonathan put a premium on quality. During a visit to Adelaide early in the show's run, he was quoted in TV Week (South Australia edition, October 5, 1963) as stating, "To make a really good show you need writers and time … time to rehearse and money to pay the artists, technicians and musicians during rehearsal. Writers need time to prepare well ahead of each show, and while they are preparing they must be paid". As Jonathan rightly points out all these years later, The Delo & Daly Show – and, in fact, all of the shows he was associated with – included wonderful performers, such as Kitty Bluett, Bill Bain, Joe Hudson (also a producer on Delo & Daly), Lewis Tegart, Addie Black, and Vikki Hammond, as well as The Joe Latona Dancers (Julie Dawtry, Chris George, Steve Buge), the song-and-dance quintet The Take Five (Annette Fisher, Pauline Whalley, David Ellis, Barrie Stewart, and Wally Ruffe), Jimmy Allan and the HSV-7 Orchestra, and many others. Behind the scenes were director Norm Spencer, writers Jonathan, Ken, and Hugh Stuckey, producer-choreographer Joe Latona, and art director George Havrillay – all masters committed to their craft. The Delo & Daly Show won the Logie Award for Best National Variety Show in 1964. When I mentioned to Jonathan that I had watched the 2015 Logie Awards on Channel 9 a couple of weeks before our chat, he told me that he thinks he still has the statue, and that "We were very honoured" to have received it.
Writing and fronting The Delo & Daly Show was a demanding task, and one which Jonathan devoted himself to fully. Eventually, Ken and Jonathan started a weekday afternoon show, called simply enough, Ken and Jonathan, which ran April 27 to July 24, 1964. Julie McKenna was their hostess.
All good things must come to an end, and on August 26, 1964 the final The Delo & Daly Show aired. Ken and Jonathan returned to the U.S. soon after. Of course, that was not the end of the story. Ken would go on to a long stint in the U.S. The Lawrence Welk Show. Jonathan would return to Australia many times, including in No Sex Please, We're British. He then began other iterations of his career: his U.S. television and movie career, and playwriting. Jonathan has been married to Kacey for over 30 years, and he has three children: producer Jules Daly, actor Rad Daly, and Kathryn.
I spoke to Jonathan about his time in Australia. His time here was a highlight in many people's professional lives. When Norm Spencer left HSV-7 in 1968, "he said the happiest and most satisfying period spent at HSV-7" was producing Daly at Night and The Delo and Daly Show (The Age, TV and Radio Guide, January 2, 1969). For Jonathan, it was a time that he remembers fondly, and it was a joy to listen to him light up when speaking of old friends and a country still close to his heart. I have a feeling that if he were to come back, this time we wouldn't let him go.
Adam: What led to your coming to Australia in March, 1960?
Jonathan: Our agent booked us there for four weeks for In Melbourne Tonight. It was funny because we didn't really have enough material for that four weeks so we were kind of faking it. And then they held us over and they kept holding us over. I don't know if you remember the act, but it was a lot of adlibbing anyway. That served us well because if we had had to have formal material we wouldn't have been able to keep going on.
Adam: I found a TV Week article (Adelaide edition, December 14-20, 1960) where you described the schedule during your first six months in Australia. You said, "With an average of 16 performances a week, 10 in night clubs and six on television, we were always working … We arrived in Melbourne with enough good material for eight performances a week and ended up doing twice that number".
Jonathan: [Laughs] That's right.
Adam: If I may backtrack a little bit, how did you meet Ken Delo?
Jonathan: That's a simple story. I was in charge of the Fifth Army Entertainment Division and it went from Chicago to Denver, Colorado. The idea was I had to produce shows because they were recruiting shows and we would travel, but I had to do a show at my home base every Saturday night if I wasn't on the road. The problem was it was an Officers' Club and it was the same audience every night, and so I didn't have any material. I found a singer, Ken Delo, and I said, "Listen, you're going to have to not only sing, but you're going to have to do kind of a Martin and Lewis thing because you're going to see the same audience every night", and so our adlibbing started out of necessity there.
Adam: That would've been in the late '50s?
Jonathan: Yeah, probably 1958, yeah.
Adam: Was that around the time when you also went on a USO tour to Alaska?
Jonathan: You've done your work. We did a Bob Hope tour up there and froze.  Everything we were doing was forming more of a relationship than an act and that's what I think was actually the secret of our success – that the audience accepted the relationship.
Adam: In my research I came across pieces and listings in The Age newspaper announcing that Ken and your first television appearance in Australia would be on April 2, 1960 on The BP Super Show hosted by Horrie Dargie. The star attraction was Carolyn Maye of The Music Man, and also appearing with you were Fred Barber, a mimic and comedian; Jimmy Wheeler, a comedian; vocalists Baby Jane and Dorothy Baker; a French acrobatic dance team, Les Vincent-Cardinal; The Dargie Quintet; and, of course, the Channel 9 Orchestra and Ballet.
Jonathan: You mean it was before In Melbourne Tonight?
Adam: Yeah, supposedly that was the first one and then soon after you did IMT for the first time.
Jonathan: Isn't that funny, I don't remember that at all.
Adam: In one short piece announcing The BP Super Show and IMT appearances, the two of you were described this way: "They are said to specialise in a brand of comedy which has won them a certain amount of popularity among teenage audiences in U.S.A." (The Age, March 24, 1960). Was that the case? Had you performed for teenage audiences?
Jonathan: No, they're not even close. You know something, honestly we had not performed that much before we had come to Australia. The whole idea of Australia was simply to get us some more experience. We did that Alaskan USO tour but we hadn't played that many places – it was very fresh.
Adam: And the TV landscape here at the time would've allowed you to try out some of that, almost test the material?
Jonathan: Yes.
Adam: As you said earlier when describing IMT, were those shows predominantly adlibbed?
Jonathan: Yeah, we would come up with a premise and Ken was wonderful at going wherever I went; he was a masterful straight man.
Adam: Watching you and Ken, it really is the relationship that comes through. I don't think you can fake that sort of thing.
Jonathan: No, and it even worked in, there's an interesting titbit. We were supposed to play Jimmy Noall's nightclub in Toorak, which was called The Embers. That was part of the deal that we would do IMT and the nightclub. But when we went to see the club I said to the owner, who I didn't know was a gangster, "I'm sorry but this place doesn't work the way it's set up for comedy; it's not a good place for comedy, it's a jazz place". The Oscar Peterson Trio was playing there at that time, and the shape was perfect for jazz. The owner told me, "Oh no, we've had comedians play here", and I said, "Well they must've died". He agreed that they didn't go very well, and I told him, "Well that's because it's not built for that".
When I spoke to Norm Spencer at GTV-9, he told me, "Well there's a club I can show you at the Savoy Plaza, but they don't have a floor show". I said "Well, let me look at it". We went there and I thought that it was a perfect nightclub for a comedy team because of the way it was constructed. So we opened there. They'd never had anybody entertain on the floor and we became very successful very quickly and you couldn't get a table. It just worked out absolutely beautifully.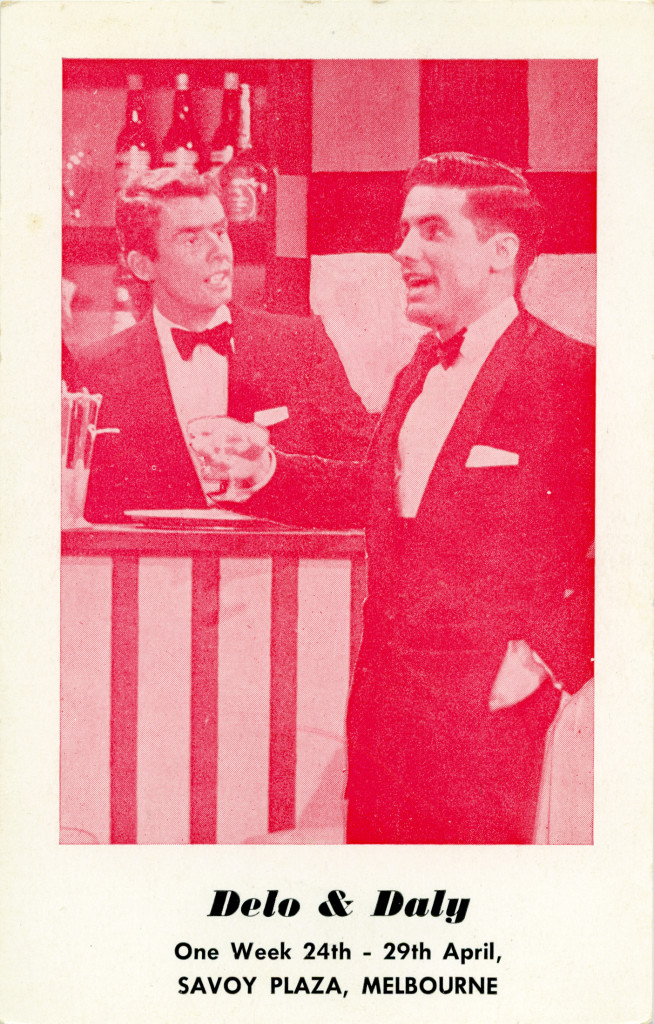 Adam: How big was the nightclub scene in Melbourne at the time?
Jonathan: I guess it was big although from what I heard then, it was never as big as what happened with us – we kind of exploded. It was that wonderful mixture of they would see us on television and then able to come and see us live. I think we were as big as you could get then but I can't remember the others. There was a place called Mario's and there were some Italian singers from America who would go in there, and I think they did very well.
Adam: Did you ever perform at Chequers in Sydney?
Jonathan: Oh my God, yes. We were the talk of the town in Sydney. They had a very funny owner named Denis Wong. How old are you?
Adam: Thirty-three.
Jonathan: How come you know all this stuff?
Adam: I just love the time and so I enjoy doing the research into these places that I never experienced.
Jonathan: Well, you would've loved Chequers because Chequers was a real nightclub and it had some huge names, big names.
Adam: I think you also went up to the Gold Coast in Queensland and did Lennons Broadbeach Hotel.
Jonathan: We opened that, literally opened it. A man named Oliver Shaul who was the head of the hotel chain that also included the Savoy Plaza came to us and said, "We're opening a hotel. We don't know if there'll be an audience because it's brand new. I'll give you anything you want so would you come up and open for us?"
Adam: Returning to talking about IMT, Hugh Stuckey described working with Graham Kennedy in this way: "Graham doesn't need a writer in the same sense as others. He doesn't need completed script, only ideas fed to him … His big problem is that he won't let you mentally near him" (The Age, October 11, 1962). In your experience, was that an accurate assessment of Graham?
Jonathan: Actually, I had a very strange, wonderful experience with him. I understood – and Huey and I have talked about this – Graham was distant, but one day we were in the hall and he asked, "How's it going and have you found a flat?" We were talking and I said, "Listen, you should come over for dinner some night". Everybody said, "He won't be coming to your house, forget that, that isn't going to happen". Well he did; he came and it was a very unusual experience – I guess because people told me he never did that. Graham and I got along very well, and I think we had a personal mutual respect for how hard it is to do comedy.
Adam: The other thing was he had a lot of pressure on his shoulders, television was relatively new over here and just exploding – I guess in the same way that you and Ken did as well.
Jonathan: Yes, and instead of him being jealous of our success on his show he was enormously supportive.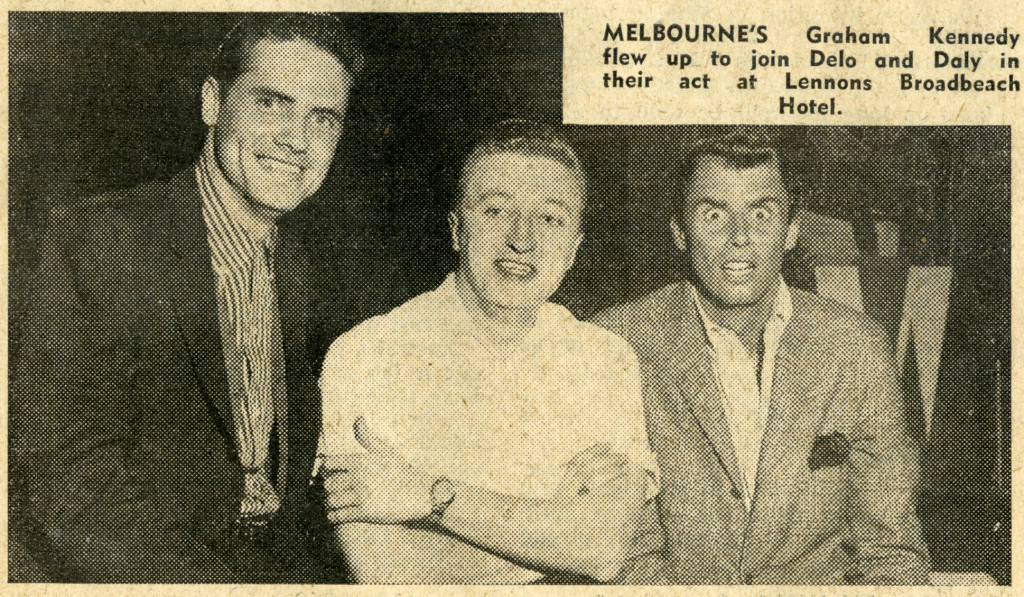 Adam: When you first came over to Australia were you living with Ken?
Jonathan: Ken and I had a flat. It was near Jimmy Noall's nightclub so I guess that would've been in Toorak.
Adam: It seems that the audience took you both in fairly quickly. Did it feel like that, like everything was kind of, you came over here and it was like bang, bang, bang we're on our way?
Jonathan: Yeah, and you know something, for years, in fact to this day, I am stopped on the street. I live in Waikiki and Australians – the tourists are over here a lot – will stop me and say, "How are you?" To this day I discuss with them how amazing it was and I still don't know why they took us into their homes and hearts so quickly. It was so fast, it was within two or three appearances, so there was something in us that they accepted quickly.
Adam: Was there any sort of animosity or jealousy from Australian performers when you guys came over to work here or was that not an issue?
Jonathan: One of the nicest things that ever happened to me was on the very first night we were in GTV-9. Joff Ellen came up to me and he said, "If you ever need anything, from one comedian to another, I will be there for you, you come and bother me, ask me anything, I will be as helpful as I can be". Joff Ellen was one of the nicest people I ever met. I thought they would resent us but it turned out to be, you know something, there must've been some quality in Ken and me that put the Aussies at ease, they didn't feel threatened or they didn't feel we were imposing or trying to be a big shot, never had anything but love.
Adam: That's wonderful. Towards the end of your first stay in Australia, two specials were filmed. The first screened was produced by Rod Kinnear, and was said to have captured "two-thirds of the available audience in Melbourne" (The Age, October 6, 1960), so that one did incredibly well.
Jonathan: Yes, that was a big hit. I remember that I was in a last-minute rehearsal for one of our specials when I was summoned to the office of the boss to meet someone. I was unhappy at being interrupted but thrilled when I found out who had come to GTV-9 specifically to meet me. It seems Prime Minister Sir Robert Menzies was a huge President Kennedy fan. He thought I looked like Kennedy so he came to meet me as a fan. It knocked my socks off!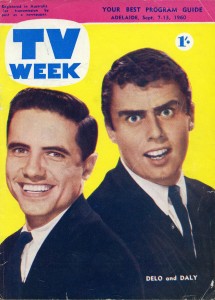 Adam: That's a great story! Then there was A Party with Delo and Daly, with Norm Spencer producing. The plot of that one was Ken having a party and Elaine McKenna suggests that he hire you as the butler and drink-waiter.
Jonathan: That's it.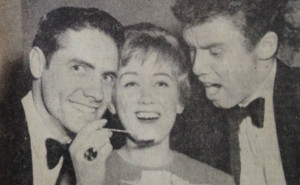 Adam: I read that in the special was your flea act, where you had a flea called Leroy. I don't know if you remember that?
Jonathan: [Laughs] Yes, I do. That was the dumbest single act in the history of nightclubs. It was just so stupid that the audience went along with it.
Adam: That was from your nightclub act and you brought it on to the TV show?
Jonathan: I started that at the Officers' Club in the Army. In the act, I had a flea who did acrobatics. Of course, nobody could see anything, and eventually the flea in doing the triple disappeared and we lost my precious flea. The whole idea of it was that later in the act as we were walking around entertaining the people who were sitting by the floor I would go, "Hold it", and I would go over to somebody as though I had just found my flea. But the punchline was that after putting my fingers in this poor man's hair I would say, "Oh sorry, that's the wrong flea – that's not Leroy", and so we would insult whoever the celebrity was who was ringside. We'd use that in our nightclub act and then I think we used it on A Party with Delo and Daly.
Adam: I think it sounds quite funny.
Jonathan: Well it was funny because the audience was in on it. I mean they knew we were being total twits so they loved the fact that we were being so stupid.
Adam: You worked with Elaine McKenna many times. What do you remember of Elaine?
Jonathan: Elaine and I were very close. We connected well for the audience. They kind of felt we were dating. It was a working relationship, but we loved each other. I went back several times, as you probably know, to Australia over later years and was very saddened to hear that she had passed away. I am still in touch with her sister, Julie McKenna.
Adam: Who you also worked with a few times as well.
Jonathan: Yeah.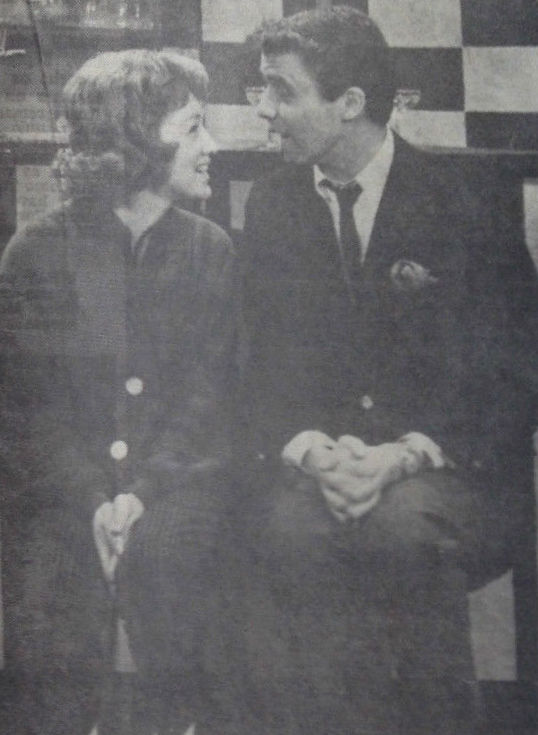 Adam: When you and Ken left GTV-9 in 1960, Rod Kinnear wrote in the notes for The Best of Delo and Daly record, "I have tremendous respect and admiration not only for their extraordinary talents, but also for their personality and character as people. They have become very great friends of everyone at GTV-9". You came back solo soon after to Australia and GTV-9. What led to that?
Jonathan: We were leaving after having been there for quite a while and Colin Bednall, the head of the network, came up to me and said, "Would you consider producing and writing shows?" I said, "Sure, absolutely," and so we created another show called The Volkswagen Show which alternated with The BP Super Show.
Adam: That makes sense because I couldn't find as much on The Volkswagen Show. I could find information on The BP Super Show, but not so much on that one.
Jonathan: I think we did them every two weeks.
Adam: Was that similar to The BP Super Show?
Jonathan: It was the same show, but sponsored by Volkswagen.
Adam: So it was essentially the same format just a different name?
Jonathan: Oh yeah, I did exactly the same show.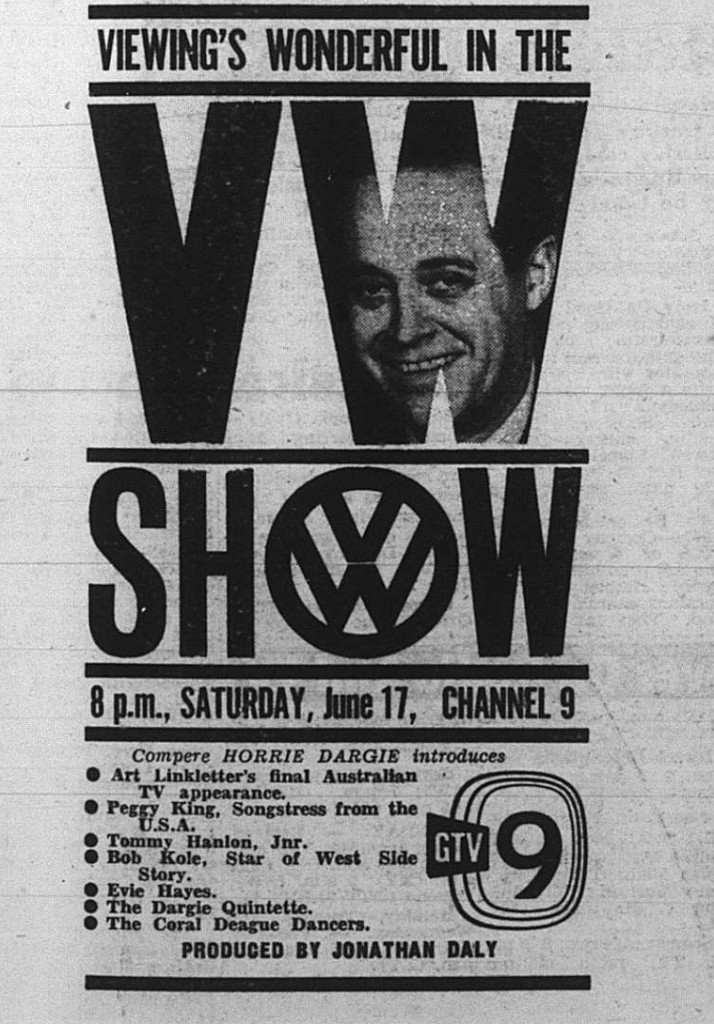 Adam: Do you have any memories of favourite guests or episodes of The BP Super Show or The Volkswagen Show?
Jonathan: Well, I can tell you a story. I used to use a lot of opera singers and ballet dancers – it was very classical. I had a booker who was from Europe and I would use his talent. At the end of my contract I came in to the head of the network and I said, "I need a little extra money". I was walking down Collins Street and this little European booker came running up to me and he said, "Jonathan, Jonathan, I've got for you Andrés Segovia". Well Andrés Segovia was the greatest guitar player in the history of humankind, he was brilliant. I said, "Are you kidding me?", and he said, "No, because you've been so nice to me you can have him on your show". So I needed a little extra money and I went to the network. They said to me, "No more Spanish dancers". And guess what, I quit. That was the end of The BP Super Show and The Volkswagen Show. It's also one of the funniest things I've ever heard. I didn't even bother to tell them that Andrés Segovia was not a Spanish dancer. I mean, it's not their fault; Segovia was not popular in Australia so it was understandable that they hadn't heard him.
Adam: Is this when you directed and starred in Come Blow Your Horn?
Jonathan: Yes, again I was leaving and Garnett Carroll, the owner of the Princess Theatre, sent his son, John, to the airport. He told me, "There's a play on Broadway by a new writer named Neil Simon and we have permission to do it. Would you direct it?" I couldn't find anybody to be in the lead, so I did it.
Adam: That's impressive to hear, the up-and-coming writer Neil Simon.
Adam: After 12 months producing for GTV-9, as well as the play, you left, but then you came back for Daly at Night on HSV-7. You hosted, and had a panel with Vikki Hammond, Arthur Young, and Horrie Dargie.
Jonathan: Horrie was my right-hand man, he sat next to me.
Adam: I've never seen Daly at Night, but I read it described as a "controversial discussion show" (The Australian Women's Weekly, 13 November, 1963). Why do you think that was?
Jonathan: [Laughs] Well, it was very simple; it was controversial because the audience was used to seeing me making faces and getting a pie in the face, and being a clown. In Melbourne Tonight was a variety show, it wasn't a talk show. Daly at Night was the first talk show, and so the audience wasn't sure what the heck was going on because there was a comedian sitting behind the desk, as Graham did; but it was some serious, some funny, and there weren't any acts, it was just talking. At first they didn't get it, but by the end of the year – and I could only stay for a year – they were loving it.
Adam: I guess that would've been even before The Tonight Show with Johnny Carson or anything like that, so that sort of thing wasn't really being done anywhere.
Jonathan: No, Carson was already playing. Steven Allen started The Tonight Show, and then Jack Parr, and then it went on.
Adam: Oh, of course.
Jonathan: That's what I was doing, I was doing The Tonight Show. No-one had ever done that in Australia.
Adam: I researched some of the guests. Did you have Henry Fonda on Daly and Night?
Jonathan: Yeah, I sure did. It was funny because I had done a show in America called The George Gobel Show, and he and I did The George Gobel Show together. That was in 1954 or 1955, something like that. And then he came over and did Daly at Night with me. Years later I played Jimmy Stewart's son on The Jimmy Stewart Show, and Hank Fonda was Jimmy Stewart's best friend. So Hank came in on the set one day and he said, "You and I have to stop meeting like this". When he was on Daly at Night he was absolutely fantastic and we spent the next few days together. He was a wonderful man. So eventually to work with his best friend, it all tied in very nicely.
Adam: I'd love to find that Daly at Night episode. I don't know if they're around but that would be something to see.
Jonathan: Do you remember a man named Frank Thring?
Adam: Absolutely, yes.
Jonathan: Well, Frank was as openly gay as you could be in those days, and he would come on the show and he was hysterical. All of our humour – see that's what the audience, they were a little thrown by it because we didn't have acts, but we had funny conversations. If you could find Daly at Night, oh my gosh that would be great. I'm sure they burned it because they didn't know what the heck we were doing.
Adam: Frank seemed to be definitely one of a kind.
Jonathan: He was fantastic, great guy.
Adam: When you were producing and then when you were on Daly at Night was there pressure or people wanting Delo and Daly to reunite? You did do a one-off special screened in May, 1961, In the Soup, and I know Ken came back to Australia for a solo stint on IMT in 1962.
Jonathan: Well, we stayed in touch and we kept talking about doing it, and then when Daly at Night finished, then there was pressure, "Can you get a hold of Ken? We don't want to lose you". I was very lucky because every time I'd start to leave they'd say "What else do you want to do?", so that was pressure to get Ken to do The Delo & Daly Show.
Adam: It seemed every time you were about to get on an Ansett plane they kept sending you back.
Jonathan: That's right! In fact Reg Ansett called me and he said, "Where are you going?" I told him, "I'm leaving" and he said, "No, no, no, no". As you know I came back later and did No Sex Please, We're British, and Ken and I also did Bert Newton's show together, and so any excuse to come back. I love Australia.
Adam: Did you work with Bert Newton on IMT or was it later that you worked with him?
Jonathan: We only worked with Bert in his role that he had with Graham, but then when he had his show they brought us back to do that.
Adam: I did find a picture from 1984 of Bert with you and Ken for Tonight with Bert Newton.
Jonathan: Oh yeah, that would be it. It was that wonderful director Peter Faiman; he directed Bert's show and he contacted us.
Adam: I saw Bert Newton last year on stage in Grease, and before that he was in Wicked playing the Wizard of Oz.
Jonathan: He has had quite a theatrical career, hasn't he?
Adam: Yes. He had a morning show here in the '90s and 2000s
Jonathan: Right.
Adam: And then once that wrapped he's been doing a lot of theatre.
Jonathan: I'm glad to hear he's still working.
Adam: Did Daly at Night finish because you needed to go back to the U.S.?
Adam: Yes, and again the same thing happened. I think they started to figure out that it was a money ploy because I'd say, "No, I've got to go home" and that's when they suggested, "How about if you get Ken and we team up the old team again?" I said, "I don't know. If you want to do this it's going to cost you a lot of money. We've got to hire a writer, we've got to get a bigger orchestra, we've got to have sets, and we've got to have guest stars". Norm Spencer, he muscled the big shots at Channel 7 and they pulled it off.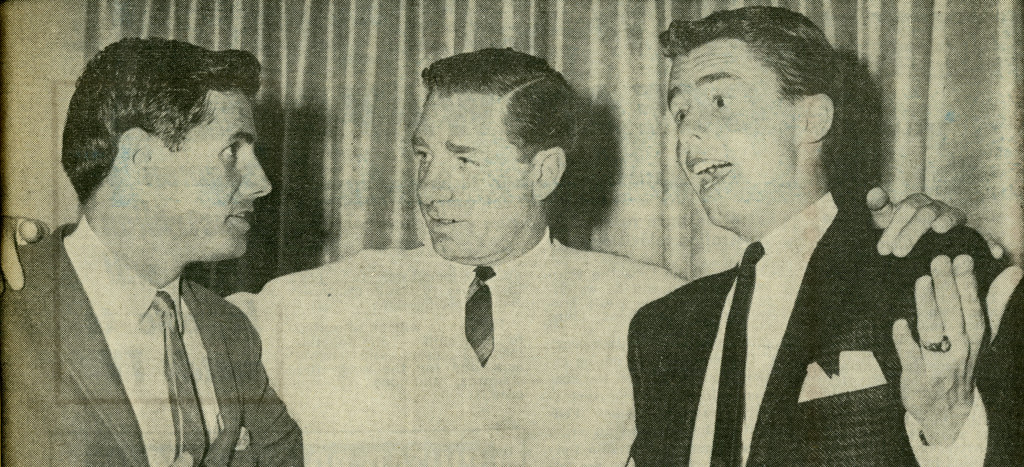 Adam: The Delo & Daly Show took a while to get moving. From reading some of the articles of the time, it seems that there was a lot of negotiation going on before you actually shot the first couple of shows.
Jonathan: Sure, absolutely, they were terrified. Have you seen the show?
Adam: Yes I have.
Jonathan: OK, I'll give you an example of that. I wanted a big black and white checkered floor and no permanent sets. I wanted to do it in a very sparse way, but then once in a while use realistic sets. One of the negotiations was about the floor. You won't believe this, but that black and white floor cost a fortune. We would constantly negotiate.
Adam: It was a fantastic floor. Is it true that up the front of the floor were really big pieces but as you went further and further back they were little ones, and it was to give the perspective of depth?
Jonathan: Yes, it was a perspective.
Adam: It was a very modern set for the time. It was fantastic.
Jonathan: People raved about the look of it. I knew what I wanted, but I knew it was going to cost them a fortune. I remember spending hours with Keith Cairns, who was the head of the network, saying, "Come on, come on, give me a little more money".
Adam: [Laughs].
Jonathan: [Laughs] But then it was a hit.
Adam: Did you ultimately feel that you got the time and money needed to make the show you wanted to make?
Jonathan: Oh absolutely, absolutely. They were just amazing to us and that's how I got Hugh Stuckey to come aboard, and Hugh is as good as you get.
Adam: Did you already know Hugh at that point?
Jonathan: Yes, Hughie was writing for Graham when we were on IMT and so I knew him. I called him in to our offices at D.Y.T. and said, "Listen Hugh, we're going to do this big variety show and I'm going to need all the help I can get". Hughie and I just had a fantastic relationship. I could say something and he would go from there. He was a wonderful, wonderful writer. We've stayed very close, incidentally.
Adam: That's wonderful to hear that you still speak to him. He wrote for A Country Practice, which is one of my favourite programs.
Jonathan: Have you ever interviewed Hugh Stuckey?
Adam: No I haven't, he would be a fascinating person to interview.
Jonathan: Oh my God, he covers the whole gamut of Australian television between IMT and Neighbours, A Country Practice. You should talk to him; he's a gem. Hugh's a good friend, he even came to Hawaii once and we had a wonderful time together.
Adam: The show was filmed in Fitzroy at the old Regent Theatre, which became the HSV-7 studio.
Jonathan: The Teletheatre, yeah.
Adam: Was that a good place to film?
Jonathan: Oh yes. When I first saw it they told me, "This is where we'd like to shoot it". I thought, Oh my God, this is a dump. But they assured me, "No, no, we're going to come in here and redo the whole thing". They really did a great job.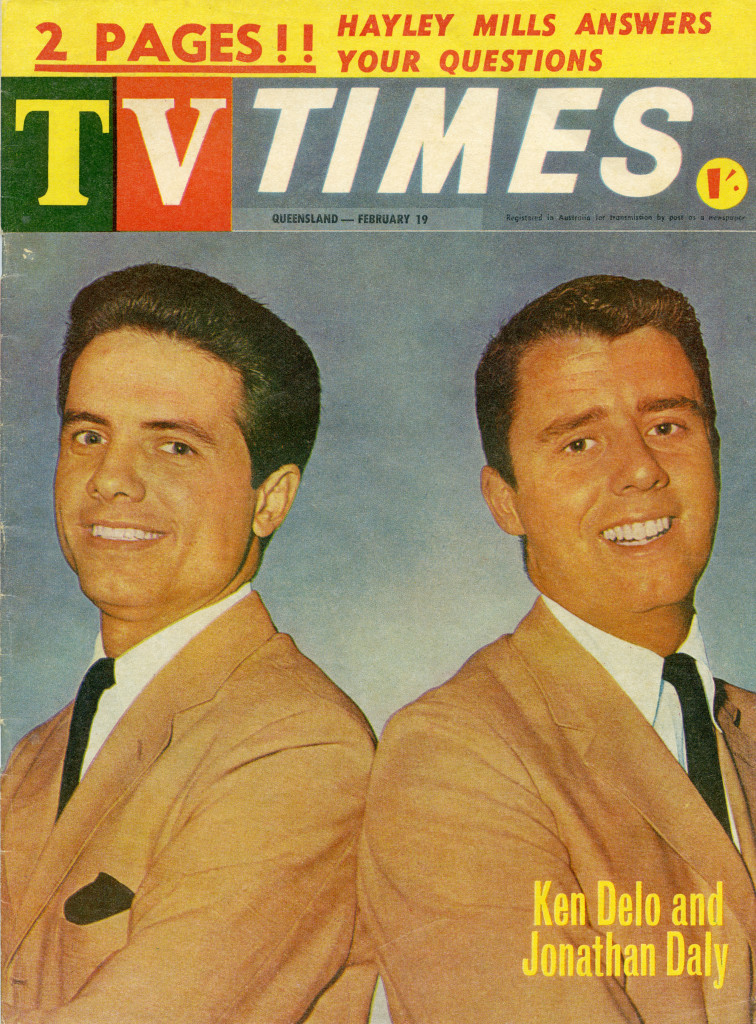 Adam: I watched a few episodes at the State Library of South Australia. The guest star on the first program was Maggie Fitzgibbon, who was appearing in the musical Sail Away. Ken tells you to stop clowning around and introduce her, and so you start your introduction with "Maggie Fitzgibbon first joined the Communist Party back in 1946". You then get cut off by Ken who says that she has nothing to do with the Communist Party.
Jonathan: [Laughs]
Adam: The comedy holds up just incredibly well; it's a ball to watch those shows. There's a skit in that show where Ken is interviewing Superman, who is played by you. I don't know if you remember that one?
Jonathan: No, no.
Adam: You're telling Ken that you have to claim your suits on income tax because every time there's an emergency you've got to leave the suit in the phone booth, and so you're losing all these suits.
Jonathan: [Laughs]
Adam: There was a skit in another episode where you were a prison warden and Ken's interviewing you. During the conversation the lights kind of dim and you say, "Oh my gosh, Ralph," and you realise that you forgot to stop the execution.
Jonathan: [Laughs] I don't remember these things but you have to understand that we did a lot of those shows and we would adlib a lot in the sketches, and then once we would finish that show we didn't remember anything.
Adam: What was the weekly routine that you had while you were doing The Delo & Daly Show?
Jonathan: I don't remember the night we taped, but let's say we taped on a Friday night.
Adam: I think it might have been.
Jonathan: We would have the weekend off and then we would meet at my flat with Joe Latona, who was the choreographer and producer, and Hugh, and we would come up with what we were going to do and then we'd give that to whoever the music people were. If we taped on Friday night we probably rehearsed on Thursday and then did the show on Friday.
Adam: Was the show essentially what you did most of your time, or were you involved with other things?
Jonathan: I was writing 24/7. I remember going to mass, and on the way up to Communion I thought of something. I turned around and left the church! So it was a constant; a lot of work. It was a huge show to do every week.
Adam: Did you write with Ken? In a TV Week (Adelaide edition, September 7-13, 1960) you described a scene of one of you at the typewriter and the other pacing up and down. Was that the case for The Delo & Daly Show, or did you write more by yourself?
Jonathan: I did most of the writing and Ken did all the music. I had a tin ear, I didn't know what I was doing musically but he made me sing and he protected me because he knew my limitations. So he did all the music and I did most of the writing; what writing there was, it was more structured stuff that I'd come up with and then we'd go from there. Hugh wrote a lot of the stuff we did.
Adam: Can we talk a little bit about people you worked with on The Delo and Daly Show? You worked with Vikki Hammond on Daly at Night and then she came over to The Delo and Daly Show as well.
Jonathan: She was wonderful.
Adam: I know she went into acting but I haven't seen anything of her in a while.
Jonathan: Somebody told me that she kind of pulled out of the business, I don't know. I'll tell you when I did see her. When we went back in 1984 to do Bert Newton, Van Johnson was there and I knew him and we had lunch with Vikki, so that was in 1984 and I got the feeling then that she was not in the business any more but she came to lunch.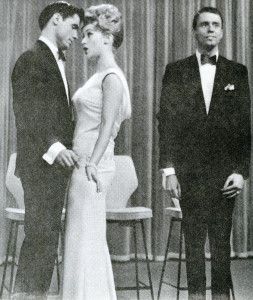 Adam: Another person who you worked with quite a bit, and who was on Delo & Daly was Kitty Bluett.
Jonathan: Yes, Kitty was on The Delo & Daly Show.
Adam: Did you enjoy working with her?
Jonathan: Gosh yes, she was one of the funniest people and she had a wonderful husband. Kitty was just funny. You know there's some people who are comedians but they're not necessarily funny, she was just naturally funny.
Adam: You worked with her husband, Julian Jover, as well.
Jonathan: Yes.

Adam: Then there was Bill Bain.
Jonathan: Oh God, yes. [Laughs] See we had really funny people.
Adam: He was quite a character as well, wasn't he?
Jonathan: Yeah, I've always felt that you're only as funny as the people around you and it's better to have them get laughs because it helps you, so we found Kitty Bluett, Bill Bain, there was a little old lady, I cannot remember her name and we would put her every once in a while, she was hysterical. We liked character actors.
Adam: There was Joe Hudson, who was in The Horrie Dargie Quintet.
Jonathan: Oh gosh yes, we used him a lot.
Adam: And Addie Black.
Jonathan: [Laughs] Yeah, yeah. This is fun to hear.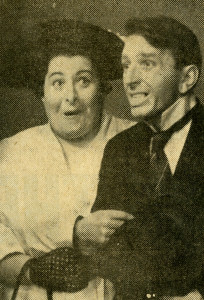 Adam: Sounds like it's good memories.
Jonathan: Wonderful memories because they were wonderful people.
Adam: And I think there was Lewis Tegart as well?
Adam: Oh my God, you are amazing! Yeah, absolutely.
Adam: Like you said before, there was Norm Spencer who was the director, and then The Joe Latona Dancers.
Jonathan: And The Take Five.
Adam: When you were on Australian TV, you worked with a lot of the same people over multiple programmes. Was that deliberate or was it just a random thing where everyone was working?
Jonathan: This is a very strange thing to say but there weren't that many jobs for that many good actors, so if you got on a roll, which I was lucky enough to do, then you kept running into the same good actors. All the directors knew each other, all the casting directors knew each other and I was very pleased to keep running into good friends. It's actually a pretty small community because there really aren't that many shows you know.
Adam: The person I forgot to mention was Jimmy Allan who was the conductor of the HSV-7 Orchestra, which was on Delo & Daly.
Jonathan: Yes. You probably don't know this but Jimmy Allan was a very funny person, he was a comedian.
Adam: No I didn't know that.
Jonathan: Oh God, he was so funny.
Adam: Jimmy was married to Panda, wasn't he?
Jonathan: Yes and she was a delight.
Adam: Did you work with Panda on IMT?
Jonathan: Yes.
Adam: I think she's come back to live here. Jimmy and Panda lived in the U.S. for many years.
Jonathan: They lived in Vegas.
Adam: Did you see them over in Vegas?
Jonathan: No I didn't, but are you in Melbourne?
Adam: I'm in Adelaide.
Jonathan: If you ever can find Panda please pass on my love to her.
Adam: Did you have any favourite guests on The Delo & Daly Show?
Jonathan: Yes. Dickie Valentine, he and I did a sketch, if you can find it it's very funny. Dickie was a big star in England and I asked him, "Are you willing to do an almost totally adlibbed sketch? I know you're a star, you're a big shot – are you willing to risk it?" He said, "Let's do it" and it turned out to be very funny. He was a wonderful guy. You know we had so many – Oscar Peterson was fantastic. Oh I'll tell you who one of my favourites was, Jack Benny.
Adam: Was Jack Benny on the show or was he on something else that you did?
Jonathan: He wasn't on Delo & Daly?
Adam: I'm not sure. I didn't see his name in episode listings at the National Film and Sound Archive, but I did see his name on something else you and Ken did. You did the Royal Children's Hospital Good Friday Appeal so I don't know if that was a telethon with Jack Benny?
Jonathan: Maybe that was it.
Adam: He could've been Delo & Daly, but I didn't see any reference to it.
Jonathan: I bet we did the telethon with him and stole five minutes with him to put it on The Delo & Daly Show. I bet that's what it was.
Adam: That might be it. What was he like to work with?
Jonathan: It was funny because I knew this before I met him; he was the most famous comedian in show business in America for being the best audience, he laughs at everything a comedian does, he's very supportive, wonderful, wonderful man.
Adam: That sounds like a tremendous experience.
Jonathan: Oh yeah, loved him.
Adam: Was there anyone that you were really sort of star-struck by, or was it just business as usual because you did this every week and didn't have time to be star-struck?
Jonathan: I'll tell you, when I left Australia I moved into movies and television, so I've worked with almost every big name. I worked for two years with Don Rickles on C.P.O. Sharkey, and that's when you have to stay sharp every minute of every day. I would've thought he was going to be intimidating but he was not. So of all the stars I've ever worked with, I've never had a bad experience.
Adam: He wasn't intimidating?
Jonathan: Oh no, he was a pussycat. He was a very gentle, loving, almost timid soul; you'd never believe it's the same person. I thought I was going to be intimidated by Jimmy Stewart but it turned out that he became like a father to me. I've never had anybody that spooked me.
Adam: When you were on Delo & Daly were there any mishaps?
Jonathan: Yes every night, every night.
Adam: [Laughs]
Jonathan: We were so lucky that we were capable of adlibbing because we had a lot of things go wrong: doors that wouldn't open, props that didn't work. We taped the show but in essence it was live because we didn't stop. The audience was there so we just ploughed ahead.
Adam: While you were doing The Delo & Daly Show, you and Ken did an afternoon show for a little while. Was that a split show, where you did half of it and Ken did the other half of it?
Jonathan: That's so funny because Julie McKenna asked me that and she said, "You know, I was on that show with you", and I said "You were?" It's so embarrassing but I can't, I bet you're right, I bet Ken did "Name That Tune" and I did "Who Do You Trust?"
Adam: I think that's exactly what it was. Definitely don't feel bad about memories, I'm asking you to recall things that, I mean, you did a lot back then.
Jonathan: Well, I'm amazed at how much I have remembered so far, yeah.
Adam: I think that I have a clipping with a picture from The Delo & Daly Show, and underneath it mentions that you both announced Julie as a co-host or the hostess of the afternoon show. I will send that to you.
Jonathan: Oh wonderful, send that to me please.

Adam: When did the playwriting come in?
Jonathan: Well, the reason I stopped Delo & Daly was because I didn't want to perform. I wanted to be behind the camera but the problem was when I got back to L.A., I became successful in television and movies. I didn't like acting, and so what happened was as I was doing and becoming known in television and movies, I started to tinker with writing plays. Eventually I had my own theatre in Hollywood, and I would write plays and direct them. I made a lot of money because the plays started to go out on tour and I would put stars in them. That became my livelihood and, now, because my daughter is a producer of movies, I'm writing movies.
Adam: Wow that's fantastic. When it came time to leave Australia was it a mutual decision? Did Ken want to go as well?
Jonathan: He wanted to go, but he wanted to keep the act going and I did not.
Adam: Was that a hard thing to tell him?
Jonathan: Yes. I didn't realise how hard it was. I thought he was okay with it but I don't think he was too happy with me. I just didn't want to perform anymore and then I ended up doing all of that. We were very lucky as a comedy team.
Adam: And you're still in contact with him now?
Jonathan: Oh yes, absolutely.
Adam: I guess after experiencing something like that with someone, the two of you experiencing what occurred during that time.
Jonathan: Yes, because it's a gift and we were appreciative of it, and we've stayed in touch over the years. He was my best man.
Adam: That's great. He was on The Lawrence Welk Show afterward.
Jonathan: Right.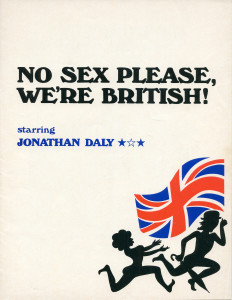 Adam: You came back to Australia a few years later for the play No Sex Please, We're British.
Jonathan: When you asked about mishaps on Delo & Daly, I can't think of a specific thing, but I can tell you when I did No Sex Please I broke my arm.
Adam: Was that a work-related injury?
Jonathan: Oh yeah, yeah, I broke it several times. It was a very physical show. They flew me to London to meet Michael Crawford who was in No Sex Please in London, and he said to me, "You'd better be in good shape, you're going to get killed in this". And I did, I got my arm broken twice. When my arm was broken the first time, the St Kilda football team was in the audience. After the show they wanted to meet me so they came back with the coach to the dressing room and asked, "What happened?" I told them, "When that door came down, I broke my elbow." I was told to come the next morning to the Football Club and the trainers would be put at my disposal, and they'd have me back on the stage that night. So every single morning I would go to the St Kilda Football Club and the trainers would work on my arm and they got me through the play.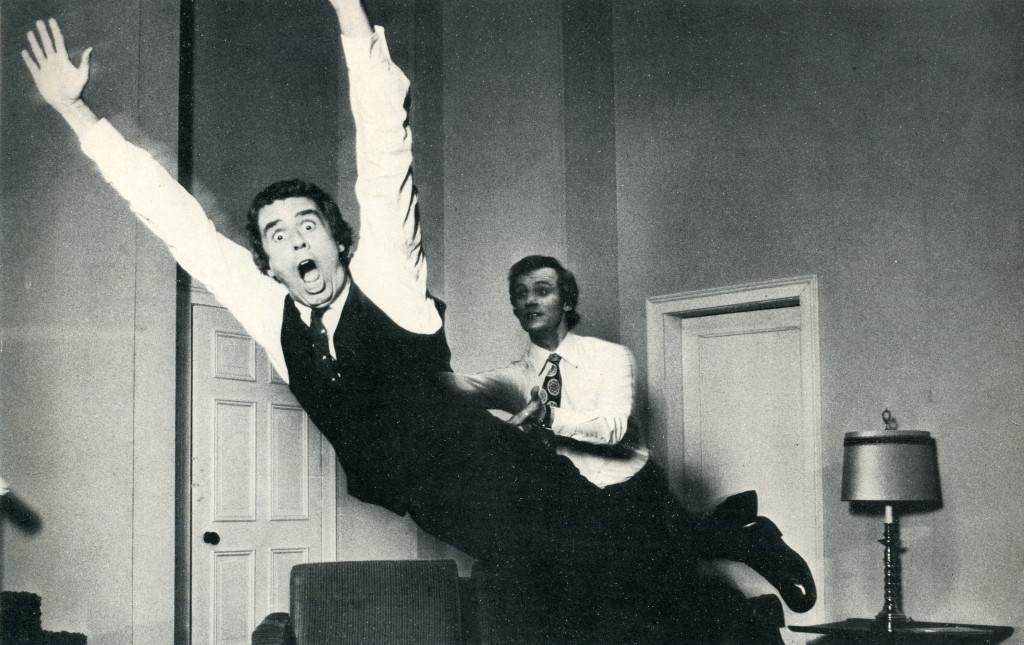 Adam: Was it Harry M. Miller that brought you back for No Sex Please?
Jonathan: It was Harry Miller. When I broke my arm the second time it was because the stage hands were on strike and they had substitute stage hands. They were supposed to put a mattress in place when I went diving through a window and the mattress wasn't there. I broke my arm and I left the next day. I left Australia and Harry Miller was livid; he said he was going to kill me! But I didn't have any more limbs I could break so I left. The author of No Sex Please, a man named Anthony Marriott who also directed the play, found out that I walked out on his play and cost him a lot of money. The funny part is a year later I was living in London and I ran into Anthony on Piccadilly. I thought he was going to hit me! Well, we became best friends and he and I wrote plays together.
Adam: I came across an article written when you were on C.P.O. Sharkey with Don Rickles. Your schedule for that show was from 10 in the morning to six at night, and then you would go to your theatre on Hollywood Boulevard and stay there until 11. You'd then get home after midnight and do some writing. The theatre group rehearsed plays for weeks and then performed them. Weekends were sort of family time and leisure, but you were still writing during that time. It seems like you're someone who always had a very heavy load when it came to work.
Jonathan: I'll tell you a funny story, my daughter has produced some really big movies, and she's very successful and she works 24/7. About a year ago, I said "I'm worried about you, you are back and forth, you're always on an aeroplane, you're working 24/7; I'm very concerned about your work schedule". She looked at me and she said, "Daddy, shut up", and I shut up, and she said, "You must never say one word to me about a schedule because when you were raising me you were working. You had to be in makeup at 6.30 in the morning, and you didn't leave the theatre until 11.30 at night. Don't you ever say a word to me about working too hard". I said, "Okay, that's it, never another word".
Adam: I guess looking back at that, is that a regret?
Jonathan: Well, it's a regret in that it cost a marriage and it cost time with my kids, but to be honest with you I've come to terms with the fact that creative people are in fact slaves to their talent. It's what you do, you know, it's a way to make a living.
Adam: I think sometimes people have this idea about creative people that you just wait for the inspiration to happen, and that's when you'll write or that's when you'll act or sing.
Jonathan: [Laughs] There's no waiting for it to happen, it just happens. The most frightening thing in the world, and I'm sure you know this, is an empty page. There's nothing more terrifying than a blank piece of paper.
Adam: Absolutely, I understand that one. The thing is if the inspiration's not coming you need to get working anyway until it comes; and maybe it will and maybe it won't.
Jonathan: Yes.
Adam: Do you still write on yellow legal pads, or is it computer now?
Jonathan: No, I still do it and then my wife puts it on Final Draft, a computer program.
Adam: Was one of your biggest plays A Good Look at Boney Kern?
Jonathan: That probably lasted the longest. I think we got 15 years out of it. I've had other plays that came closer to Broadway, but they didn't last as long.
Adam: Do you have a favourite?
Jonathan: Yes I do, my favourite is called Mind If I Join You. It starred Dan O'Herlihy, who was an Oscar-nominated actor, an Irish actor. Greer Garson produced, and she almost got it to Broadway. I think that's my favourite. Although I got very close to Don Knotts when I was doing Boney Kern, and then Gary Burghoff did it after. When you say your favourite, the experience with Don Knotts was we became very, very close friends and so that all becomes part of it.
Adam: It's not just the play itself, it's what goes along with it.
Jonathan: Not just the play itself, exactly.
Adam: I was going to focus mostly on the Australian work and the plays, but Bewitched fans are probably going to kill me if I don't at least mention it. Do you remember working on Bewitched?
Jonathan: Yes of course, I did several of them.
Adam: Was that a good one to be on?
Jonathan: Oh yeah, because we became good friends, Aggie Moorhead and I, do you know the show?
Adam: Yeah very well, very well.
Jonathan: Okay, well Elizabeth would sit between Aggie Moorhead and me and try to keep peace because Aggie and I would argue about religion. Finally Elizabeth said, "I give up, I can't follow either of you", but we had a wonderful time on that show. I spent a lot of time there. I did two or three of them but I also was shooting other things near their soundstage so I stayed in touch.
Adam: Was Elizabeth Montgomery a good person to work with?
Jonathan: Oh yeah, her father was a pro's pro and so she was naturally very professional and very warm and had a great sense of humour.
Adam: I know people who like that show, and there's a lot of them out there, will enjoy hearing that. And Agnes Moorhead, was she a fundamentalist, I can't remember what denomination she was.
Jonathan: Oh no, she just – her whole thing was if you don't believe in God but then you find out that he existed you're in trouble, so she said "I'm just going to go with the fact that he exists".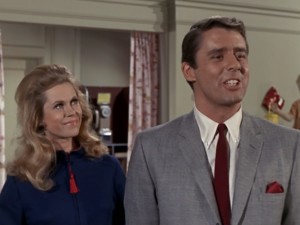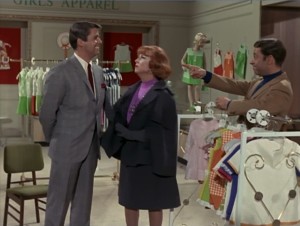 Adam: What about The Ghost & Mrs. Muir where you played a newlywed with Yvonne Craig and go to the haunted house? I think I saw that on TV again so they keep on.
Jonathan: Oh that was great, that was family.
Adam: With Hope Lange.
Jonathan: Yeah, she was a great girl. I had a lot of fun on that show because Charles Nelson Reilly was on and he was really funny. I got to know Eddie Mulhare who turned out be Dan O'Herlihy's good friend, and Dan O'Herlihy ended up doing my play. I ended up going on Petticoat Junction as well. It's wonderful the fact that they're still going.
Adam: Returning back to Australian television. I guess for someone like me who wasn't there, what was the TV climate in Australia like at the time? Looking at what was available, there was the international content and also a lot of the old movies, but it seemed to very much be a time of the variety show.
Jonathan: Somebody told me that the last big variety show was our variety show, is that possible?
Adam: After you guys left, IMT continued for a few years after that, but with the exception of probably Don Lane's show, I can't think of too many more.
Jonathan: I think Hughie, Hugh Stuckey, said to me fairly recently that the variety show as we did it was kind of the last one. It was a budget thing, a show costs a lot of money. You know who I've been in touch with is Olivia Newton-John. I'll tell you a story, a friend of mine said, "I want you to come over to my house. I want you to hear a little girl sing in my living room," and I said, "Oh dear God, no, don't do that to me". He said "No, no, I just want you to give her a little encouragement". So I went over and she sat on a stool and she sang for me. I said, "You're very good, you know what you should do? There are things called coffee houses here in Melbourne and you should go to these coffee houses and you should sing. You will get some experience so you'll get some confidence singing in front of people; and if you do that, I'll come to the coffee house". "Oh, would you do that, would you do that?" "Absolutely". She became one of the biggest stars in the history of Australia.
Adam: That's fantastic, what a story.
Jonathan: I just had an email from her about six months ago. In fact she thanked me on some television show years ago and she said, "There was an American comedian over here and he told me that I should…" I knew her sister, Rona, very well.
Adam: Another person from your time here, who still performs every now and then, is Toni Lamond.
Jonathan: She came over to America and did pretty well.
Adam: I don't know if Denise Drysdale had started when you were here, that might've been a bit later on?
Jonathan: No, I didn't know her but I'll tell you who I just talked to, Helen Reddy. She was at a hotel here in Hawaii and we had a little chat. I really miss and try to stay in touch. Obviously Helen is still around and Olivia is still around. Is Toni Lamond working again in Australia?
Adam: From what I know, she does the occasional cabaret show.
Jonathan: There's nothing for them; there really isn't a variety show now is there?
Adam: No, there isn't and that's the problem because I think a lot of them still would like to work.
Jonathan: Why is there no variety on television now?
Adam: It just seemed to change, and I think after probably the '80s where you had Don and Bert. The landscape changed, and even now the biggest thing is not even drama series anymore, it's really reality TV.
Jonathan: Oh yes, isn't that a crime? What do the young talented singers and comedians do, where do they go?
Adam: There's not really a lot for them to do, I mean live music is still fairly good and I guess that's the closest that you'd have to the old sort of nightclub acts, but in terms of TV there's not a lot.
Jonathan: That's so sad, wow.
Adam: It's a shame that it hasn't kept up. It is a shame because so many would probably want to keep doing it and I think we're poorer for having this kind of experience.
Adam: What are you working on at the moment?
Jonathan: I'm currently writing screenplays for my daughter. So far only options, but we press on.
Adam: And finally, how do you look back on your time in Australia?
Jonathan: I look back on Oz as some of the happiest days of my life. I made lifelong friendships and loved going to work every day.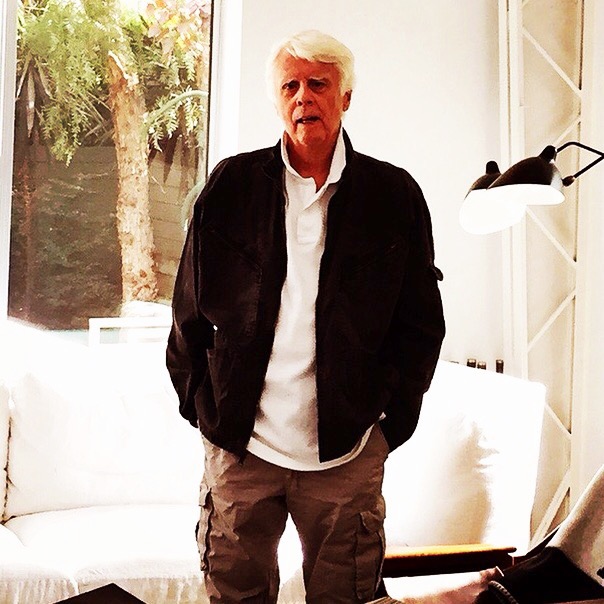 Jonathan's IMDb page is here. With thanks to Rad Daly, Jonathan's son, for putting Jonathan and me in touch; and the staff of the National Film and Sound Archive of Australia, State Library of South Australia, and State Library Victoria. Top photo from No Sex Please, We're British program.