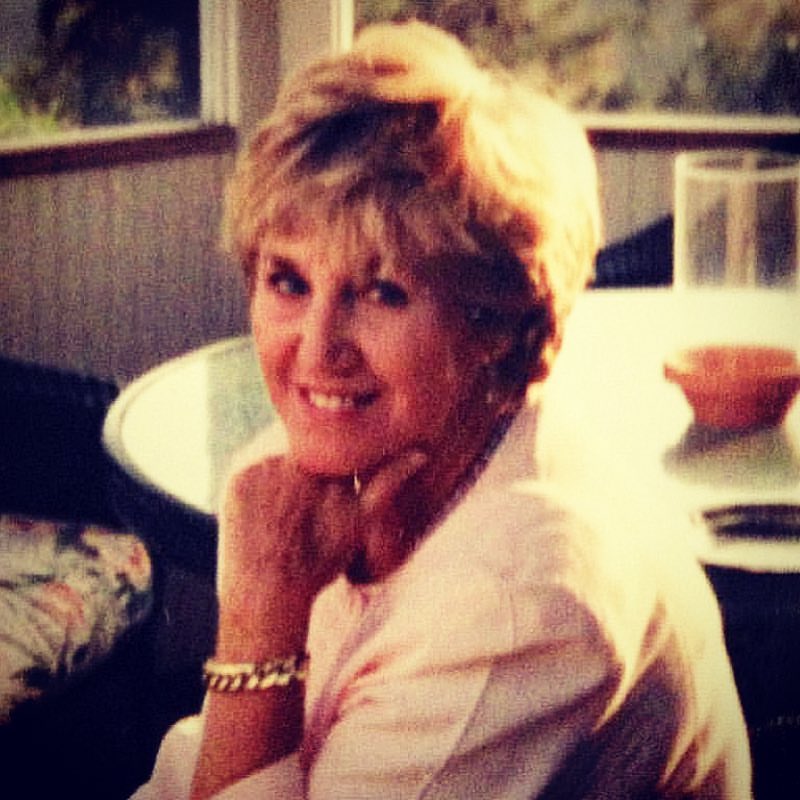 Jill Foster's daughter, writer Laurie Newbound, has announced that her mother passed away peacefully on March 24, 2017, "shortly after midnight, at home surrounded by love".
I was first drawn to Jill after watching her on reruns of Bewitched in the early '90s. Indeed, Jill was probably best known outside of her native Canada for playing adman Darrin Stephens' (Dick York) girl Friday, Betty, on the series. Darrin actually had eight "Bettys". Long before that HR nightmare Murphy Brown, it seems that McMann & Tate Advertising had a niggling problem with secretary turnover, but didn't want to go so far as to hang the expense of a new desk nameplate. Jill's Betty appeared in 10 episodes from 1965-1969. Interestingly, often her character's surname differed: with Betty Schaeffer, then Willis, and then Wilson arguably giving Liz Taylor a run for her money. One Bewitched website owner, Vic Mascaro, suggests, "Apparently while not in the office, she was finding new husbands!" In real life, Jill wasn't doing anything of the sort. Her part on Bewitched came about through her partnership with one of the show's writers and script consultant, Bernard Slade, whose actual name is Bernard Newbound. Jill and Bern (as he likes to be called) were married for nearly 65 years. He survives her, along with children Laurie and Christopher.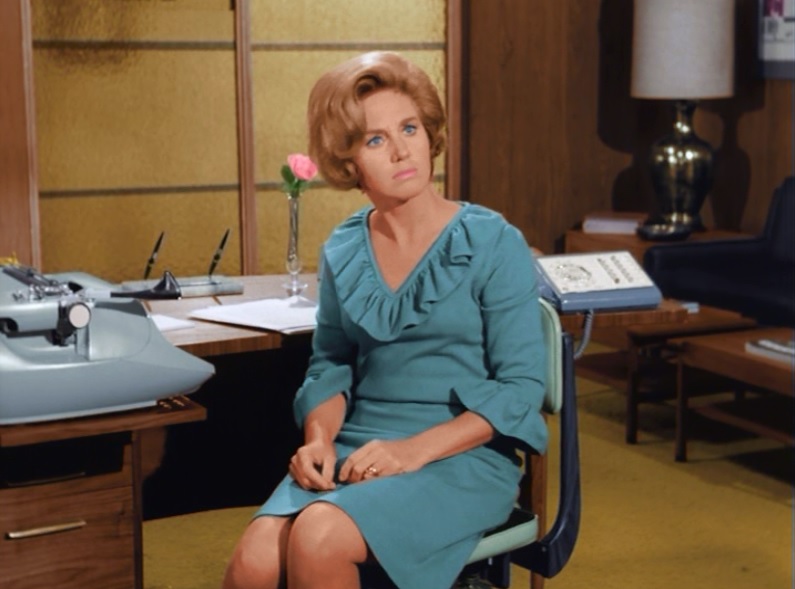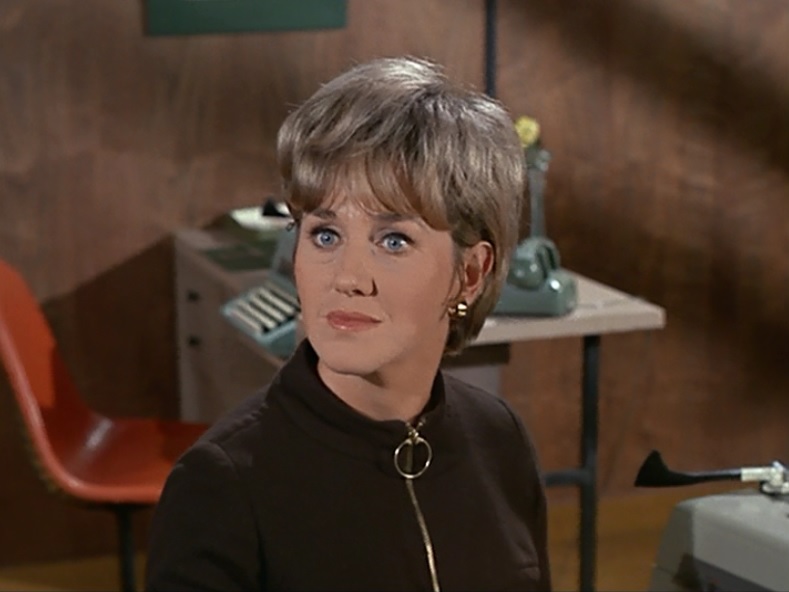 It is somewhat peculiar that I singled Jill out from the cast, particularly since her part was typically small and restricted to a few scenes in an episode. I have a way of doing that. Of course, I adored the series lead Elizabeth Montgomery. After all, what 10-year-old child, unless utterly devoted, writes for a school assignment a recipe poem (remember those?) about a woman who had played a witch 20 years previously, and who was now busying herself starring in TV movies as vicious nurses, domineering mothers, and serial killers? But I'm often drawn to the co-stars and featured performers. On Bewitched it was people like Jill, Kasey Rogers (as Louise Tate, Larry Tate's wife) and guest stars Charles Lane, Reta Shaw, and Sara Seegar. Perhaps it was also because while Jill's part was small, she was terrific in it, and it hinted at the depth of her comedic acting ability.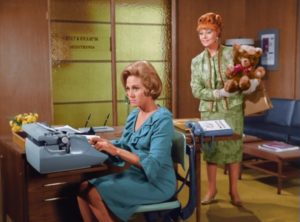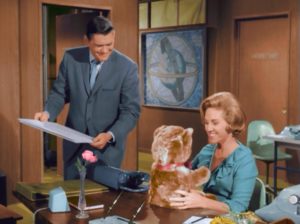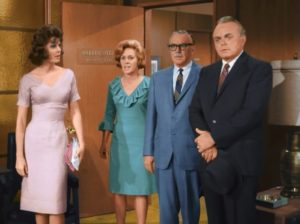 Born Florence Jill Hancock on May 9, 1930 (we share a birthday, albeit some decades apart) in Toronto, Jill did have office experience. As Frank Peppiatt told it in his memoir, when TV first came to Canada in 1952, Jill was working in a stockbroker's office, as well as a member of a theatre group. Frank and his pal, John Aylesworth, were working at MacLaren Advertisting when their former colleague, Peter MacFarlane, now a producer and director at CBC, took the pair to lunch. Based on their office straight man-funny man routines, Peter asked if the pair would write some comedy, the one genre, as Frank wrote, "CBC lacked … on its television schedule".
After a few nights staring at what other writers have told me they dread the most – the blank yellow legal pad – Peppiatt and Aylesworth came up with the idea of a skit involving "seeing comic book characters relaxing on their day off". More specifically, the skit would involve Superman "at home in a crappy apartment", with "a creepy father who couldn't care less about his prowess", and his "floozy-looking" mother. The brass asked Peppiatt and Aylesworth to appear in a test of the skit, and so they had to find Mother. Peppiatt remembered a friend's ex-girlfriend named Florence Hancock, who had starred in a production of Born Yesterday, as well as playing "the nutty mother" in You Can't Take It with You. Peppiatt told Aylesworth, "I saw her play the lead in Born Yesterday – you know, the Judy Holliday part. She was hilarious". Rehearsing the skit in Peppaitt's mother's basement (I won't ruin for you how they managed to put Frank's Superman costume together; CBC didn't yet have a costume department to furnish the outfit), as well as another skit where Florence would play a gun moll, Florence allayed the men's fears about their abilities to memorise the lines. She also brought along her new guy, Bernard Newbound, to help cue the trio during rehearsal.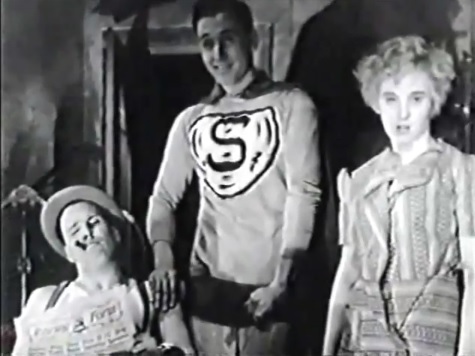 Based on their studio test filmed one Saturday morning, CBC offered Peppiatt & Ayelsworth and Jill Foster (Florence's chosen stage name) an initial run of 10 one-hour live shows. And so, After Hours was born. Jill and Bern were married the same year, on July 25, 1953.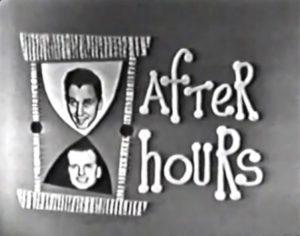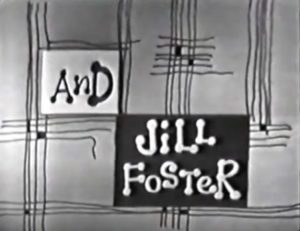 In reading about After Hours and other early television variety shows whether in Canada, the United States, or my own Australia, you get a real sense of the ingenuity of these pioneers. It was all a brave new world, and Jill's collaboration with the comedy team is on ready display in Peppiatt's book; as is her excitement at the prospect of the new series. The trio went on to The Big Revue (1953-54) and On Stage (1954-55), with Norman Jewison producing and directing the programs, and then Here's Duffy (1958-1959). Jill made appearances across other major anthology series of the time throughout the '50s and '60s, including CBC Summer Theatre, On Camera, and General Motors Theatre (known as Encounter in the U.S., and also by other names in Canada depending on the program's current sponsor). In one segment of General Motors Theatre, "Blue Is for Boys" (1960), which was in fact Bern's play Simon Says Get Married, Jill played Julie, the "charming scatterbrain" paired with William Redfield's character via an electronic dating service. Actually, Jill was also quite active in theatre in Toronto, appearing at the famed Crest Theatre, including in Simon Says Get Married. Gordon Pinsent, who worked multiple times with Jill, wrote of her in his autobiography that she was "a natural comedic talent who never seemed to be 'acting'".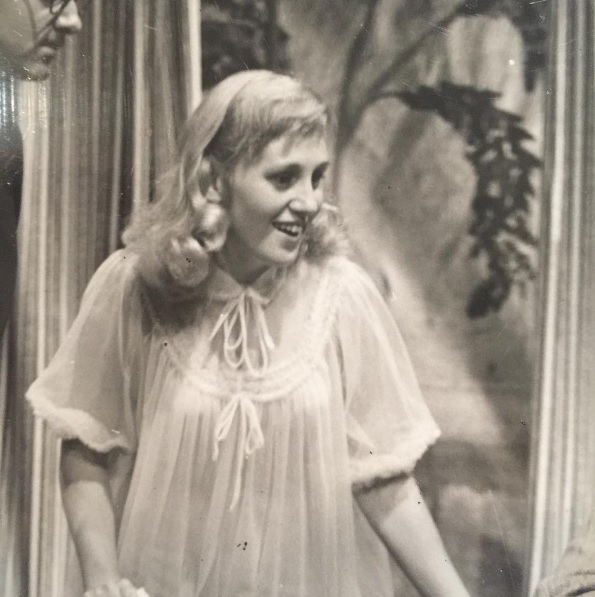 While a genuine comedienne at CBC, Jill played in drama, too, including in a highly-lauded television production of her husband's play "A Very Close Family" screened on CBC's Festival in 1964, in which she played Melvyn Douglas' daughter. She also played the wife of a bank robber who has dynamite-d himself up in "Power to Destroy" (1958) on General Motors Theatre ; a "shrewish wife", Myra, opposite Gordon Pinsent in an episode of Playdate called "Willow Circle" (1963); and in a segment of The Unforeseen called "Rendezvous" (1959) that sounds decidedly "The Twilight Zone" chilling. Her daughter Laurie recently posted a picture to social media of Jill appearing on General Motors Theatre in "Lost in the Crowd" (1957), directed by – as Jill often was – Paul Almond. Laurie commented "She is so good in this scene, she makes me cry". The Newbounds/Slades often appeared together, including on the series A Case for the Court (1962), in a story of uxoricide (I had to look it up, too – it's murdering one's wife – Bern and Jill weren't the couple). For some fun, Jill appeared with her husband on his quiz show, Life a Borrowed Life, as well on The Superior Sex.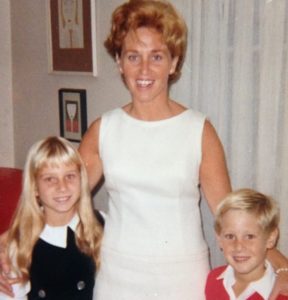 The Newbounds moved to the United States in 1964 and Jill's acting work slowed down. Besides Bewitched, she appeared on her husband's Love on a Rooftop as Florence (there you go), and in a unsold pilot with a who's who of comedy, In Name Only (1969), a Harry Ackerman-E.W. Swackhamer production scripted by Bern (Ackerman's wife, Elinor Donahue, also appeared).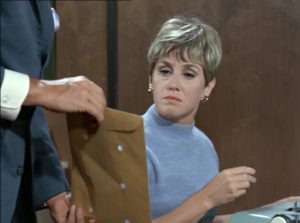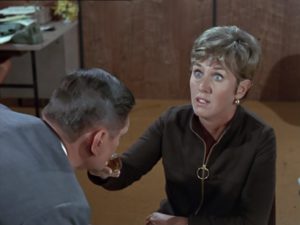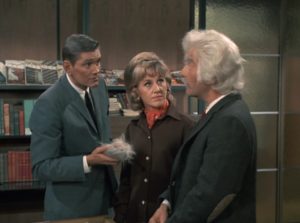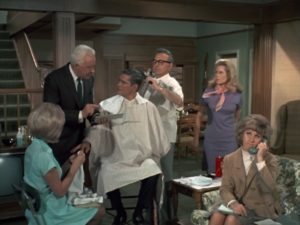 In May 1977, Bernard and Jill starred as George and Doris in a production of Bernard's megahit Same Time, Next Year at the Citadel Theatre in Edmonton. A newspaper article at the time rightly placed Jill as being "one of the first television performers" in Canada and star of CBC dramas.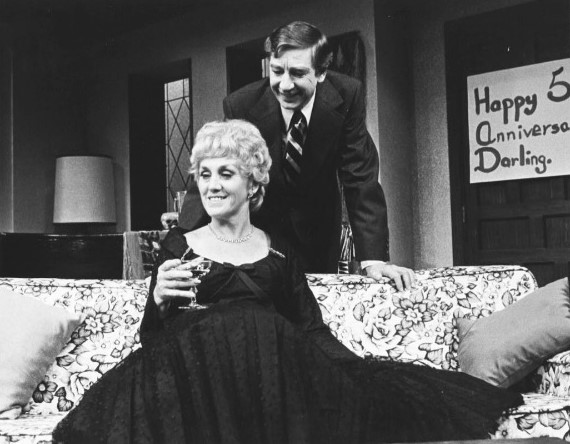 It was some time before we saw Jill on television again. In 1996, she was back at CBC to appear on the highly-publicised A Tribute to Peppiatt & Aylesworth: Canada's First TV Comedy Team, as part of the series Adrienne Clarkson Presents. In the interim, Jill and Bern had travelled the world, were now grandparents, and Jill, according to Laurie, was most at home in her kitchen. Reflecting on those early days at CBC and working with Peppiatt and Aylesworth for the program, Jill summed up her feelings, "It was a great period. I guess I'd like to do it again".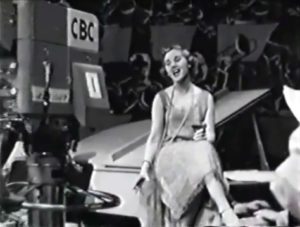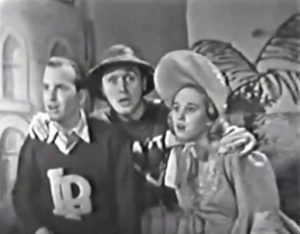 In 2003, I was looking to locate Jill for an interview. I emailed Bill Aylesworth, John's son, and then Paul Almond. They were both happy to try to put us in touch and enthusiastic I had an interest in that period and their/their family's work. Unfortunately, they both let me know that Jill declined. I now know that she was unwell at that time and this was the likely reason for her not wanting to participate. However, I was happy to hear that Jill had maintained her friendships over all that time. As Bill told me in August 2003, "I just saw her a few weeks ago in San Diego. My dad was having a 75th Birthday bash and Jill, Bernard Slade, Rich Little and others attended". He also mentioned that Jill and his mother played tennis together. Paul told me that he was in continual touch with Jill, and he spoke very highly of her. Sadly, Peppiatt & Aylesworth are now gone. Paul is gone, too. He was a champion for maintaining the history of those "golden years" of television. He wrote in one 2005 email that "I actually put my Moviola into an editing room museum I set up years ago, and now it's priceless – these early years of TV will be a treasure trove, with all the new digital stuff coming up".
I am glad to see he was right, and I look forward to finding much more of Jill's – as well as Paul's and Bernard's and all the countless others who made history –  work. I am reminded in reading over old emails how wonderful it was to email back and forth with Paul over that period. I look back now and, while I was very respectful, I don't think I really got at the time the fact that these men and women were giants and pioneers. I hope more of the work becomes available. Paul did write me about the practice of kinescopes and tapes being destroyed or lost, which he jokingly said meant that of his work, "a lot is (deservedly) missing"! Certainly, so long as Bewitched is playing somewhere in the world, there Jill will be. And that show really is immortal. Of course, there's the theory that signals from the early days of television may finally be reaching outer space. Perhaps, somewhere, there's Frank as Superman, with Jill and John, as the Man of Steel's parents, telling their son that Lois Lane is on to him.
Mom: She told me she saw you changing in a phone booth.
Superman: No, no, never!
Mom: She's just stringing you along.
Dad: So she can get scoops for that rag, the Daily Planet.
Mom: Fish wrap.
Now that's pretty dazzling to consider.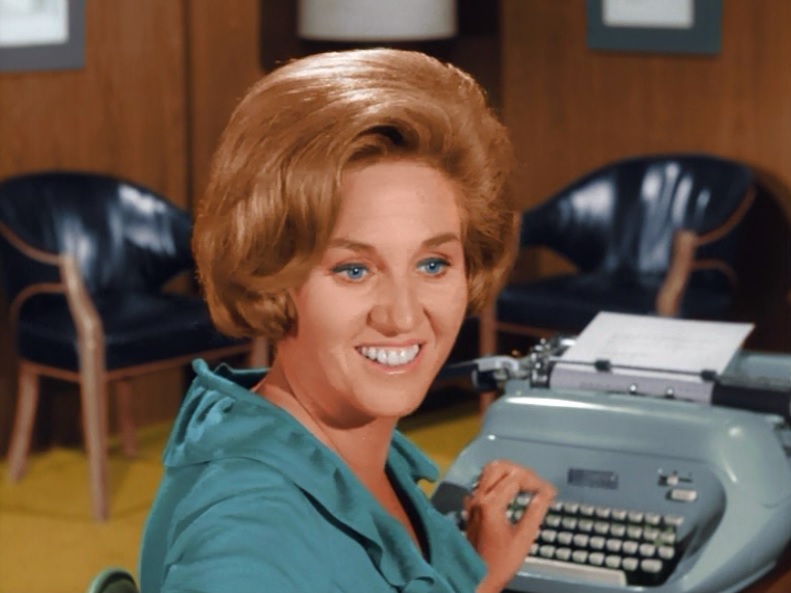 With thanks to Laurie Newbound. Frank Peppiatt's autobiography (in which the "Superman at Home" sketch is included), published in 2013, is When Variety Was King: Memoir of a TV Pioneer: Featuring Jackie Gleason, Sonny and Cher, Hee Haw, and More. Gordon Pinsent's autobiography, published in 2012, is Next (written with George Anthony).
Same Time, Next Year quote about Jill from Medicine Hat News, April 22, 1977 ("Focus Section", p. 8).