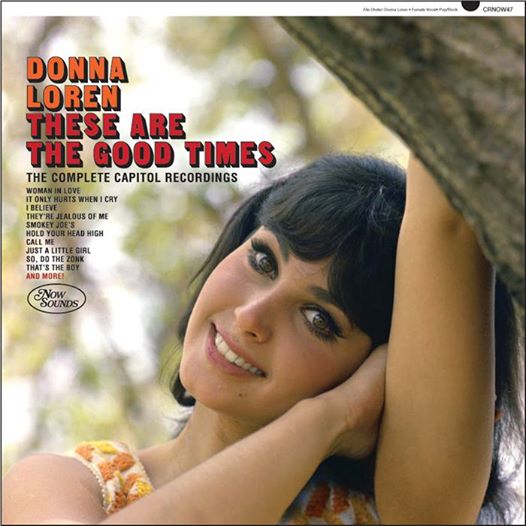 Today, March 7, is my friend Donna Loren's birthday. Yes this post will be dated March 8, but stateside she will still (a late dinner by now) be blowing out the candles. Now Sounds also used the occasion to officially announce Donna's new CD, These Are the Good Times: The Complete Capitol Recordings, which will be released April 14. The CD is a compilation of Donna's time at Capitol. During her tenure there she recorded the classic Beach Blanket Bingo (1965) album. Donna also released five singles from 1964-66, including the Northern Soul classics "Blowing Out the Candles" (the reference in the second sentence was only semi-deliberate) b/w "Just a Little Girl" and "Ninety Day Guarantee" b/w "Ten Good Reasons". The singles also included Steven Van Zandt's favourite Donna song "So, Do the Zonk", which he regularly plays on his radio show; one of Donna's favourites, the Tony Hatch-penned "Call Me"; and one of my favourites, "I Believe". Elvis released that last one in 1957 – one of the many connections Donna has with Elvis, but that's for another day.
Making their debut for the first time are eight unreleased tracks that have sat in the Capitol vaults all these years. Donna and I have known each other for over a decade. It is a friendship that I treasure. When I was visiting L.A., I stayed with Donna and her husband, Jered. One afternoon, after a visit to the Getty Villas and a very slow trek back home in mid-afternoon traffic (and they told me the traffic was excessive, even by L.A. standards!), Donna set about making us all dinner and Jered played me the rediscovered gems. Boy are you in for a treat. While at Capitol, Donna was produced by David Axelrod, Steve Douglas, and Al De Lory, and arranged/conducted by H. B. Barnum, Billy Strange, Jack Nitzsche, and Gene Page. The new material will delight Douglas-Nitzsche fans. And, she was backed by the Wrecking Crew, musicians she knew from her early recording days. Donna reunited with one of those musicians, Carol Kaye, on her 2010 album Love It Away.
Donna's fans who visit her website and Facebook pages (Official Facebook Page, Official Facebook Profile Page) are used to rare photos. Her adopted dad/manager was a professional photographer (in addition to once having been a cartoonist for Disney and Hanna-Barbera). The new CD package will feature never-before-seen photos.
So a happy birthday to Donna! These Are the Good Times will be available in the usual places, including at Donna's website.