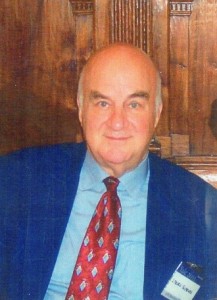 Alida Brill contacted me late Sunday to let me know that her husband, television and film critic Steven Harry Scheuer, had died the previous evening.
He cast a long shadow on my life.
I knew him, at least initially, from his Movies on TV and Videocassette (originally TV Movie Almanac & Ratings, and then Movies on TV). My copy of the final edition has been sticky-taped so many times from use, but still has pride of place on my shelf. Today I picked it up again. The smell of the paper always takes me back to reading it for the first time. In high school, I'd write out by hand reviews of his that had been omitted from more recent editions (there were 17 and I think the school library had the 1986-1987 book). At university, I referred to his work in essays for the film and TV courses I took. I still use this and his other books. There may have been other critics, but for me Mr. Scheuer was the best.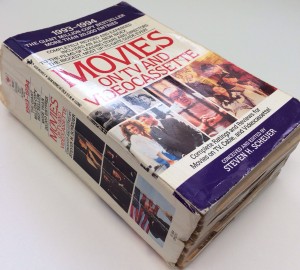 The description of Mr. Scheuer as a television and film historian and critic doesn't seem to do him justice. As The New York Times' James Barron wrote in a 2002 article regarding Mr. Scheuer's eight-part series, Television in America: An Autobiography:
Under Steven H. Scheuer's name on the screen are the words "television historian." That will have to do. A more telling description, like "witness to half a century of television history," wouldn't fit.
Mr. Scheuer wasn't so much only a witness as someone who shaped that industry and its need to look inward. In Mr. Scheuer's obituary in the New York Times, William Yardley described him as "one of the medium's innovators". Mr. Scheuer was an associate director at CBS during the '50s. Television being largely live in those days meant that viewers who weren't aware of a program before it went to air missed their chance to see it. The Times article quoted Mr. Scheuer from a 1992 interview:
In the middle of the night I woke up, and it was absolutely clear to me that the whole approach to TV criticism was backward. It was being covered the same way as books and plays and movies. You were told on Thursday by a newspaper critic that there had been an interesting program on Tuesday. It was live. So you couldn't see it if you missed it.
Soon began his syndicated newspaper column TV Key in 1953, with Mr. Scheuer using his contacts to gain access to program rehearsals and scripts. He hosted the television program All About TV from 1969-1990. New York Times critic Jack Gould, himself an innovator of television criticism, described the show in its second year "on ultra-high-frequency Channel 31" as "an absolutely first-class program". John O'Connor, in another article also in the Times, drew attention to the series' unique "attempts to discuss various aspects of the medium itself, to conduct a self-examination on a wide range of topics". In that article, it was television coverage (or lack thereof) of the Vietnam War, and the program that night included a short film, Vietnam and Beyond. The filmmaker, David Schoenbrun, had said that the film had been seen by eight million people in private showings, but "no American television station has been willing to show it".
Mr. Scheuer was regarded by his peers as a master of the interview. I hope that in the next few days he gets the recognition he richly deserves, and that other parts of his life are also focused on. These include being a nationally-ranked squash player and avid sportsmen. Mr. Scheuer saw the need to preserve the history of television and film – and, indeed, his home, New York. His family's foundation also supported the English publication of the book French Children of the Holocaust: A Memorial by Serge Klarsfeld, described by historian John Felstiner in a 1997 Los Angeles Times review as a work that "more vividly than any other source I know in any language, presents the human personhood of the catastrophe".
Did I mention he liked scarves? I wonder if he had a scarf drawer like I do.
I am grateful that last year I was able to let Mr. Scheuer know how I felt about his work.
Memorial donations can be made to his alma mater, Yale University, and a memorial will follow in the fall.
With gratitude to Alida Brill and Christopher T. Cory, Scheuer family friend. Photo courtesy of Alida Brill.