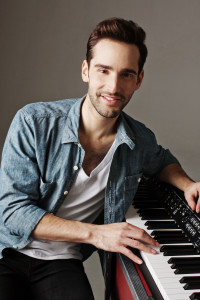 Mikey Wax has had a busy year. His third album, Mikey Wax, was released in June, and its lead single, "You Lift Me Up", has been doing just that. The album is his first after signing with Toucan Cove/Universal Music, and was produced by Scott and Ed Cash. Having producers from Nashville is rather fitting, given the New York-born Mikey went to university there (for those who are wondering, he graduated with a teaching degree). That Nashville-New York hybrid should tell you something about the diversity of sounds you'll hear on his album. He might be best classified as pop/rock with his acoustic guitar and piano, but as stated on his website there are parts electronic, country, funk, and folk. I wouldn't usually reference the artist website to sum up work, but when I read his biography on there after listening to the album and taking notes, those were the words I came up with too. I also got blues. I wonder if Mr. Wax gives out gold stars.
Signing with a label is certainly a new chapter for Mikey, but in many cases a continuation of what he's been doing since his first shows in New York in 2008. That is, writing (something started at eight years of age), performing, touring, and continuing to stretch himself. In addition to his three full-length albums, he has four EPs, including one very topical one, "And a Happy New Year", the title track of which will be heard next week on ABC Family's Switched at Birth.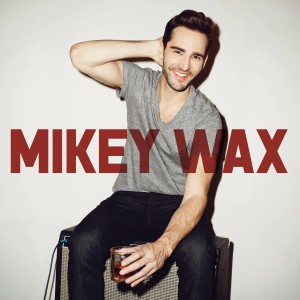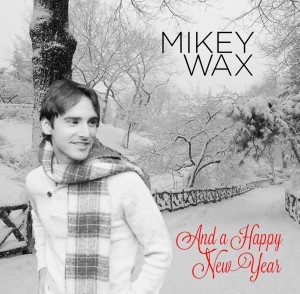 Mikey would be a familiar face to his followers (and hopefully, after reading this, there will be more) on social media, video sharing, and digital music platforms, and these are integral components to getting his music out there. On Spotify, the Live City dance remix of his anthem "You Lift Me Up" from Mikey Wax has been streamed over 4.5 million times. That is worthy of a Dr. Evil-style moving of your little finger to your mouth. I can't do that right now, I have a drink in my hand. Of course, someone who wrote a rather funky song called "Bottle of Jack" would hopefully understand that. The album itself has hit the iTunes Top 100 Pop chart, somewhere Mikey has been consistently since his first album Change Again in 2008. That album included the song "In Case I Go Again", which did the rounds on Ghost Whisperer, Pretty Little Liars, and a little something called the 2012 Summer Olympics. I remember the joy I felt when one of my articles was (I think it still is, I haven't checked in the last few hours) the most viewed of all articles in the journal where it was published. That may be only 10 people reading it though; it's hard to know with all the complicated metrics. I won't get into it here…
In any event, his 2011 album Constant Motion got iTunes and Billboard attention and included "Counting on You" that also got a lot of attention. It was included in the contestant elimination part of the series So You Think You Can Dance. While the song has lovely associations for me (do give it a listen), I kind of wonder if it is part of some Pavlovian nightmare for those who were eliminated on the show and had to hear it. Every time they hear it now, they might just be bracing for rejection.
Perhaps a digital native like Mikey finds these new frontiers easy to navigate. I checked, supposedly "natives" are people born post 1985…so he scrapes in and I miss out by a couple of years. I'm an "immigrant", supposedly. But it's more than that. He is willing to connect with his fans in these ways and does so regularly and earnestly. This includes over 250 concerts that he has performed for fans in their homes.
On his YouTube channel, Mikey also documented his recent tours with Brendan James, and Parachute and Matt Wertz (he also just finished touring with Michelle Chamuel). These were not, however, just excerpts of live performances, but the getting to and from gigs (sometimes driving for hours), shopping for air mattresses, laundry day, or hijacking a hotel piano. Think about how you are after a long road trip with good friends. I have what I think is a fake memory (on my quick review of the movie there doesn't seem to be such a scene) of Bette Midler's rocker character in The Rose starting a food fight in a diner with her entourage during a tour. So when first watching these videos, I was expected that sort of thing or even a couple of trashed hotel rooms. However, Mikey and his posse just seem too polite to do anything other than clean up after themselves at the various places they visit. There is, however, copious chicken, guac, and brown rice at Chipotle Mexican Grill, where Mikey tells us it's "All about that rice, 'bout that rice". I'm starting to realize where he may have got his inspiration for his recent mashup of Taylor Swift's "Shake It Off" and Meghan Trainor's "All About That Bass".
Mikey has been a pal of this site (click here to read an article from earlier in the year) and we recently chatted about his year and what's next.
Adam: Tell me about your recent shows with Michelle Chamuel of The Voice. Have I got you after some sufficient rest?
Mikey: Ha – Yes! The shows were a blast. Michelle is so cool and being on the road with her and her crew was a lot of fun. Thanks so much to all the fans that came out to see us!
Adam: You've spent a fair amount of time on the road since the release of Mikey Wax in June. What's the best thing about being on the road?
Mikey: It's definitely a very freeing experience, and it's a thrill performing for fans every night. It's a great chance to continue building my audience and getting to meet awesome people.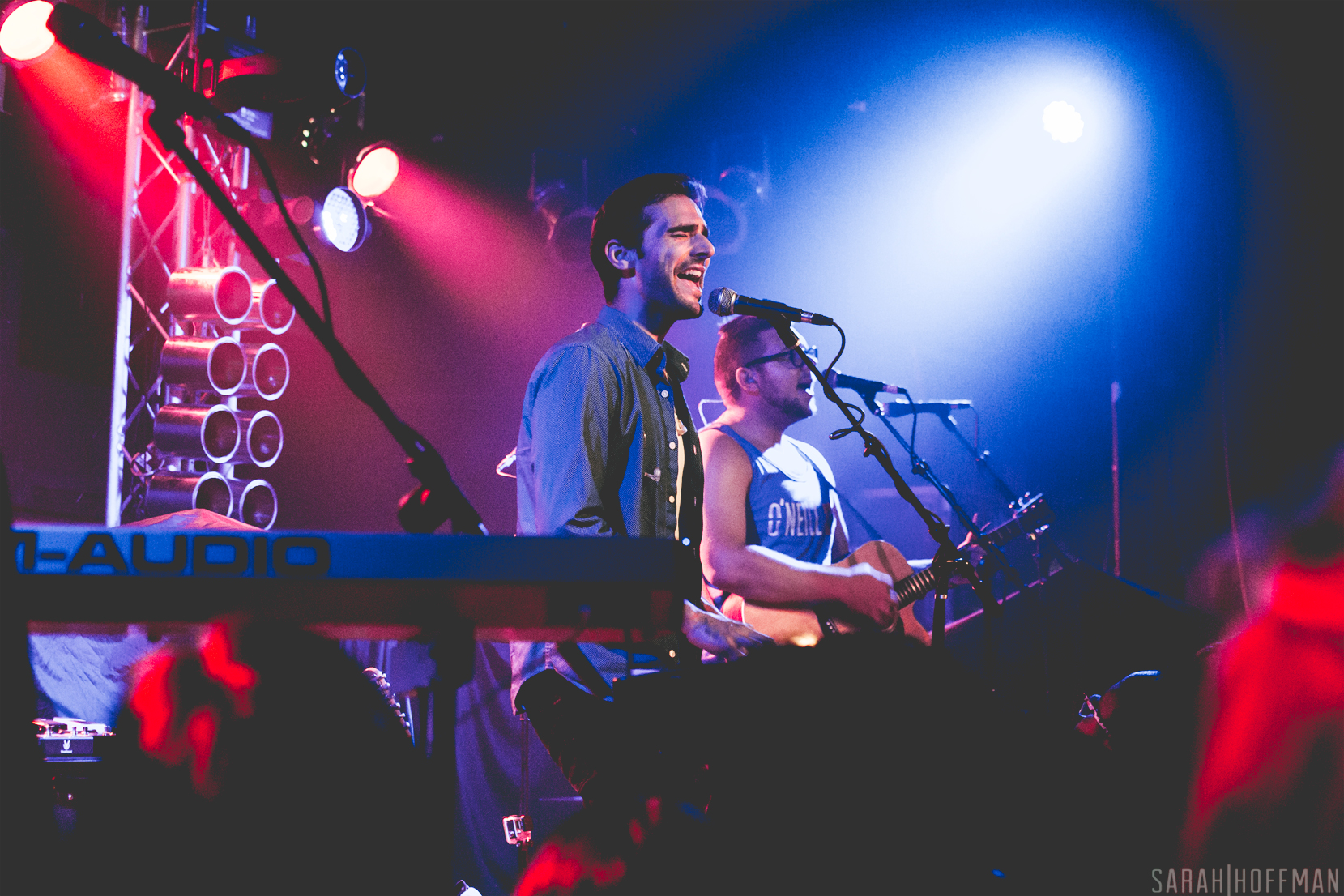 Adam: What's not so good?
Mikey: You eventually miss your bed and your friends and family, and sometimes getting a good meal can be a challenge.
Adam: Your YouTube followers would be familiar with the #WaxOnTour video diaries, covering your back-to-back tours in September with Brendan James and then Parachute. Travel pals were Joe Striff, guitarist, and Sammy, band mom/tour manager. Oh, and a GoPro. Are there any stories from the tours that didn't make it through the editing process?
Mikey: Ha – I'm sure there are a few. But they don't make the video for a reason! 🙂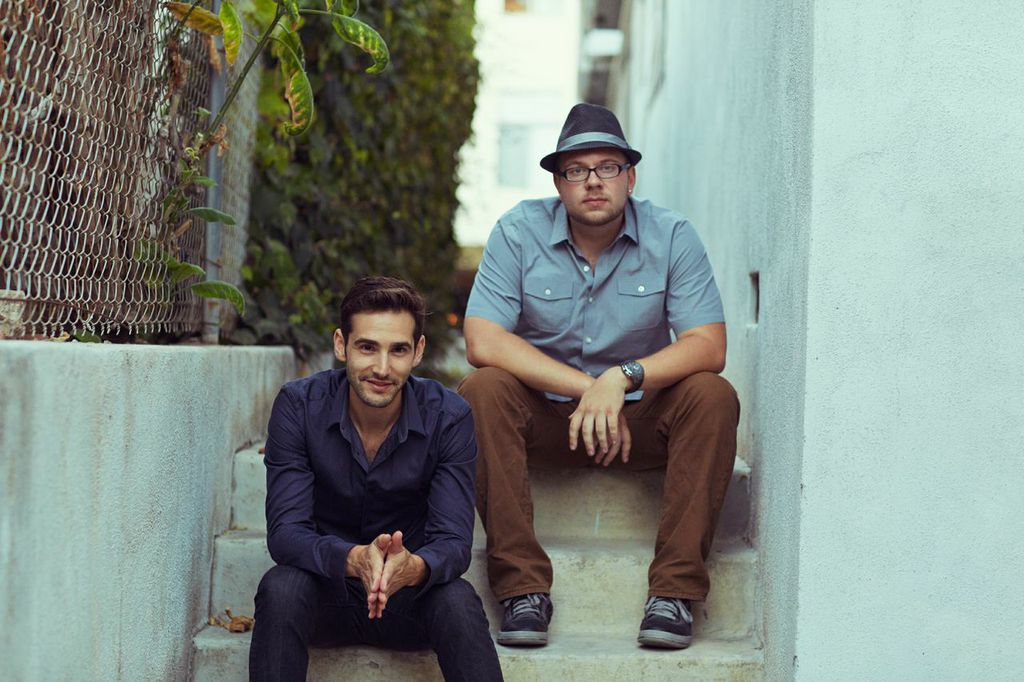 Adam: Has going from being an independent artist to signing with Toucan Cove, which is a part of Universal Music (but with very independent roots), been a smooth transition for you?
Mikey: Yes, very smooth. In general not much on my end has changed. My job is still to tour as much as I can, write music and stay close with my fans. I love what I do and I'm so thankful for all the people who support me.
Adam: How did Scott and Ed Cash, producers of Mikey Wax, come into your life?
Mikey: I was a fan of a few albums they did, including those with my touring buddy Matt Wertz. I had sent them the stems of one of my songs to see how they would produce it and it came out incredible. I was so blown away, that I knew they had to produce the entire record.  Fortunately, they loved my other songs and were on board.
Adam: It's hard to choose favourites from your new album, but I particularly like the almost blues or country "Baby Don't You Let Me Down", the very lush "Take Me Home" and the rolling ballad "The Calm". I'm going to ask you to pick a favorite child from your album and tell me why it's special to you.
Mikey: That means so much! Thank you. I know artists say how difficult it is to choose, but it really is! I go through phases – At first I thought "Take Me Home" was my favorite, then "The Calm", but I think a consistent favorite and fun one from the album to play is "Bottle of Jack".
Adam: New York, and in particular the promise of that city, features prominently in a few of your songs, including "Alive in New York City" and "Last Great Song". Being a native of Long Island, what still excites you about the city?
Mikey: The city is still so inspiring to me. Whenever I feel like I need an escape or some clarity, a walk in the city always opens my eyes and helps me see things clearly. 
Adam: I'd be remiss if I didn't ask you to describe one of the musicians who you recently appeared with, Teddy Geiger, in a sentence. As an aside, I have one of his paintings in my house (no, that doesn't mean that Teddy Geiger is missing one of his paintings).
Mikey: Hah! I didn't know he did paintings; that's so cool. Teddy was a really awesome and chill guy. We only got to hang out backstage for 10 minutes or so, but I hope to be able to do more shows with him soon!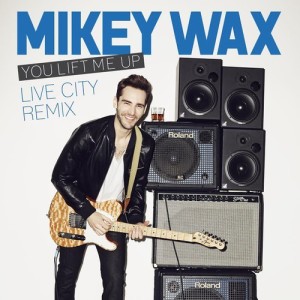 Adam: The remix of "You Lift Me Up" recently hit 4.5 million streams on Spotify. Plus a lot of people temporarily without Wi-Fi would have enjoyed you with their dinner and a (miniature) bottle of Jack as Artist of the Month on American Airlines in October. Is it hard to get your head around numbers like that?
Mikey: That number is pretty insane! Yes, it's extremely hard, so I try not to check back too often to see how it's doing. I feel like the less I know the better ha. I'm so thrilled that people are relating to it and including it on their playlists. The American Airlines interview/performance was incredible to do. I get tweets every once in a while from fans who are listening to it from thousands of feet up in the sky.
Adam: A month ago you covered Taylor Swift's "Shake It Off" in a mashup with Meghan Trainor's "All About That Bass". How did this mashup and the incredibly inventive music video take shape?
Mikey: I was in the studio with my bandmates doing live performances to a few of my songs, and I was trying to do a six-second vine. Those two songs were being played so often on the radio that I thought it would be funny to mash them up. The melodies worked so well with each other that I ended up being able to do it for the entire song, not just six seconds.
Adam: When will your song "And a Happy New Year" be heard on ABC Family's Switched at Birth, and what are your plans for Christmas and 2015?
Mikey: It's being featured on the show next Monday, December 8 at 9/8c. I'm really excited for it and I know my fans are too. On December 21st, I'm playing a free online show available worldwide to help celebrate the holidays (Stageit.com/MikeyWax). For Christmas I'll be spending time with family and friends in New York and Michigan so I'm getting ready for lots of snow!
Adam: Thank you, Sir!
Mikey: Thanks for the awesome questions!
Mikey's has many homes online, including his official website, YouTube, and Spotify. If you're feeling social, visit Mikey on Facebook, Twitter, Instagram, and Vine. To purchase his albums and singles (through iTunes, Amazon, or signed from Mikey himself) click here.
In 2015, Mikey's song "Drive On" will be heard in the film The Road Within starring Robert Sheehan, Dev Patel, and Zoe Kravitz.
Top photo of Mikey by Justin Steele. Thanks to Jonathan Wax, Mikey's manager, for teeing this discussion up.